The Halot-One series of resin printers from Creality offers high quality resin printing at a price friendly to most makers and 3D printing fans. At the core of the Creality Halot-One lies the Integral Light Source technology, which helps users create perfect prints.
But what is the Integral Light Source and exactly how does it help keep print quality high?
Read on to know more!
Halot One Series
The Halot One resin printer series was first released in 2021 with the original Halot-One.
Since then the range has expanded to include new models including the original Halot-One, Halot-One Lite, Halot-Sky and most recently, the Halot-One Plus and Halot-One Pro.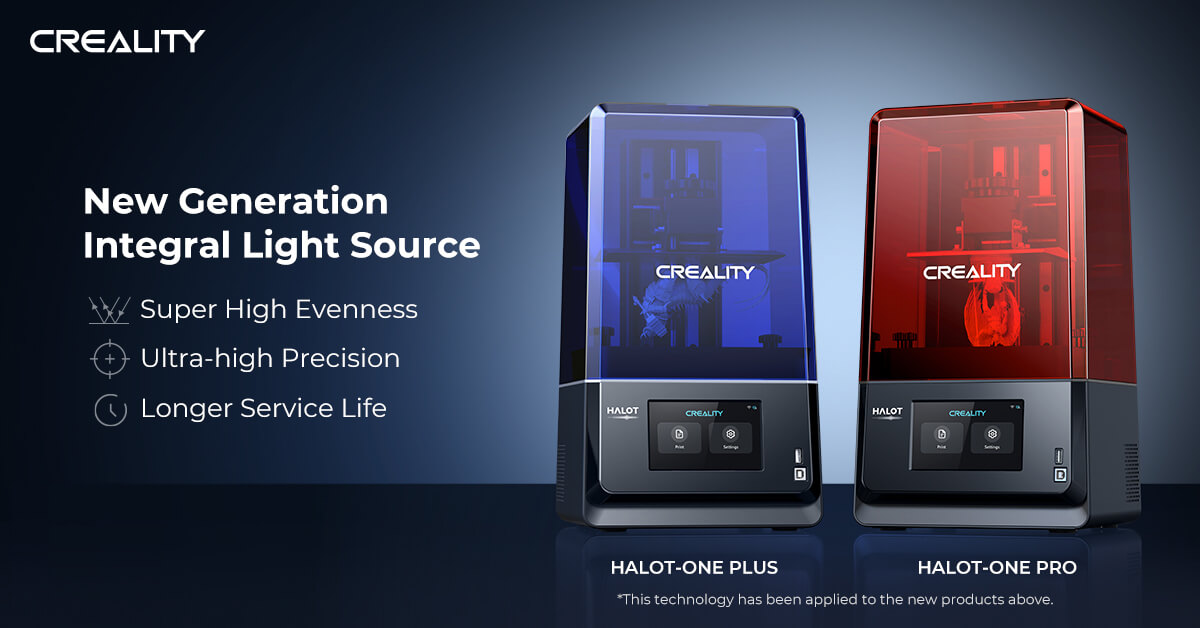 The printers in the series all vary in size, but all of them have the Integral Light Source technology at their core.
Most budget resin printers make use of something called parallel emission technology, which is not particularly fault-tolerant, especially if there is a faulty LED. Due to the layout and design of the UV light emitting matrix in a parallel emission type resin printer, light can reflect back from the joints in the LED array resulting in unevenness.
You can see the comparison of parallel emission technology versus Creality's in-house designed Integral Light Source technology in the image below.
As you can clearly see in the image on the left, the traditional LED matrix design causes patchy light distribution measuring 51.1% for light evenness, according to Creality. The square shapes are caused by the light reflecting off internal joints. Not good!
The example on the right (the Integral Light Source) shows way better light evenness at a whopping 93.5% evenness. Much better!

The Integral Light Source tech improves light evenness resulting in increased precision of prints, meaning that you can get accurate prints with a silky smooth surface finish every time.
The Creality solution is based on working principles of reflection and refraction and utilizes five LED units with four emission chips to ensure over 90% evenness with 6000uw/cm² lighting intensity. This offers higher redundancy in the event of a LED unit. If the LED unit breaks, you can just keep on printing.
Accuracy
All this extra evenness means one thing in particular – higher precision, meaning that your parts will be printed with higher dimensional accuracy, closer to what you designed in your CAD software.
When printed with parallel emission technology, the sample printed showed 99.73% accurate.
The same item printed with the Creality Integral Light Source technology on a Halot-One showed 99.73% accuracy.
| Integral Light Source Printing Technology | Parallel Emission Printing Technology |
| --- | --- |
| | |
| Target Print Size: 60 x 60 mm | Target Print Size: 60 x 60 mm |
| Actual Print Size: 59.91 x 59.93 mm | Actual Print Size: 59.78 x 59.78 mm |
| Accuracy: 99.73% | Accuracy: 99.27% |
The Integral Light Source technology is available on all Halot-One and the Halot-Sky printers, and you can now get those accurate prints in a larger package thanks to the Halot-One Plus and Halot-One Pro, which were both launched earlier in 2022.
The Halo-One Plus, for example, comes with a 7.9″ 4K Mono LCD that allows makers to print details as fine as micro-pores and micro-columns with features down to 0.1mm in size. This level of precision has found fans in many industries, including jewelry makers, who can print tiny holders for aiding in their finely-detailed projects.
If you'd like to know more about the Halot-One series Integral Light Source, or if you'd like to know more about the new Halot-One Plus with 4K LCD screen, then you can head on over to this link.