Anycubic has just launched their long awaited cost-effective DLP resin printer on Kickstarter, which you can see at this link.
What is so special about this new resin printer, and what makes it a good option for value-conscious makers?
Read on and we will tell you!
DLP equals higher quality prints
The original LCD-based Photons have found a large following with both makers and researchers alike due to its low cost, high resolution and compatibility with a wide range of resins.
Their latest offering, with its build volume of 102.4 mm (L) * 57.6 mm (W) * 165mm (H), has made the switch from LCD technology to the more efficient and higher quality DLP (Digital Light Processing) technology from Texas Instruments.
Most DLP printers on the market are industrial level costing thousands of dollars, meaning that the new Anycubic Photon Ultra is the most low cost machine that is available with DLP.
This is all part of the plan, as Anycubic says they want to shatter these barriers to entry and allow anyone to enjoy the precision, high-level of detail, and durability that are brought by DLP technology.
DLP printers use a projector that reflects all the light to a pixel via a micromirror (of which there are hundreds on the chip), therefore, there is no light convergence, which allows for crisper black/white contrasts. LCD printers converge all the light to a pixel, which can cause bumps and shadows on the edge of models.
When displaying thin lines and small-size texts, DLP printers are much clearer than LCD printers, with purer colors and richer layers, resulting in more delicate texture and sharper corners on your prints.
As you can see in the miniature below, that's a pretty nice quality print!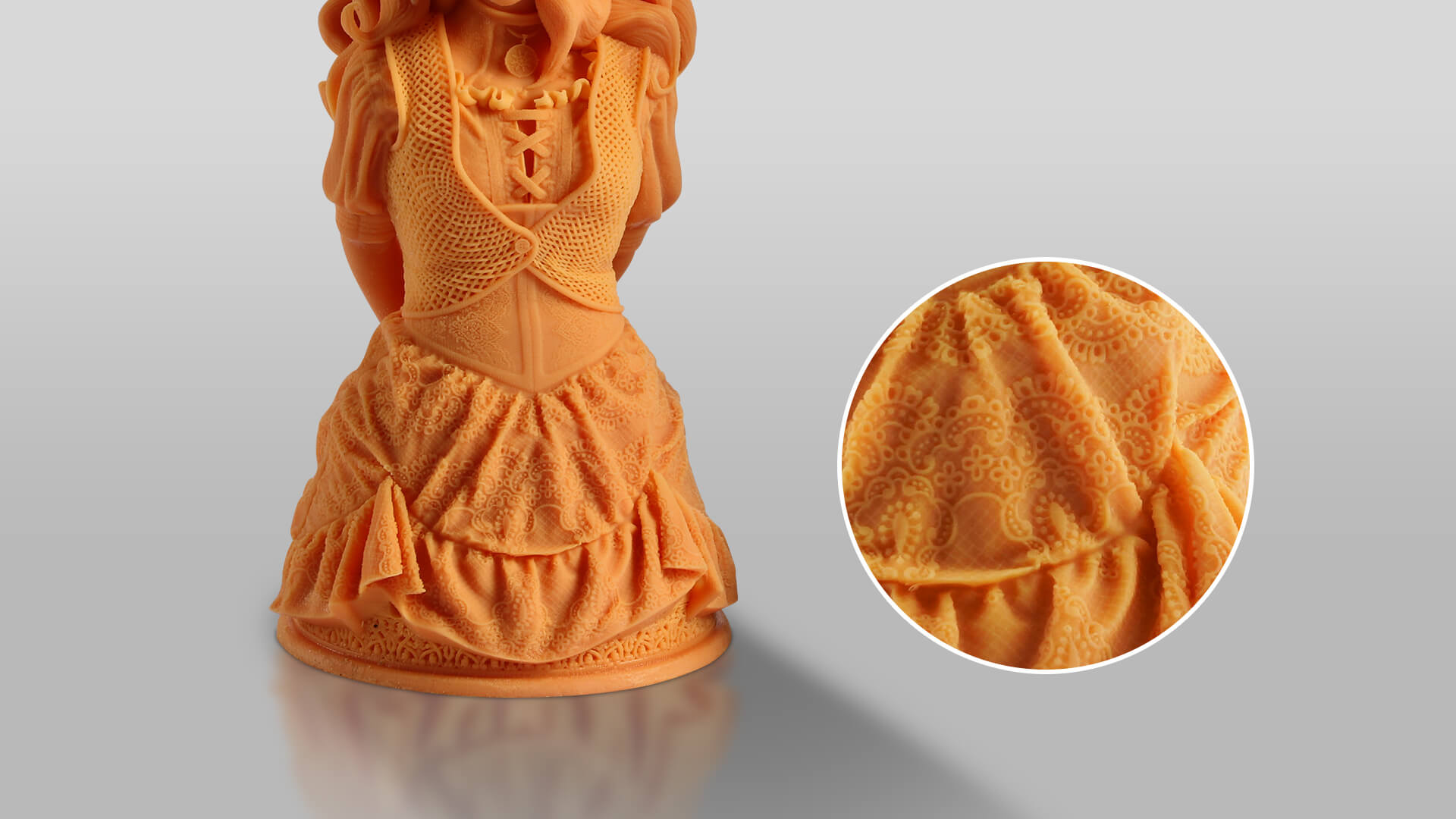 For these reasons, a DLP printer with 720p resolution (such as the Anycubic Photon Ultra) can offer a much higher quality print than a monochrome LCD printer with even greater resolution of 2k or 4k.
The Photon Ultra is also capable of 16 x anti-aliasing, which helps to smooth the edges and corners of prints, which reduces layer lines, also adding to the quality of the print.
In addition, the DLP system can deliver light more evenly with uniformity of 5%-15% higher than LCD printers. This also contributes to producing clearer, crisper prints.
So the Photon Ultra definitely provides more quality for your bucks than any comparable LCD printer for the price. What else makes it a cost-effective solution?
LCDs are Consumables
Yes, an LCD screen will degrade in quality fairly quickly over time, and is therefore considered a consumable (another expense), just like your printer resin.
By switching to DLP technology, Anycubic assures us that there will be less messing around replacing burnt out LCD screens every few months, and more time spent on printing high quality resin prints.
The reason is, that LCD crystal substrates found in LCD screens degrade under the UV light typically used for resin printing itself.
Ironic. The UV light that it requires to function is the very thing that kills it (press "F" to pay respects)…
The Texas Instruments DLP technology does not suffer these same issues because it doesn't use liquid crystals, and the internal projector enables the printer to be used for more than 20,000 hours (10x longer than an LCD screen).
Over that time an average user would save $600 by using the long-life DLP system compared to an LCD-based one. That's not a bad saving considering the cost of the machine ($US399 for the first 300 units, $US459 for 500 units and $US499 for 2000 units. After the Kickstarter campaign concludes, the retail price will be $US599.).
There are savings to be had also, due to the power of the light source used in DLP. In an SLA system, the light source is typically an array of LED lights. However, there's usually a single light source in a DLP system, which is more efficient. Only 12w are consumed during operations for the Anycubic Photon Ultra, compared to up to 60w for SLA systems.
Less energy equals lower electric bills!
Apart from these benefits, the Anycubic Photo Ultra also serves many other benefits such as better adhesion, user-friendly interface, etcetera," said James Ouyang, Vice President of Anycubic.
"We were so excited when we finished it because we tackled the most challenging issue in the developing process – balanc[ing] the print quality and price, even though we face the rising cost of electronics and chips caused by the COVID-19 pandemic. Thus we could spread DLP technology on the desktop 3d printer market. 3D printing is changing the way we build and create, and we will go farther than before with our Anycubic Photon Ultra."
The Kickstarter campaign has just launched a few hours ago, so head on over to the link here if you would like to avail of the early deals.
And just as a reminder, the Anycubic Photon Ultra (with DLP) will go at a price of just $US399 for the first 300 units, $US459 for 500 units and $US499 for 2000 units. After the Kickstarter campaign concludes, the retail price will be $US599.