Creality has just released its new FDM 3D printer, the CR-M4, with rigid stability and a HUGE build volume.
The CR-M4 is being described as a quasi-industrial grade printer, and is suitable for batch-printing lots of models in a single print, and has networking features for those wishing to set up a print farm for printing multiple batches at the same time.
Read on to learn more about this beast of a printer.
Huge Print Volume
The CR-M4 boasts a massive build volume of 450*450*470mm. It's a real workhorse for creating big models with little or no post-processing required, thanks to its rigid frame.
Many users worry about the quality of large models, and with good reason. On many low cost printers, print failure may occur because of wobbling in their puny frames. This is not the case for the CR-M4.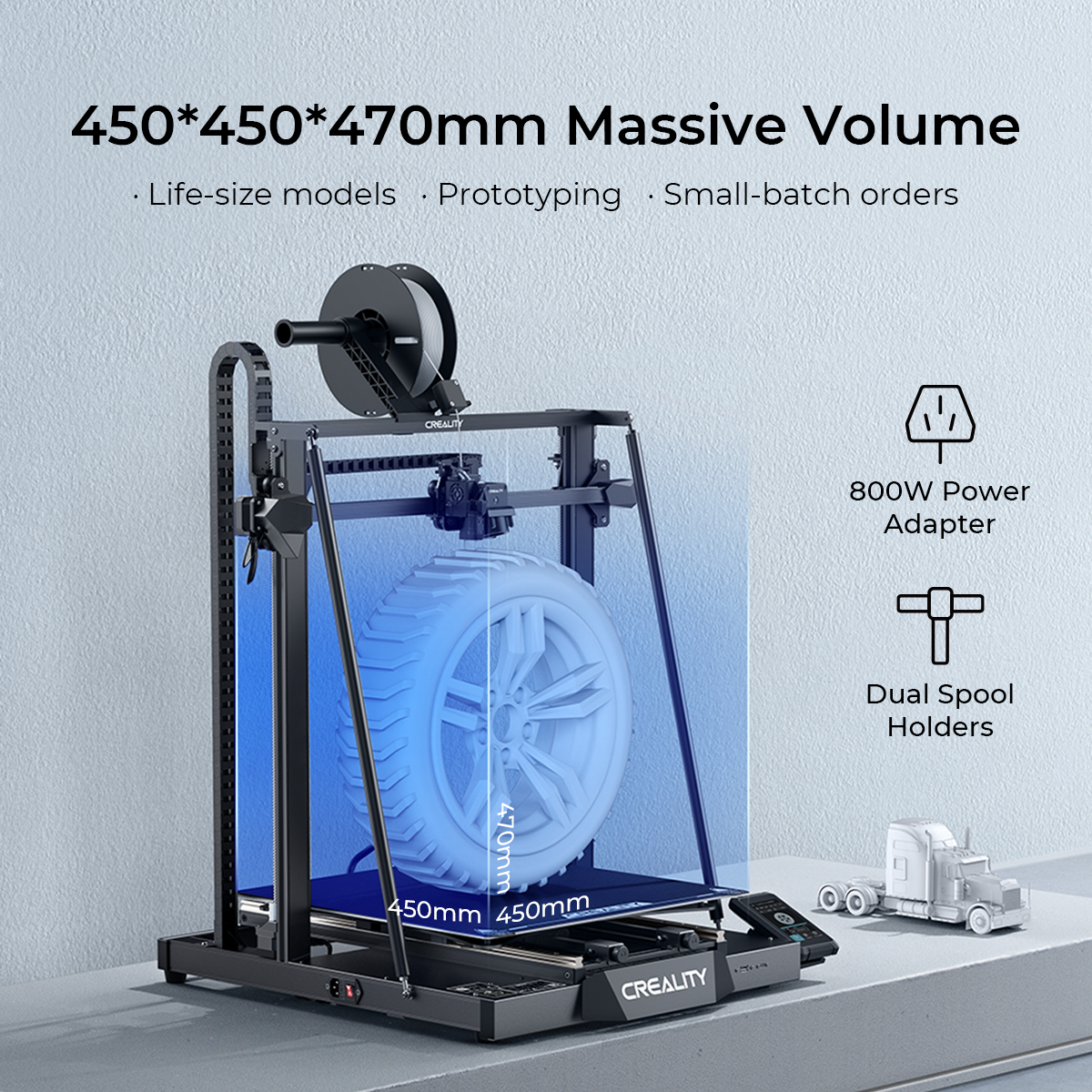 With dual Z-axis and two support rods, the CR-M4 forms a rigid triangle to stabilize the top frame. The dual Z-axis curbs gantry sagging and Z-wobbling, and each Z-axis is driven by a standalone motor for precise and accurate movement.
All of these features combine to ensure the reliability of print operations, and the quality of tall models, from bottom to top.
Precise and Reliable Dual Y-axis Linear Rails
In addition to the rigid triangle frame, CR-M4 is also equipped with dual Y-axis linear rails to ensure the quality of models.
The dual Y-axis linear rails are manufactured by CNC from high-quality bearing steel, significantly improving the accuracy of Y-axis motion and increasing the ability to withstand wear, backlash, and heavy loads. The CNC machined linear rail system is, in short, way more reliable and durable than V-slot rails.
Additionally, the Y-axis transmission is driven by a powerful high-precision stepper motor, providing increased precision and a silky-smooth smooth motion. Test results from Creality Lab have shown that the stepper motor can print constantly and steadily for 720 hours (30 days).
Multi-printer Control
And just in case the CR-M4's huge build volume wasn't enough, users can connect the printer to a LAN via Creality Print, to create their own centrally-controlled print farm. Users can also print and monitor remotely from the Creality Cloud APP or Web, when the CR-M4 is connected to the internet.
When connected as part of a print farm, the printers can produce the same model on a single command from Creality Print or Creality Cloud Web. Given that each CR-M4 can print 20 parts in one go, a farm of 25 printers will crank out thousands of parts each week.
The CR-M4 is also able to print via USB drive, USB-C cable, RJ45 cable, and WiFi.
High-temp Printing
CR-M4's high-temp printing is made possible by Creality's self-developed all-metal "Sprite" direct extruder. The "Sprite" features dual gears with a 1:3.5 gear ratio, delivering a powerful and uniform 80N extrusion force, making it well-suited for flexible filaments such as TPU.
With an upgraded nozzle and 50W heater cartridge, the high-flow hotend can fully melt high-temp filaments at 300°C, meaning higher-temperature filaments such as polycarbonate and nylon are no problem. Additionally, filaments such as PLA, heat-resistant ABS, PLA-Wood, PLA-CF, and PETG are a cinch to print with the Sprite and high-flow hotend.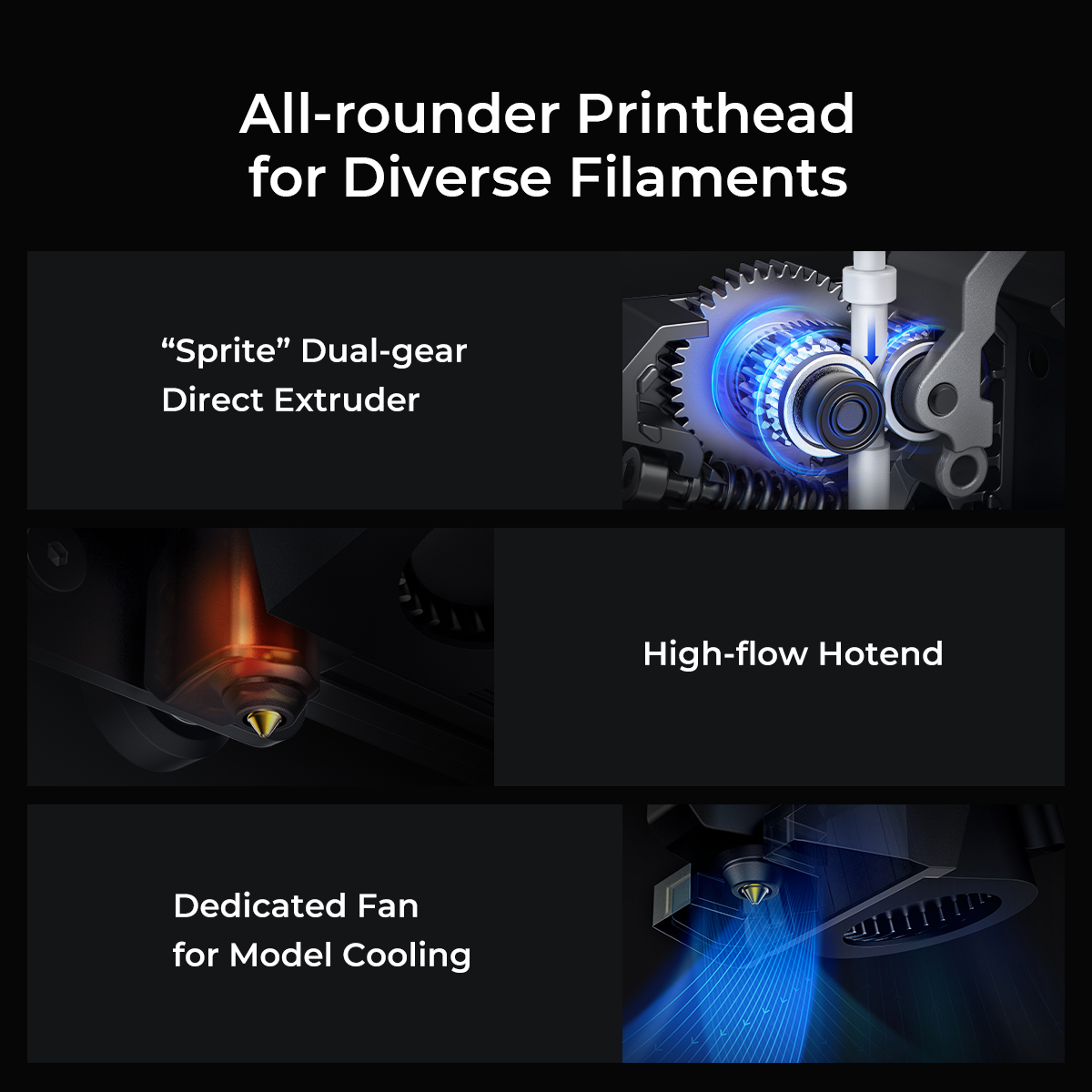 A standalone 4020 fan serves as a part cooling fan, channeling cooling air onto the freshly printed section, allowing the model to solidify faster with less sagging or warping.
For those wanting a faster print, or one with thicker depositions, the standard 0.4mm nozzle can be swapped out with a 0.6mm or 0.8mm nozzle with relative ease.
25-point Auto-leveling
The CR-M4 has fully automatic leveling with CR Touch by probing 25 points, and Z offset at 0.05mm accuracy. This allows for quickly calibrating the distance between the nozzle and the build surface, enabling users to easily print a high-quality first layer, time and time again.
The build platform consists of 4 different layers. The PC top coating provides strong adhesion, while the bendable spring steel sheet makes it easy to remove large models without deformation. The magnetic base and two pins allow for quick snap-on and quick removal of the plate from the printer structure.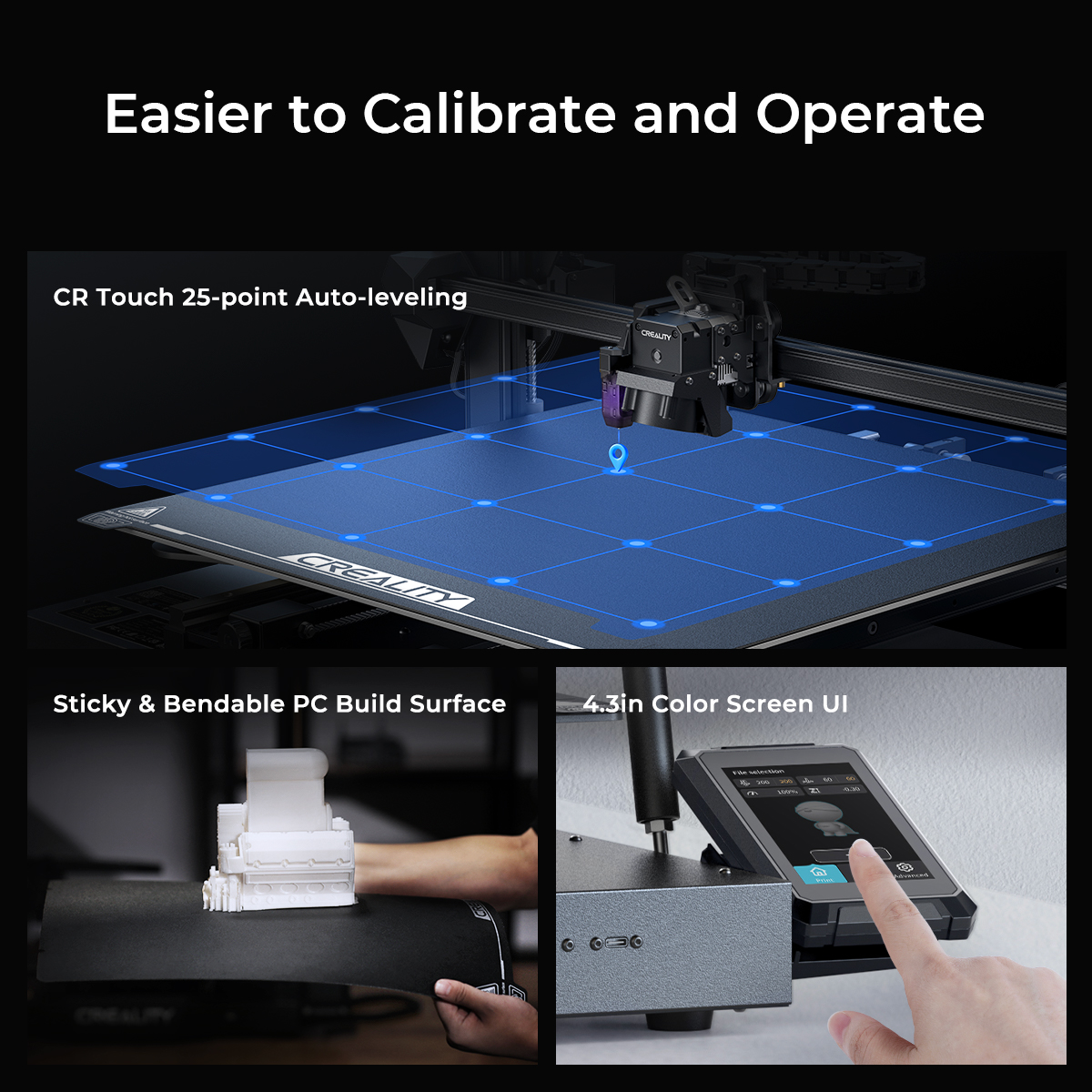 The final layer is the 470x470mm aluminum alloy heatbed, which according to test results from the Creality Lab, will heat up to 60°C within 160 seconds.
Safe, Steady, and Efficient
The printer is equipped with an 800W industrial control power supply to ensure safe and steady printing. The power supply is compatible with 100V-240V worldwide, delivering excellent efficiency. It can filter voltage fluctuations and electromagnetic interference, and prevent the printer from short-circuit, overload, overvoltage and overheat.
User-friendly Features
To operate the printer, a 4.3-inch color screen is supplied, featuring simple and responsive touch control. The screen supports model preview and temperature PID tuning. The screen will time out after five minutes of no activity, and users can enable the energy-saving Sleep Mode.
With a silent mainboard, the noise from CR-M4 within 1m distance is rated at 50 decibels, equivalent to the sound of indoor talking.
To avoid wire entanglement, the CR-M4 has a cable chain for filaments, and the printer is equipped with dual spool holders.
Specifications
| | |
| --- | --- |
| Build Volume | 450*450*470mm |
| Product Dimensions | 655*700*865mm |
| Net Weight | 22.48kg |
| Gross Weight | 28.3kg |
| Printing Speed | ≤120mm/s |
| Printing Accuracy | ±0.1mm |
| Layer Height | 0.05-0.35mm |
| Extruder Type | Sprite dual-gear direct drive extruder |
| Extruder Material | All metal |
| Filament Diameter | 1.75mm |
| Nozzle Diameter | Standard 0.4mm(compatible with 0.6/0.8mm) |
| Nozzle Temperature | ≤300°C |
| Heatbed Temperature | ≤100℃ |
| File Transfer | USB drive, WiFi, USB-C cable, RJ45 cable |
| Power Loss Recovery | Yes |
| Filament Runout Sensor | Yes |
| Rated Power | 800W |
| UI Language | English, Spanish, German, French, Russian, Portuguese, Italian, Turkish, Chinese |
The Creality CR-M4 is available at store.creality.com for $1,099. For more information about their huge new printer, or other Creality products, head on over to the official website.