Formula 1 is the highest class of auto racing sanctioned by the Fédération Internationale de l'Automobile (FIA), meaning F1 cars are the fastest road-course race cars in the world, capable of reaching 370 kmh (230 mph) and pulling over 6 Gs around corners. They're so fast that the drivers are required to have Super Licenses, the highest class of racing license issued by the FIA. It takes a lot of engineering to make cars go that fast, and every F1 team uses cutting-edge technology to remain competitive, which means every F1 team uses 3D printing.
Whenever something needs to be fast, it has to be lightweight and aerodynamic, two things 3D printing excels at. The reasons that engineers are adopting 3D printing for rockets and fighter jets are the same reasons that F1 teams are using the technology: weight reduction and geometric freedom. Not only do exterior parts have to be form-fitting to reduce drag, but F1 cars are very small for the amount of horsepower and technology that's crammed into them, so all of the internal parts have to take up as little room as possible. Many components have to nest inside one another and must be designed to fit whatever space is available, and there's no better manufacturing method than 3D Printing for fabricating such parts.
Of course, the cars aren't the only things flying by in F1, there's also time. The regulations change every season so the teams basically build new cars every year. It's hard enough to remake the same car every year, but after factoring in time for making regulatory changes, R&D improvements, testing, inspections, and practicing, it becomes clear that the teams wouldn't have time to sleep if they didn't rely on 3D printing. Only AM can produce iterations of parts fast enough to keep up with the blistering pace of F1.
F1 was an early adopter of 3D printing, having used the technology to produce the scale models used in wind tunnel tests since the late 1990s. And AM is still used for the wind tunnel models today, but it's used for so much more than that now.
End-Use Applications
Alfa Romeo Racing recently announced that their 2020 season car sports 143 metal 3D printed parts, most of which are different types of Titanium and Aluminum alloys printed on four MetalFAB1 systems. Printing all of those parts resulted in a 2% weight reduction, which is significant in F1 where every gram matters. Everything from cooling circuits and safety structures to chassis inserts and fairings were printed, and even some of the bodywork as well. Alfa Romeo acquired its fourth metal printer in 2019, and they work alongside five large-format SLA printers and a few SLS printers from 3D Systems that allow the team to print in a wide range of isotropic materials.
There aren't too many photos of the 3D metal printed F1 parts available, but this one was found on the Alfa Romero F1 website. It appears to be some kind of duct cover or vent.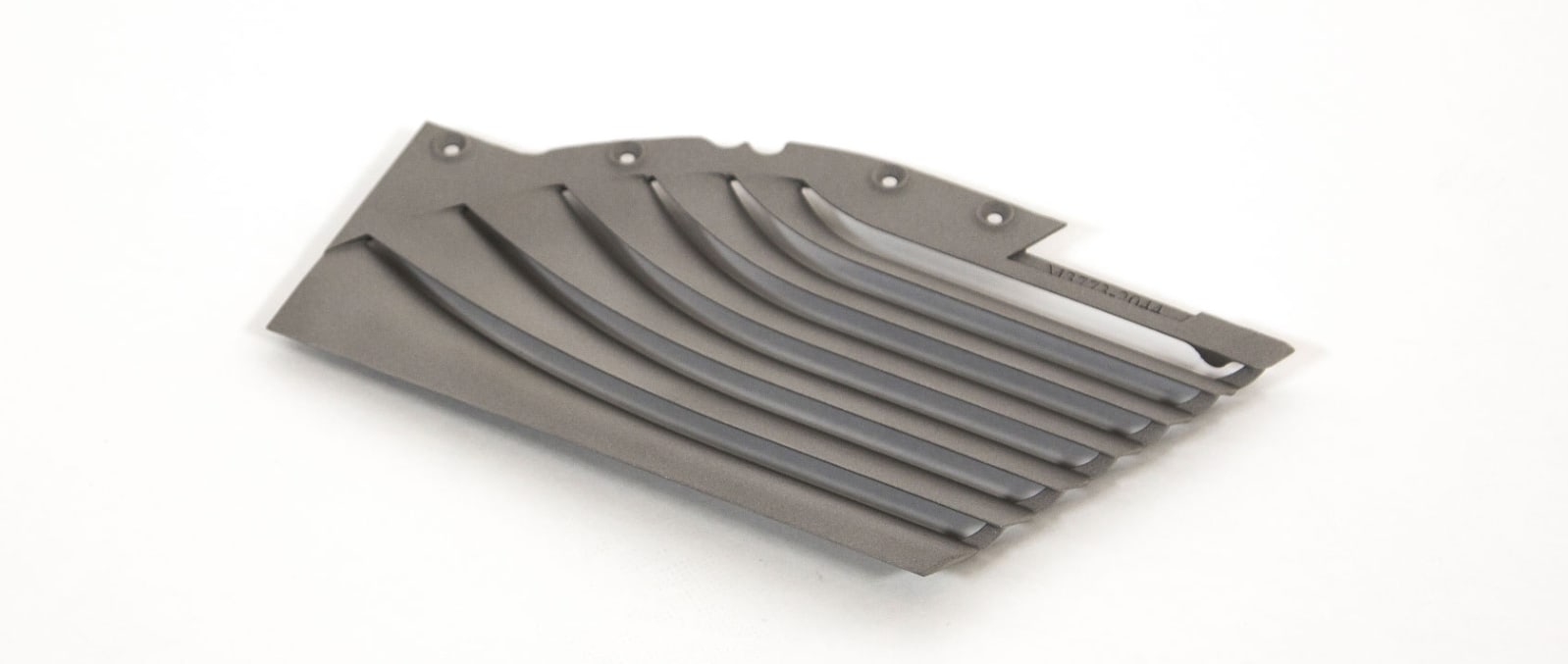 3D printed metals approved by the FIA
Elementum 3D just got two of its high-performance Aluminum alloys for 3D printing approved by the FIA for the 2021 season. A6061-RAM1 and A2024-RAM2 are both incredibly lightweight, yet strong, materials that will allow the teams to shave even more mass off of the cars. Several other metals used in AM were approved as well, including Inconel 625, Cobalt Chrome, and additional Titanium and Steel alloys.
The 2021 list contains the following section on approved additive metal materials:
Aluminium Alloys; AlSi10Mg, AlSi7MG, Al Cl-30AL
Aluminium Alloys with particulate reinforcing, A20X, 2024-RAM2, 6061-RAM2
Aluminium-Magnesium Alloys; Scalmalloy
Titanium Alloys; Grade 1, Grade 2, Ti6Al4V, Ti 5553, Ti 6242.
Steel Alloys; 316, 304, MS1, 15-5PH, 17-4PH, 300M, 4140.
Copper Alloys not containing Beryllium.
Superalloys; Inconel 625, Inconel 718, Cobalt-Chrome.
Regulatory wind tunnel tests
The FIA is also using AM for its regulatory testing of 2021 cars. The organization relies on wind tunnel tests to guide their regulatory decisions, and thanks to improvements in print quality, it's now possible to use smaller models than what were used historically. 100% scale models are banned due to the amount of (arguably unnecessary) costs associated with making them, so most teams use 60% scale models. In a wind tunnel test, there are two major elements to consider: the forces being applied to the car and the turbulence in the currents behind the car. Both elements can create drag and slow the car down. By using a smaller model, there's more room in the wind tunnel to examine the currents behind the car. However, as the model gets smaller, the details become less accurate, which then decreases the accuracy of the wind tests. Up until recently, a 60% model offered the most balanced perspective, but now that 3D printers can capture more details, a 50% model may be more effective.
If you imagine you have a full size car in there, you could only look at a tenth of a car behind it. So 50% is a good compromise in that we can still get a good level of detail on the model but we still have distance behind. It's true teams have tended to go more to 60% these days. There are advantages to that, in modelling, but modern manufacturing techniques, particularly additive manufacturing and stuff like that allows you to make very accurate 50% models these days.Pat Symonds, F1's Chief Technical Officer
Turbulence in the wake
The FIA is trying to craft regulations that allow more overtaking during races, which is why they're so concerned with the wake behind the cars. If there's a lot of turbulence in the wake, then drivers won't be able to get close enough to the car in front of them to overtake. So the 50% models give a much better view of that wake. Their tests confirmed that the wind tunnel results very closely match the CFD (Computational Fluid Dynamics) results, which is good news since it's much easier to run a CFD simulation.
Metal 3D printed F1 fragrance bottle
And just to put a cherry on top, F1 debuted its first (and possibly only) fragrance in 3D printed metal bottles that are sculptures in and of themselves. Ross Lovegrove, Welsh industrial designer, is behind the exotic bottles. They're intended to represent the spirit and uniqueness of F1, as Lovegrove explains in a way that sums up this article quite well, "These designs are only possible in their complexity through this new technology: additive 3D printing. The thing is, between metal printing of titanium and the stainless steel variant, they're almost impossible to copy because they're so complex, as is a F1 car, so it's a self-protecting, self-defining form of design."
From April 2020, these fragrances will reach retailers globally. This time Lovegrove will use Carbon's DLS technology, creating an intricate technopolymer exoskeleton to house the fragrance bottle. These will be available starting at $250 available at select retail.