End of life waste management of automotive materials is a huge task, with the auto vehicle recycling industry is the 16th largest sector in the United States, contributing $25 billion USD per year to the national GDP making cars is a very energy consuming process.
While 90% of a car can be recycled, there is a lot of potential for some optimization there, in particular in terms of not using virgin materials in the first place.
To that end Ford has teamed up with HP to investigate the recycling of 3D printing waste into new injection molded components for use on Ford vehicles, one of which you can see in the image below.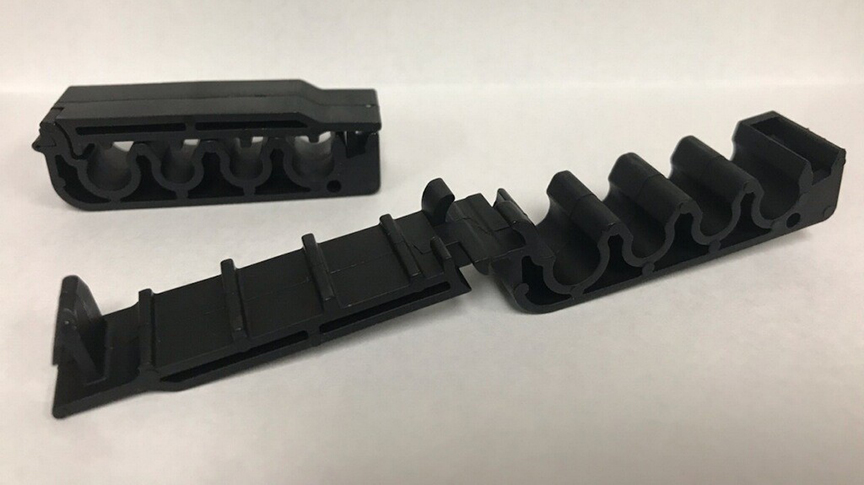 Specifically, Ford has been manufacturing injection molded fuel-line clips from the AM powder waste and old printed parts, and they have been installed on their Super Duty F-250 trucks already.
The injection molded clips are 7% lighter and cost 10% less than clips made from normal injection molded plastics. Ford has already identified where these clips can be used on existing vehicles, because a 10% saving in manufacturing costs is not to be sneezed at.
"Finding new ways to work with sustainable materials, reducing waste and leading the development of the circular economy are passions at Ford," said Debbie Mielewski, technical fellow at Ford.
"Many companies are finding great uses for 3D printing technologies, but, together with HP, we're the first to find a high-value application for waste powder that likely would have gone to landfill, transforming it into functional and durable auto parts."
And where are they getting the waste powder from exactly?
Most of their feedstocks to be recycled are apparently coming from the dental industry, specifically from SmileDirectClub who owns the largest HP 3D printing factory in America with over 60 HP printers churning out 50,000 3D printed molds for teeth aligners every day.
When users have finished with the parts, HP collects them and sends them to a company called Lavergne for recycling into pellets for injection molding, and sends them to an OEM for molding into clips for Ford.
"You get more sustainable manufacturing processes with 3D, but we are always striving to do more, driving our industry forward to find new ways to reduce, reuse and recycle powders and parts," said Ellen Jackowski, chief sustainability and social impact officer at HP.
"Our collaboration with Ford extends the environmental benefits of 3D printing even further, showcasing how we are bringing entirely different industries together to make better use of spent manufacturing materials, enabling a new circular economy."
This project, and others like it, will help Ford to reach their goal of manufacturing their cars from 100% sustainable materials.