China-based Regenovo has just showcased its new 3D bioprinter. The company's Bio-architect X specialises in the mass production of human tissue. The machine operates using a hydro-gel that contains human cells that formulate organs or other product. While the Bio-architect can print entire organs, researchers are hoping it can also aid in the development of new medicines, particularly in the fields of drug-testing and screening.
The company debuted the machine at the "Development of Functional Materials and High-throughput Integrated Biological 3D Printing Technology" event. Regenovo demonstrated the machine's capabilities buy printing a piece of nasal cartilage. The printing process was remarkably similar to that of a standard printing process for household printers. They switched on the machine, uploaded a model and simply pressed the start button. The machine then began depositing hydrogel to build up the structure of the nose. Regenovo also develops its own hydro-gels and bioinks for human liver cells, blood vessels, etc.
The printing also uses MCT (micro-computed tomography system) with an alternative to CT scans. It has a number of advantages including high resolution imaging with no depth limitation number and no risk of cell damage when capturing images. This enables the machine to give real-time feedback to any users while printing progresses.
About Regenovo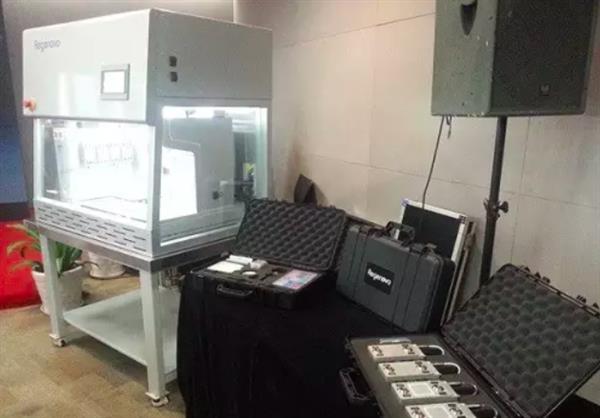 The bio-architect X is a continuing part of line of systems Regenovo developed. Previously, Regenovo has released Bio-Architect–Lite, Bio-Architect–Pro, and Bio-Architect–WS systems. The Bio-architect X has the distinction of being China's first high-throughput 3D bioprinter for mass producing human tissues.
Regenovo was founded by a group of medical professionals and university professors who had the shared goal of developing biomedical 3D printing technologies for the advancement of healthcare solutions. As a result, they deal with specifically medical and bioprinting tech.
According to their website: "Regenovo Biotechnology Co., Ltd. is a high-tech enterprise that provides professional integrated solutions in 3D printing technology for biomedical applications. Regenovo devotes to develope biomedical 3D printer equipment, materials and software for regenerative medicine, tissue engineering, drug discovery and personalized medical applications. Regenovo aims to open doors for new diagnostic, prevention and treatment techniques."