The city of Austin, Texas will be about to get its first opportunity to buy 3D printed homes, when real estate developer 3DStrands put their additively manufactured properties on the market.
The four 3D printed homes will form the East 17th Street Residences project, will go on sale "this summer" according to the website, and will be constructed using local company ICON's proprietary construction printer system.
The homes will be available in 2 to 4 bedroomed variants and will feature a combination of additive manufacturing and traditional construction techniques, as you can see in the image below.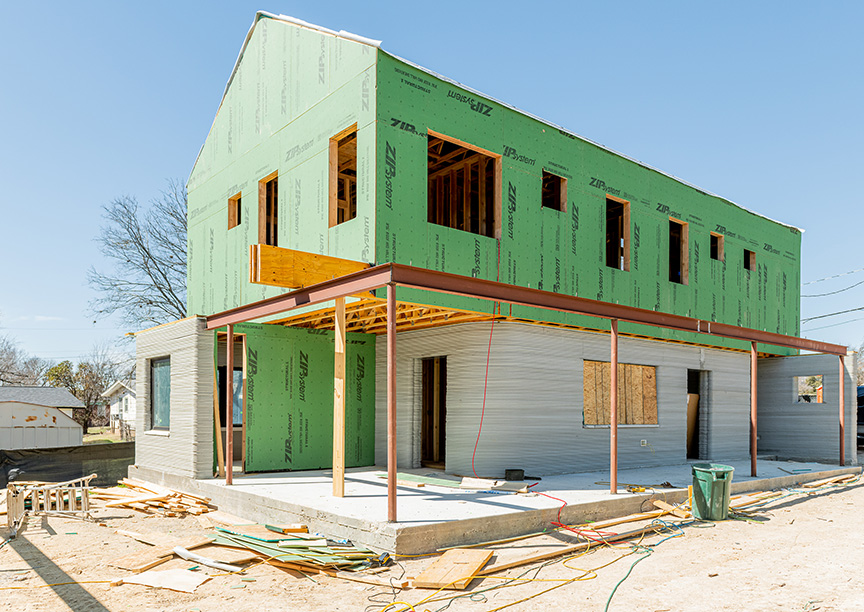 The spacious homes are printed with the proprietary Vulcan system from ICON, which uses software, robotic hardware and print materials developed by the company.
Their proprietary cement, named Lavacrete, is based on Portland Cement, and with their selection of additives added to the mix delivers over 6000psi (or 41.3 MPa, if you don't live in Myanmar or America) of compressive strength, making it superior in compressive strength to traditional construction materials. The additives also assist with the bonding between layers, allowing a fast extruding and fast curing cement that is resilient to the elements.
According to the company website, specific concrete mixes can be tailored according to user requirements, and the whole printer can be controlled via a tablet.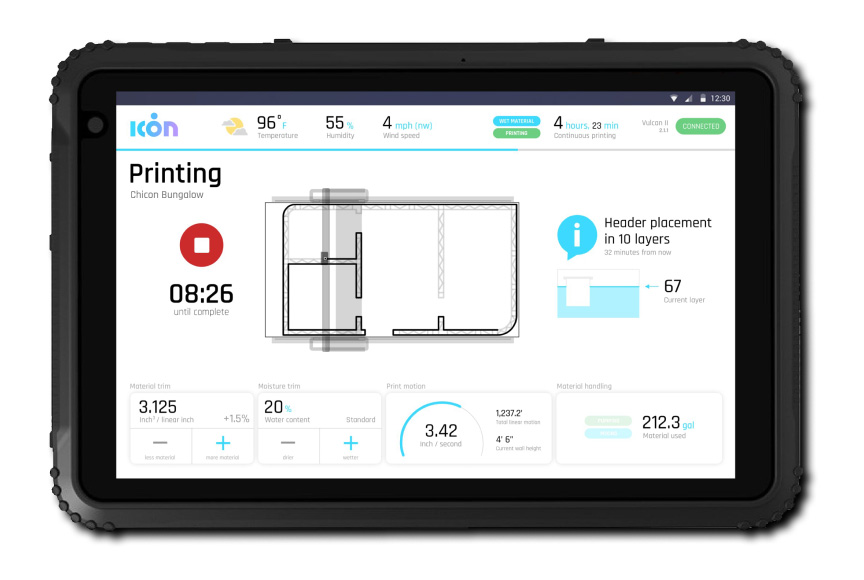 The machine is capable of printing wall structures measuring 2.6m in height, and structures spanning 8.5m in width, and features a virtually infinite length due to the roller-mounted gantry system.
"We were delighted when 3Strands approached ICON to deliver their first mainstream housing development," said Jason Ballard, co-founder and CEO of ICON.
"There is an extreme lack of housing that has left us with problems around supply, sustainability, resiliency, affordability and design options. With ICON's 3D printing technology, we anticipate more high-velocity progress in the years ahead to help bring housing and construction into the modern world and in-line with humanity's highest hopes."
Construction 3D Printing in Space
In the longer term, ICON have already got their eyes on what some may say is the ultimate aspiration of humanity: space.
As we mentioned in a previous article, ICON were recently given the contract (and funding from NASA) for design of a lunar structure as part of the Project Olympus, turning their materials expertise to printing lunar regolith, in-situ on the Moon's surface..
If you'd like to know more about the residential area in Austin, then you can go look at the online brochure.