It's great to see the promises of AM construction finally being deployed in a useful humanitarian role, rather than simply as the latest architectural fad for well-heeled suburbanites.
And what better building than a school? What better place than beautiful Madagascar?
Architectural design firm Studio Mortazavi (based in San Francisco, Lisbon and Paris) agrees and has accomplished just that.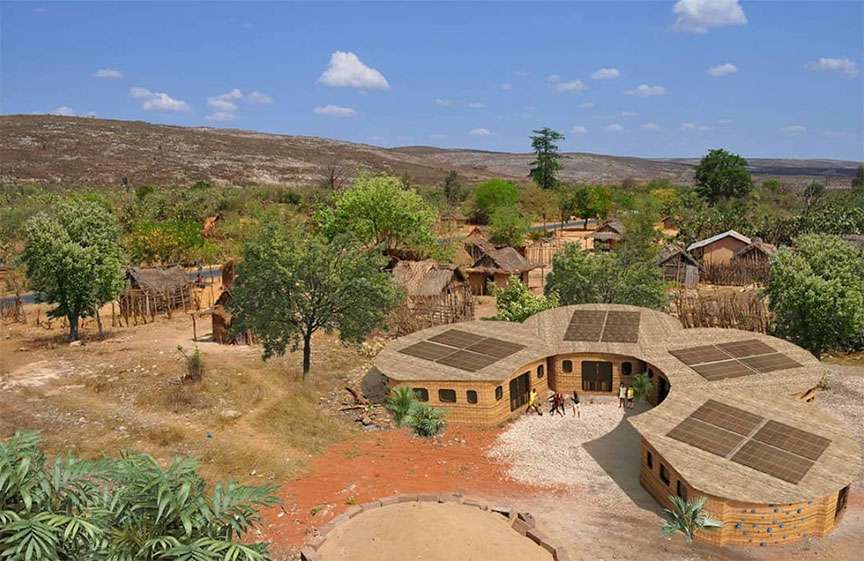 The project was conceived by not-for-profit organisation Thinking Huts, whose aim is to provide access to education globally via 3D printing.
The organisation was founded by Maggie Grout, who would like to pay-forward the educational opportunities that were awarded to her by her adoptive parents when she was a kid.
"I founded Thinking Huts when I was 15 after becoming fascinated with the potential of technology to create architectural solutions for a world of good," said Grout on her website.
"My life could have followed a very different timeline, and I do not take that for granted. My hope is to find a solution that increases global access to education."
And found it she may (have)!
They approached Studio Morazavi with their idea, and together they have enlisted the technical expertise of Hyperion Robotics, who are in the concrete printing game, and manufacture their own large cement printers.
Hardware
Hyperion Robotics are a Finnish company based out of Helsinki, and they have a system comprising of their proprietary control software which guides industrial robotic arms to position the in-house designed printing head,
The company states that they can print concrete in a fraction of the time, with automated placement of steel reinforcements. Adding rebar is labour intensive, and Hyperion have addressed that immediately by handing the task over to a robot.
They have previous experience in art installations in the Czech Republic, designing artificial coral reefs, and several industry-focussed projects including a flat concrete base for industrial machinery.

Location
The school, complete with its integrated, printed vertical farming system and solar panels, will be built in the Ecole de Management et d'Innovation Technologique (EMIT) campus in Fianarantsoa, Madagascar.
The design of the buildings is fairly standardized, and comes as a modular cell, which can be combined with other modules in a "beehive" type configuration.
The school was initially planned to become operational sometime this year, however the pandemic has delayed this schedule.
When things do get back to normal and construction can continue, the designers claim that the entire school can be built in just one week. Typically a school of similar size could take months to build.
Madagascar was selected as a pilot location, due to the stable local government, opportunity for growth, and naturally due to the demand for education infrastructure. Additionally, potential for local partnerships formed part of the decision making process for the location. In addition to the printed schools, local tradesmen will be employed in the manufacture of roofs, doors, and windows for the schools. Made with local materials.
If the pilot scheme is a success, then Thinking Huts hopes to roll out to other developing countries in need of educational buildings.