A team of researchers from the Bartlett School of Architecture at University College London (UCL) has recently shared their 3D printed multi-polymer design concept. We are curious about the project from an AM and engineering side, so let's take a look.
Metaplas
What is the Metaplas project?
The Metaplas project is using multi-polymers from recycled materials to create beautiful architectural structures, as you can see in the render below. The image shows a proposal for a redesigned Euston Station in London.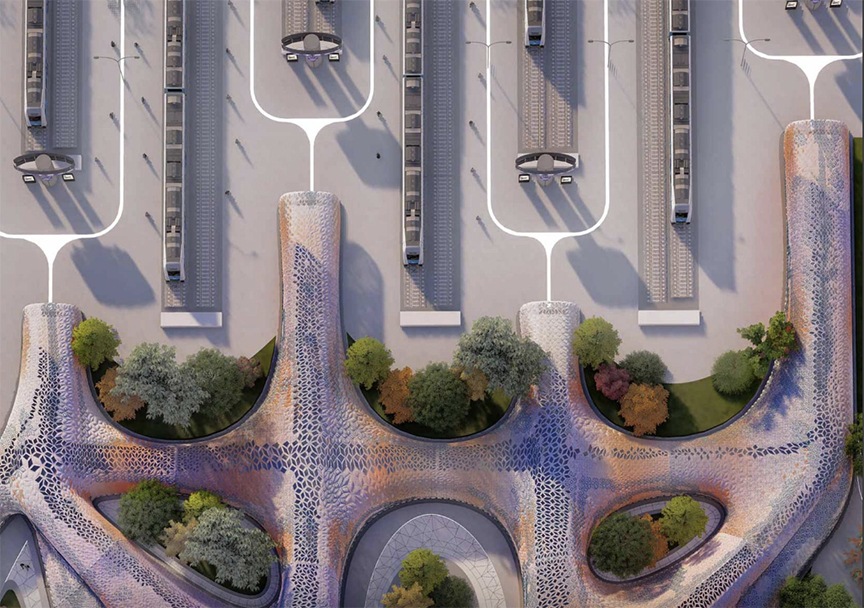 TPU + PLA Blend
The Metaplas project uses two variants of recycled polymer (TPU and PLA), and extrudes the recycled polymers via dual nozzles, creating structural/aesthetic components that are variable in strength and finish thanks the way the materials are extruded on to each other.
Dual nozzles extrude the mix of TPU and PLA, whose mixing ratio can be manipulated via G-code.
The parts are printed, and thanks to the flexibility of the TPU the panels can be folded and unfolded and when on site they can be fastened together by their printed clips and cables to form larger structures.
Test prints were done with an Objet printer, and the final demo pieces were made with an Ultimaker, showing that both material jetting and FFF methods are suitable for this foldable multi material approach.
Of course being somewhat translucent, the TPU allows natural light into the building also, which the team says can help reduce seasonal adjustment disorders and other forms of psychological ailments caused by lack of sunlight, which is no doubt an attractive proposition to the UK.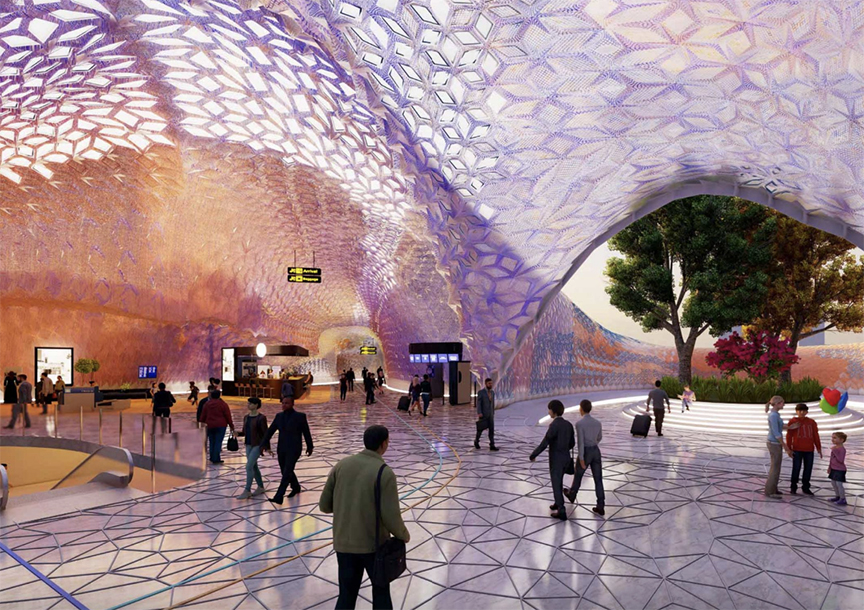 The idea of the project (asides from making cool stuff) is to utilize many local 3D printer companies' printers to fabricate many of these small panels locally, to be shipped out to the construction site and unfolded for use in the construction. Combining this local manufacturing/reduced transportation with the recycled plastics is intended to reduce the carbon expended during the manufacture and distribution of construction materials in a more traditional setting. The team has already mapped out a range of recycling depots in various cities, demonstrating the feasibility of obtaining raw materials locally.
As you can see in the video below, recycled plastics obtained locally have an incredibly low carbon footprint compared to metals, and the high strength per unit cost of the plastics compared to the same metric for metals shows why plastics are a great choice for certain architectural tasks, such as building huge locally made plastic facades.
It's unlikely that Euston Station will be transformed into a 3D printed shell anytime soon, but the project does show a lot of potential in terms of the foldability of printed materials, and indeed does make a strong case for the use of recycled materials being fabricated into structural parts locally.