The Caribbean Sea gets a lot of attention for its colorful and diverse coral reefs, but Hong Kong's waters host some 84 species of coral, more even than the Caribbean. And just like the reefs in the Caribbean, those that inhabit the coasts of Hong Kong are also facing the devastating effects of climate change. In an effort to help the corals survive long enough to adapt to the warming waters, marine biologists at the University of Hong Kong are 3D printing terracotta tiles for the corals to grow on.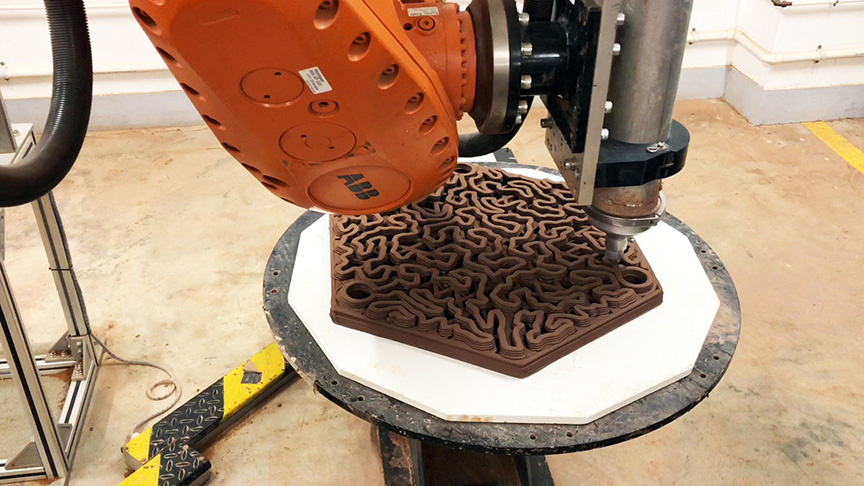 When the government was alerted to reefs bleaching and dying at the Hoi Ha Wan marine park, they tasked local researchers with finding a sustainable solution. David Baker, an associate professor at HKU's School of Biological Sciences, was one of those researchers and he turned to 3D printing to solve the underwater problem. "3D printing allows us to customise a tile or a solution for any type of environment and I think that's the real potential that the technology brings," said Baker. Customization is especially important here because, besides those environmental differences, the researchers don't know what shapes and textures are most ideal for each coral species, so printing a variety of different tiles let's them easily test what works best.
Printing the tiles in clay adds to the sustainability of the project because if a coral colony fails on a tile, the tile will naturally erode without altering the chemistry of the water, unlike other methods of building coral habitats such as intentionally sinking ships. Plus, clay is incredibly renewable. "Clay is basically soil, so soil you can find everywhere on earth," said Christian Lange, associate professor at HKU's Department of Architecture.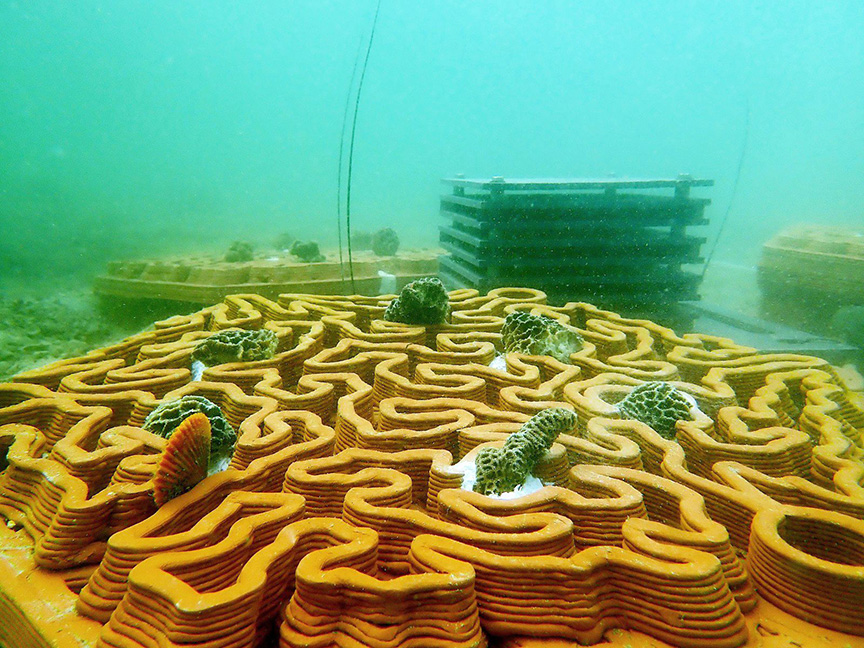 Around 400 coral fragments were attached to the printed hexagonal tiles and placed on a 40-square meter area of the seabed in Hoi Ha Wan marine park, and so far they're performing quite well according to Vriko Yu, a PhD student of Ecology and Biodiversity at HKU. "The first time we put down the tiles, there were a few fish around," said Yu. But after returning, they were teeming with marine life, including cuttlefish protecting their eggs in their new homes. She estimated that the success rate of the tiles was close to 90%, adding that "the corals now on the tiles definitely survive better than the traditional way of transplantation."
Baker is hopeful that the printed tiles will allow the research team to determine which species are most resilient to climate change so that they can be used to repopulate other areas where coral die-offs are occurring, like the Great Barrier Reef. He also thinks that they may have built a sort of sanctuary for coral, "We might actually be creating a new potential home for corals as they try to escape climate change from equatorial regions."