FabRx and the University College of London have made a breakthrough discovery in the world of medicine. Outlined in their new research, they have detailed a means for producing customizable medical tablets. The company achieved this with SLS printing acetaminophen and two pharmaceutical-grade polymers. As a result, the company can customize dosages, sizes and shapes in very precise ways. FabRx refers to these pills as "Printlets".
3D printing is prevalent in the medical fields but consumable medicine have always been difficult to crack. The company thought about testing other methods such as FDM, but found SLS to be the best. With the aid of a Sintratec SLS 3D printer, the researchers can produce pills at high speeds and with varying sizes.
3D printed pills are not as dominant in the market because of various hurdles. Aside from technology, one of the major ones is pharmaceutical standards. As of now, the pills are still in the testing phase and must undergo approval by the appropriate authorities.
The company is already making future plans to move forward in pharmaceuticals. A spokesman has stated that they are going to start a crowdfunding campaign next month to take a 3D printer specially designed to print oral medicine. As of right now, there is no such printer suited specifically to medical production.
Advantages of 3D Printed Medicine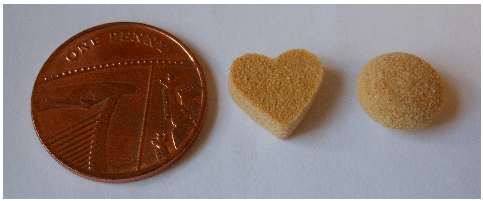 One of the core advantages of 3D printed medicine is the customizability they can provide to manufacturers. Aside from size, shape and dosage, there are multiple ways the pills can vary. This technology also allows them to mix and match different combinations of drugs. FabRx also found that the Printlets incurred no drug degradation. This allows them to make tablets with enhanced shelf life and reliability.
The polymers in the drug can be adjusted to give them varying release times. This allows for them to cater to different gastrointestinal needs depending on the consumer. The technology also allows them to alter flavors. Changes in shapes and flavors might not seem like a big deal, but they can make medicine more appealing to children or the elderly.
The full study is also available here.