China is embracing metal additive manufacturing for the large scale manufacture of medical implants.
Beijing-based AK Medical have been in the implant game for a while now. At first they specialized in traditionally manufactured implants, but since installing their first EBM printer in 2009 they have embraced AM with gusto, becoming the first company in China to have their 3D printed implants approved by the Chinese National Medical Products Administration (NMPA).
In that time they have increased the number of approved implants to five.
Naturally this has not done any harm to their business outlook, as they are currently the market leader for joint prostheses in China. To meet demands of their additively manufactured implants, they have increased their printing capability by investing in five new Arcam EBM machines to their arsenal, meaning they now have eight EBM machines on hand.

In addition to their Beijing office, AK Medical owns several other companies in the same domain of prosthetics that are also utilizing AM in their designs, including JRI Orthopaedics in the UK giving the company access to international markets wishing to try the benefits of AM implants.
And what are those benefits exactly?
Additive Manufacturing can be used to print trabecular structures within the implant. These little beam-like structures add porosity to the implant which helps with osseointegration with the original bone. Additionally, the porosity can be varied throughout the structure to create a certain amount of flex (just like a real bone). This is particularly important in reducing stress shielding, which can cause discomfort to the patient.
One thing not mentioned very often is the cost benefits of these AM implants. According to GE Additive, use of AM for the manufacture of acetabular cups can reduce manufacturing costs by 38% on average, when compared to the old way of doing things.
Better and cheaper? Yes.
"With our advanced products, we strive to make the treatment of orthopedic conditions more efficient and easier, while bringing about better outcomes and quicker recovery times to our patients." said Li Zhijiang, CEO at AK Medical.
One such patient enjoyed the fruits of AK Medical's labours back in 2016 when he received 3D printed metal vertebrae bodies after a tumour was removed from his body.
You can see those implants in the image below. The tumour had eroded five vertebrae, hence why the implant is pretty large.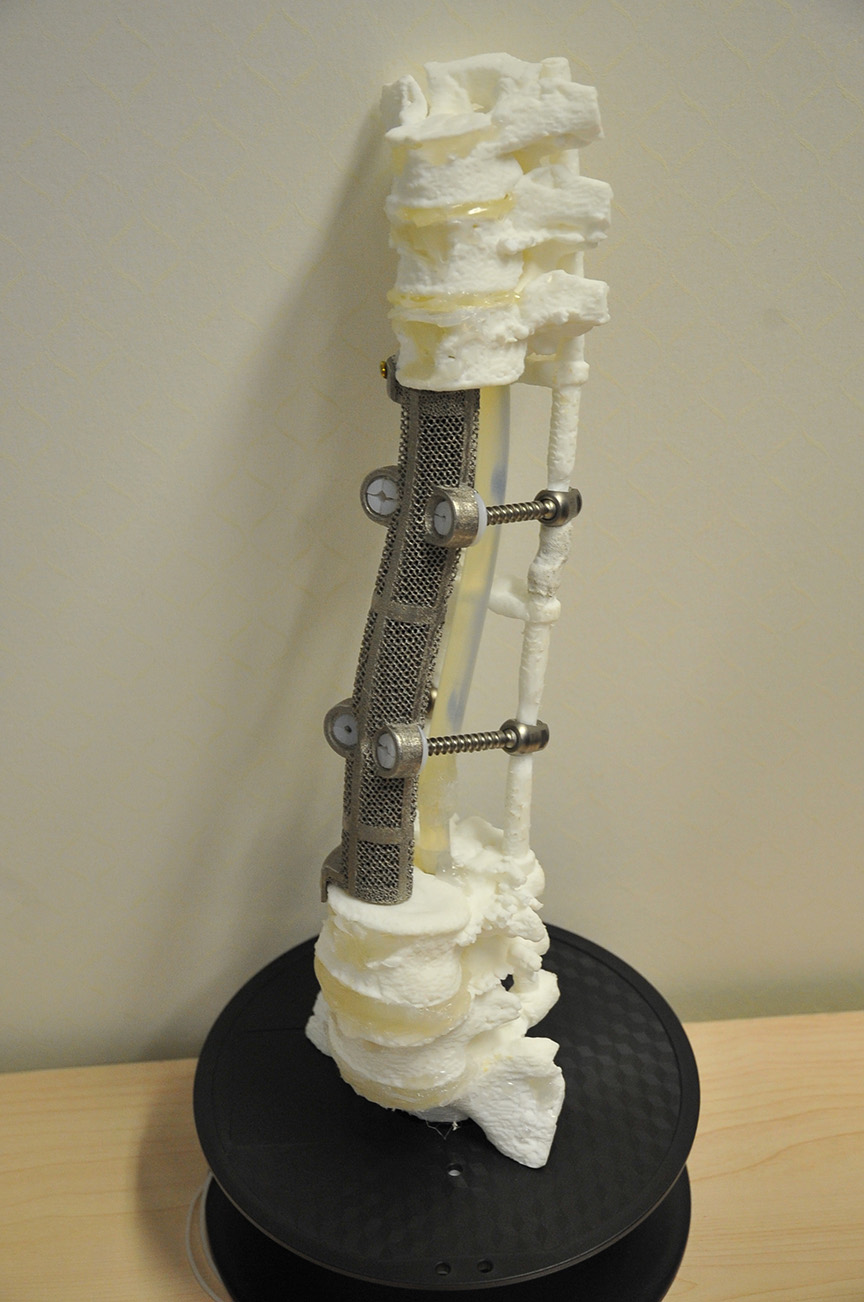 That patient, known as "Mr. Yuan" was the first to receive the newly approved part. The procedure was a success and the patient was up and walking around within a mere two months.
"Additive technology itself is tremendously advantageous in terms of cost, and personalized customization is increasingly becoming an industry trend," said Li.
"And when you begin to think of it in combination with CT, nuclear MRI, software, the Internet, 5G and many other technologies, then additive [manufacturing] is likely to unleash greater potential to boost the entire medical industry."
The company plans to continue further research into AM prostheses as well as other 3D printed medical devices while they continue to grow as a company both locally and abroad.