This article is written by Danny Defelici from DeltaBots
3D Potter is the largest US manufacturer of 3D ceramic printers with a full range of cartesian printers. Our new PotterBot XLS- 1 is the first large scale Scara robot type 3D printer able of creating objects up to 9 feet tall and 9 feet wide using real clay.
3D printing innovators, 3D Potter, and Emerging Objects have joined forces to introduce a new innovation in robotic ceramic / paste extrusion additive manufacturing technology. Called the Potterbot XLS-1, the printer represents a huge leap in innovation, with build dimensions and speeds that facilitate large scale printing as well as multiple object manufacturing.
Its enormous build envelope has the capacity to print objects up to 9 feet tall and diameters up to 9 feet (3m X 3m)! Whereas typical printers must be larger than the objects they print, accounting for space and portability issues, it's unique ability to print in 360 degree continuous rotation allows you to 3D print an object larger than the printer itself, offering the potential to print architecturally scaled objects.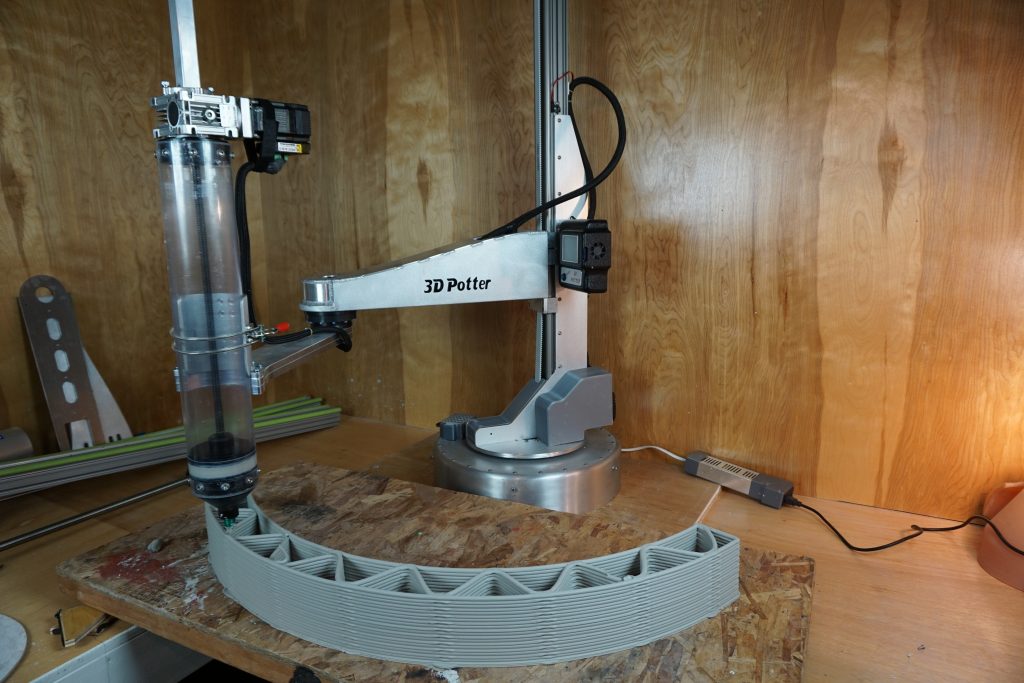 The printer also has the unique ability to sequentially print multiple objects within its enormous build envelope. If mass customized production is needed, the printer is perfect for such tasks. Because the printer is designed for both consumer, and more heavy-duty operations, it can either carry a 3600ml container of clay, or can be connected to a larger extruder that accommodates up to 250lbs of clay. The large-scale peristaltic pump attachment can handle non-stop continuous extrusions with nozzle sizes up to 1 inch.
It is the first commercially available large-scale ceramic 3D printer that uses full-body clay. However, the printer isn't limited to clay. Other materials, such as polymers, concrete, and food-based materials, are also possible with this robust machine.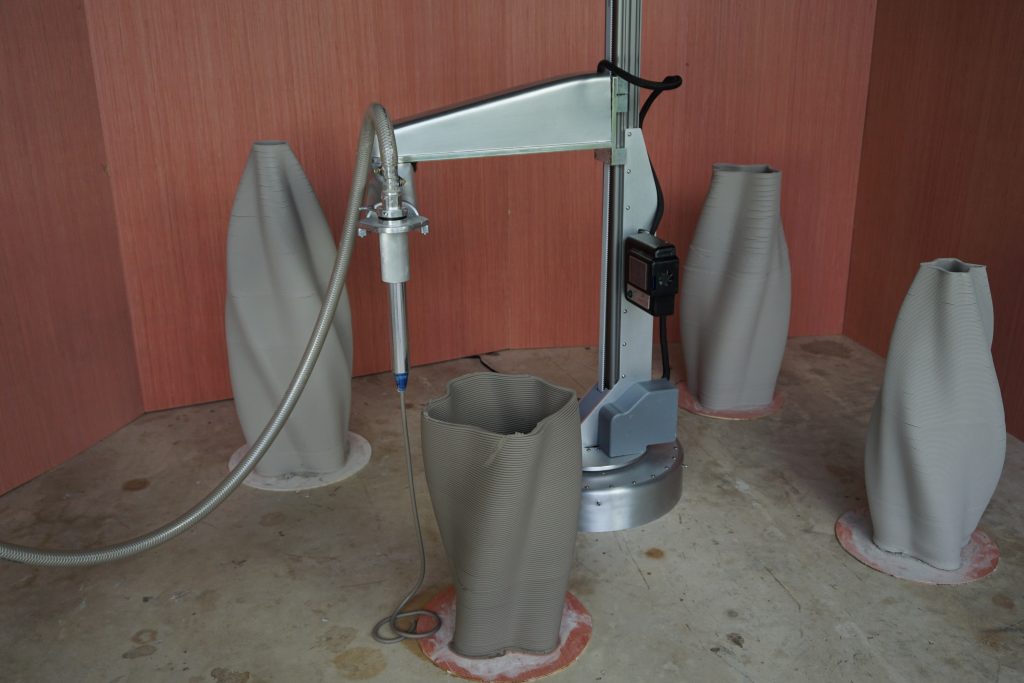 The printer is constructed from aircraft grade 6061 aluminum utilizing CNC and welded components for maximum strength and rigidity. The main rail components are IGUS precision guide rails with hybrid closed-loop stepper motors with on-board computers with telemetry that continually update their position for zero error positioning. This means very precise prints with no backlash or jittery movements at realistic speeds. The drivers are designed for maximum rigidity with extreme accuracy.