A patent in the US has received a new ankle implant, thanks to additive manufacturing and the skills of one Dr. Lauren Geaney, a foot and ankle surgeon at UConn Health's Musculoskeletal Institute. Gearney successfully performed the unique ankle replacement surgery using a 3D printed implant into patient Lori Cannon, who had suffered a severe ankle injury in 2021 and was facing limited mobility and pain.
Cannon's injury, sustained while helping a neighbor, led to bone protrusion and substantial bone loss. After experiencing significant discomfort and limited movement, she sought help from Dr. Geaney. Traditional solutions were inadequate due to the extent of the damage, prompting Dr. Geaney to explore alternative options.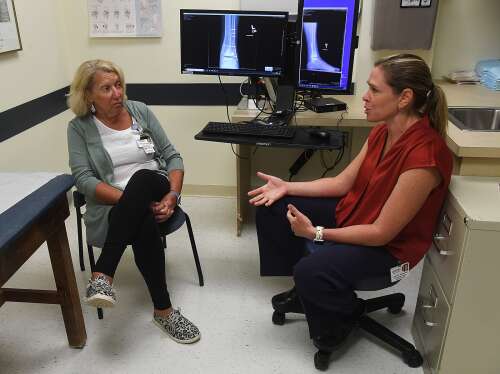 The solution emerged from a medical conference where Dr. Geaney discussed Cannon's case. A 3D printed implant, custom-designed to address both the bone loss and the fracture, presented itself as a potential solution. This cutting-edge implant, composed of titanium and polyethylene and coated with titanium nitride, offered the promise of enhanced durability and function.
However, both Dr. Geaney and Cannon were fully aware of the potential risks associated with this novel approach. After thorough consideration and a meticulously executed surgical procedure, Dr. Geaney successfully implanted the 3D printed joint in a procedure that lasted five hours. The outcomes of Cannon's recovery have been remarkable – her mobility has notably improved, and her pain has significantly diminished. Notably, the implant is designed to facilitate bone growth over time, offering heightened stability and support.
"It's rare to find a doctor like Dr. Geaney who's willing to think outside the box, to be creative," said Cannon.
"Fusion surgery would have left me with a peg leg, like I had a cement boot."
The procedure not only sets a precedent for AM-based orthopedic implants, but has also brought about a transformative change in Cannon's life. The restoration of her mobility has allowed her to actively engage in life once more, as she is now able to hike and keep pace with her grandchildren, illustrating how innovative medical interventions in general, and additive manufacturing in particular, can profoundly enhance the quality of life for patients.
Source: theday.com
Come and let us know your thoughts on our Facebook, Twitter, and LinkedIn pages, and don't forget to sign up for our weekly additive manufacturing newsletter to get all the latest stories delivered right to your inbox.