Germany's biennial Concrete Canoe Regatta competition sees many entrants partake in a 2 day trek through the Rhine river. Every other year, the entrants come up with various designs and showcase them at the race. Among the many prizes that teams compete for, the design innovation award is one of the highest accolades. While there were over 1,000 participants, the award went to ETH Zurich's SkelETHon, the 3D printed canoe made in collaboration between DBT and PCBM.
ETH has won the award for 3 years in a row by now. This year's design was a 4 meter construct with a concrete build and steel fiber frame for reinforcement. The concrete skin is 2 – 3 millimeters thick and provides a majority of the waterproofing. The canoe uses an algorithm to redistribute material to maximise the stiffness of its structure.
The 114 kilogram canoe was a collaboration between multiple companies. While the project was headed by ETH Zurich university, DBT provided the computational design and fabrication expertise. Similarly, PCBM concocted the material mixes and processing technique.
3D printing enabled the designers to engineer a skeletal structure 15 millimeters in thickness. This allowed the team to design the finer details of the canoe. While 3D printing wasn't in every step of the canoe, it did have a significant impact in the overall design.
Concrete Printing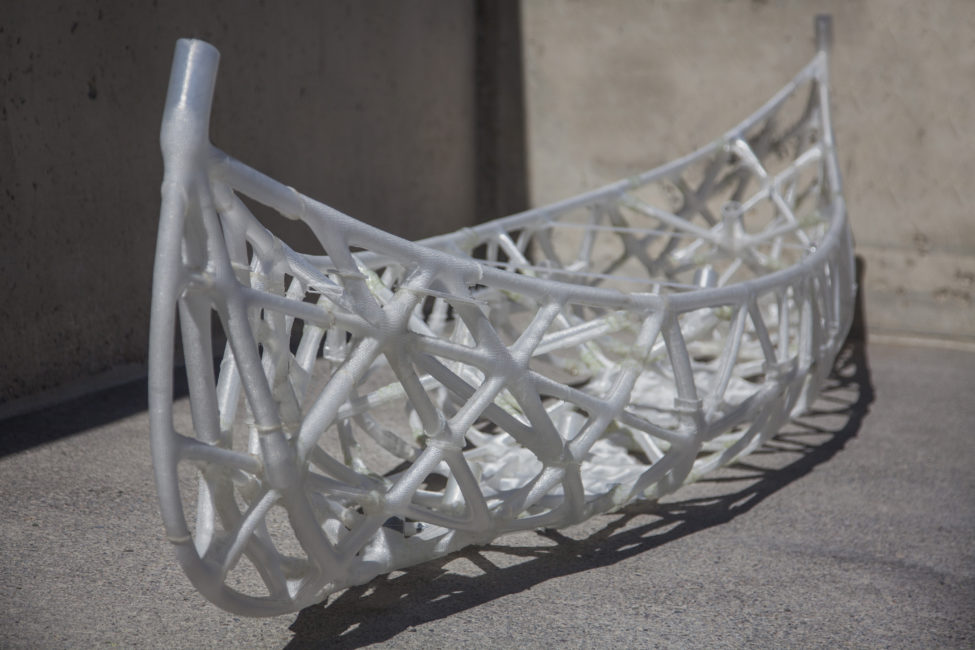 The '3D printing concrete' field itself is relatively new but certain companies like Apis Cor are already making names for themselves. Other projects, like the one at the Mccormick School of Engineering, are utilising extraterrestrial soils and 3D painting to create substitutes for concrete.
Various construction based technologies have been coming to prominence in the last few weeks. The main issues at this point are in terms of scale. While it may be perfectly appropriate for a canoe, the current build sizes need a vast improvement. For this reason, many systems use a series of cables and pulleys to create an infinite build area.
Recent advancements have also seen how drones can be used to monitor and aid in construction. Many firms are looking to harness 3D printing but there is still a long way to go. 3D printed parts have always been popular in terms of construction and it's only a matter of time before the right technology is available.
All images courtesy of DBT.