A team of researchers from Switzerland have come up with a design for a haptic feedback glove for use in VR, and it has been enabled thanks to 3D printed electroactive polymers.
The researchers, from Swiss institutes EPFL, ETH Zurich and Empa, have been developing the haptic glove device that will allow wearers to "feel" what they are touching in a VR world.
Read on to learn more about it.
Manufhaptics
The glove is designed to be manufactured according to an individual's unique hand dimensions, and can be produced mostly autonomously with additive manufacturing.
The research is part of a four-year long project called "Manufhaptics" which is under the purview of the Transducers Lab at EPFL.
The gloves work by using three different types of printed actuator which are capable of providing haptic responses to the wearer that differentiate between different types of touch sensation.
You can see the three types of printed actuator in the graphic below.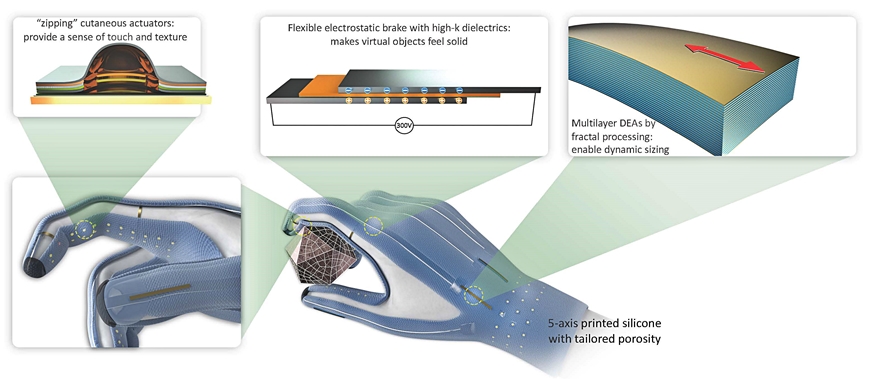 The first (and smallest) type of actuator utilizes tiny printed nubs that grow when electrically stimulated when activated, the finger nubs can grow up to replicate a specific texture of a surface.
The second type of actuators are located in the area of the finger joints. These electrostatic brakes are mounted inside the joints, and stiffen when energized, blocking the joints from movement and stiffening the glove.
When the wearer virtually touches a larger object in VR, this creates a feeling of resistance for the wearer, simulating larger, solid objects.
The third type of actuators are called DEA's (Dielectric Elastomer Actuator). These DEA's are located on the back of the glove. When voltage is applied to these actuators, they tighten the outer skin of the glove so that it fits perfectly at all points. During the VR experience, they can also apply pressure to the surface of the hand.
The DEA's were developed by Empa (the Swiss Federal Laboratory for Materials Science & Technology).
All of the glove's components, which exert various forces on the surface of the hand, are producible in a 3D printer.
Artificial Muscle
The electroactive polymer has a consistency similar to hand cream so that the artificial muscles can be produced in a 3D printer. The muscle is printed in layers, alternating between an electroactive polymer layer and a current-conducting layer. which are dispersed from two different nozzles on the researchers' printer.
You can see one such printed muscle in the image below.
"They react to electric fields and contract like a muscle," said Dorina Opris, head of the research group at ETH Zurich.
"But they can also serve as a sensor, absorbing an external force and generating an electrical pulse from it. We're also thinking of using them to harvest energy locally: From movement, electricity can thus be generated anywhere."
The researchers have so far managed to print a muscle of 10 layers, but in future they aim to print 1000 layer muscles, which will optimize the functionality.