3D Systems and their collaborators at United Therapeutics have released an update on their 3D printed lungs at the LIFE ITSELF Conference in San Diego.
If you recall, back in May 2021 they announced a roadmap to printing lungs for transplant which involved developing several technologies along the way. You can read that article here.
The recent update reveals that the partnership has resulted in printed lung scaffolds demonstrating gas exchange in animals, and United Therapeutics states that human clinical trials of 3D-printed, cellularized lungs in the next five years.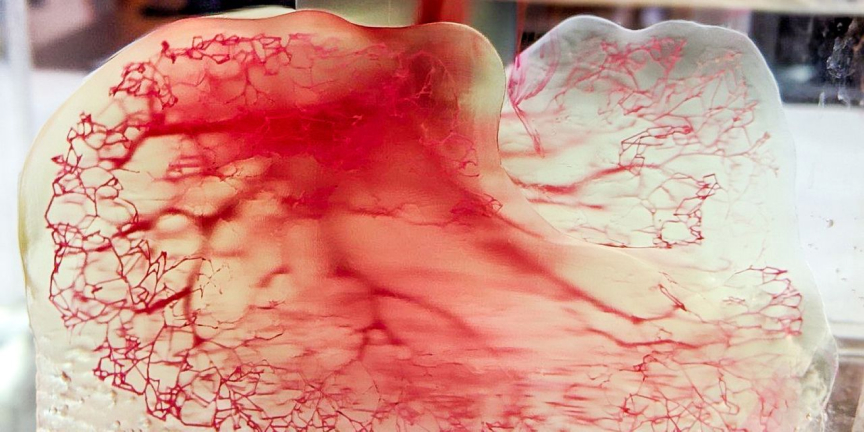 "The reveal at LIFE ITSELF represents the culmination of our efforts with United Therapeutics that includes not only 3D-printed lungs, but two additional organs under development, kidneys and livers," said Chuck Hull, co-founder of 3D Systems.
"These lung designs can be printed in as little as three weeks using our latest advanced photopolymer-based bioprinting technology we call Print to Perfusion."
This involves using the custom materials and optimized process to rapidly create high-resolution hydrogel scaffolds which can be perfused with living cells to create tissues.
The lung scaffold has been heralded as the most complex part ever printed due to the 44 trillion voxels that lay out 4,000 kilometers of pulmonary capillaries and 200 million alveoli within it.
The 3D-printed scaffolds will be cellularized with a patient's own stem cells to create tolerable, transplantable human lungs that should not require immunosuppression to prevent rejection.
"Last week, it was exciting to show the public our 3D-printed human lung scaffold, but we're thrilled to share that our 3D-printed lung scaffolds are now demonstrating gas exchange in animal models," said Dr. Martine Rothblatt, United Therapeutics' Chairperson and Chief Executive Officer .
"We are regularly printing lung scaffolds as accurately as driving across the United States and not deviating from a course by more than the width of a human hair."
Whew! That's fairly precise.
"With the continued hard work of dedicated scientists and engineers at United Therapeutics and 3D Systems, we hope to have these personalized, manufactured lungs cleared for human trials in under five years," continued Rothblatt.
"Our goal is to create an unlimited supply of transplantable lungs in the future," said Rothblatt.
"Even today, we are using a process called ex-vivo lung perfusion to add to the supply of transplantable lungs by extending by several hours the period of assessment and viability for human donor lungs, resulting in over 230 lives extended to date."
With more than 150,000 Americans dying from lung disease each year and 1,075 patients on the U.S. lung transplant waiting list (as of June 3, 2022), this is a big step forward and offers hope to those needing a lung transplant.