A recent paper published in Nature Communications has introduced a robotic solution that takes inspiration from nature's adaptability. The Multi-Modal Mobility Morphobot, or M4, is a robotic system that can transform to roll, fly, and walk across different terrains.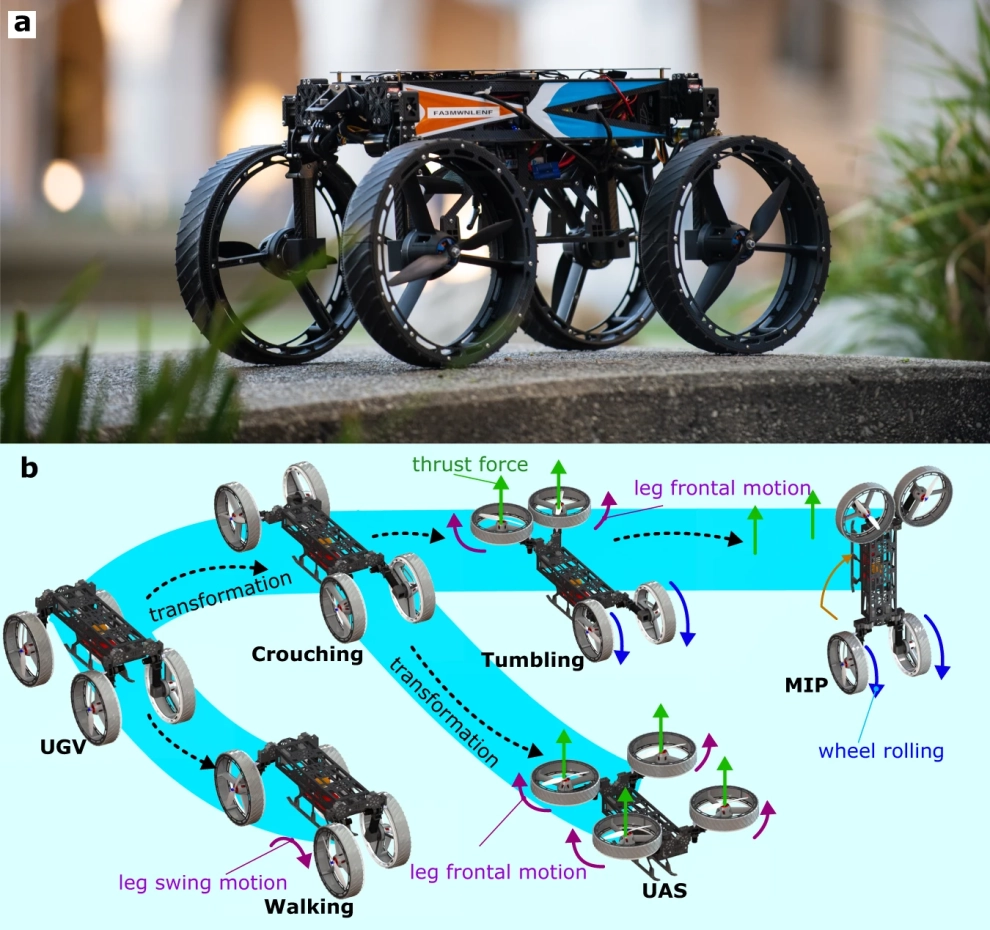 The M4 draws inspiration from various animals. It mimics the sea lion's flippers for swimming and walking, the meerkat's upright stance for vigilance, and the chukar bird's wing assistance for walking up inclines. The robot features an articulated body made of carbon fiber and 3D printed parts, allowing it to change shape as needed. It incorporates four quadcopter-style rotors that also serve as wheels.
The researchers conducted experiments to showcase M4's locomotion capabilities. These included wheeled locomotion, flight, object manipulation, quadrupedal-legged locomotion, and more. The robot successfully tackled obstacle courses that required on-the-go adaptation. Depending on the terrain, M4 dynamically switched between rolling, flying, and walking modes. For example, when faced with an incline, it utilized a combination of wheels and rotors to ascend, similar to the chukar bird.
While the M4 system may seem like overkill for some applications, it holds potential in scenarios such as search and rescue missions following natural disasters. The ability to adapt to various terrains and modes of locomotion could prove invaluable in navigating challenging environments.
By emulating the adaptability of various animals, the researchers have created a versatile system that can overcome obstacles and traverse diverse landscapes. As technology advances, such robotic systems may find practical applications in various industries, contributing to safer and more efficient operations.
You can read the research paper, titled "Multi-Modal Mobility Morphobot (M4) with appendage repurposing for locomotion plasticity enhancement" at this link.
Come and let us know your thoughts on our Facebook, Twitter, and LinkedIn pages, and don't forget to sign up for our weekly additive manufacturing newsletter to get all the latest stories delivered right to your inbox.