Cambridge researchers have collaborated with industry partners to create a groundbreaking 3D printed concrete wall for a National Highways project. The innovative structure, known as a headwall, has been installed on the A30 in Cornwall and is equipped with sensors developed by Cambridge University in the UK.
These sensors provide real-time information on temperature, strain, and pressure, allowing for the early detection and correction of faults. The wall was printed using a robot arm-based concrete printer at the headquarters of Versarien, an advanced engineering company in Gloucestershire. By utilizing 3D printing technology, the team was able to construct a curved hollow wall without the need for formwork or steel reinforcement, reducing costs, materials, and carbon emissions.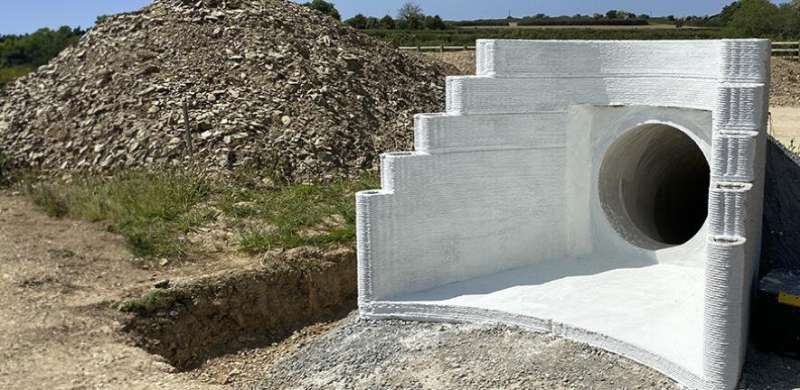 Over the past six years, Professor Abir Al-Tabbaa's team at Cambridge's Department of Engineering has been working on sensor technologies and exploring the potential of self-healing concrete.
A LiDAR system also was employed to create a 3D point cloud and generate a digital twin of the wall, enhancing its ability to communicate its own status. The team also developed PZT sensors, capable of detecting damage by measuring electromechanical impedance response and changes over time. These sensors were embedded within the wall layers during the printing process, allowing for the monitoring of loading and strain.
"Since you need an extremely fast-setting cement for 3D printing, it also generates an enormous amount of heat," said Al-Tabbaa.
"We embedded our sensors in the wall to measure temperature during construction, and now we're getting data from them while the wall is on site. Making the wall digital means it can speak for itself. And we can use our sensors to understand these 3D printed structures better and accelerate their acceptance in industry."
The project will serve as a living laboratory, continuously generating valuable data to aid infrastructure professionals in understanding the capabilities and potential of 3D printing for larger and more complex cement-based materials in the strategic road network.
Come and let us know your thoughts on our Facebook, Twitter, and LinkedIn pages, and don't forget to sign up for our weekly additive manufacturing newsletter to get all the latest stories delivered right to your inbox.