Researchers from the University of Bern have recently published a study in the European Journal of Pharmaceutical Sciences that has introduced an innovative approach to treating endometriosis using 3D printed vaginal ovules. Endometriosis and leiomyoma affect a significant number of women of reproductive age, and fibrosis has been identified as a therapeutic target for both conditions.
Pirfenidone, a small molecule approved for treating pulmonary fibrosis, has shown promise in reducing fibrosis in preclinical leiomyoma models and clinical trials for endometriosis. However, the risk of side effects has limited its recommendation for endometriosis treatment. To overcome these limitations, researchers explored vaginal drug delivery as an alternative.
Vaginal drug delivery also offers numerous advantages over oral administration. Local high concentrations of an active pharmaceutical ingredient (API) around reproductive organs through can improve the effectiveness and allow for the use of lower doses.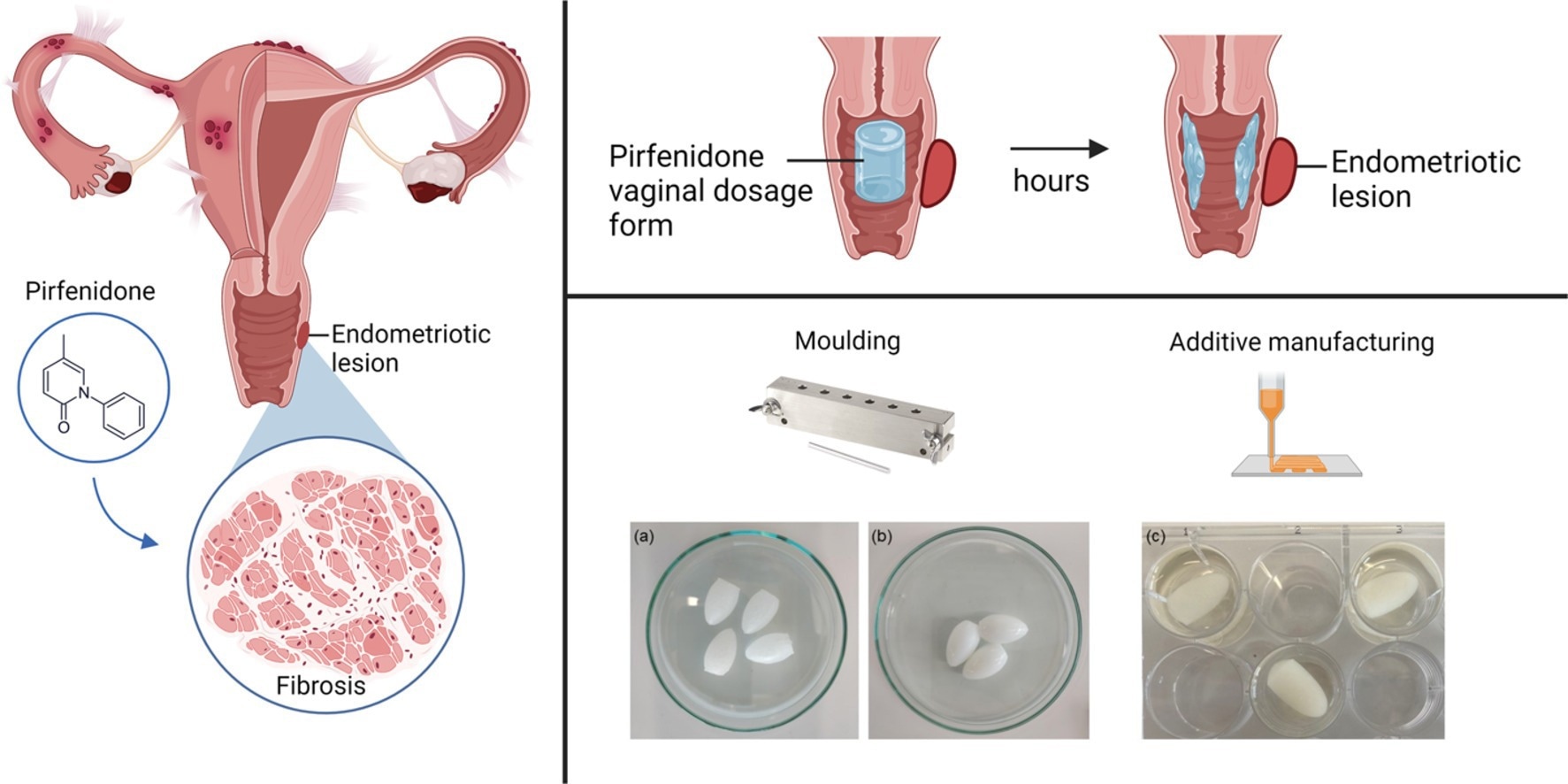 Using semi-solid extrusion (SSE), a form of 3D printing, the researchers developed pirfenidone-containing vaginal ovules. In the past, FDM has been used to print intrauterine devices, vaginal rings, uro-gynecologic mesh implants, and vaginal suppository molds. Unlike FDM however, SSE can be used to create gel-like and temperature-sensitive formulations.
The ovules were created using a mixture of sodium alginate, hydroxypropyl methylcellulose (HPMC), and pirfenidone. The 3D printed ovules exhibited slow-release properties, with up to 90% of pirfenidone released after eight hours, compared to the rapid release of traditional ovules.
Successful Porcine Tissue Trials
The printed ovules also displayed mucoadhesive properties, allowing for sustained release and improved effectiveness. Experiments conducted on porcine vaginal tissue showed that the printed ovules partially disintegrated within three hours, forming a mucoadhesive hydrogel. Furthermore, high concentrations of pirfenidone reduced the metabolic activity of endometriotic cells, suggesting sustained concentrations could effectively reduce their activity.
The study suggests that 3D-printed vaginal ovules have the potential to enhance the efficacy of pirfenidone in treating endometriosis. Despite the slow manufacturing process, the unique benefits of these ovules, such as controlled release and mucoadhesive properties, make them a promising option for vaginal drug delivery.
While further research is needed, this study represents a significant step forward in developing personalized and effective treatments for endometriosis using 3D printing technology.
You can read the full paper, titled "Mucoadhesive 3D printed vaginal ovules to treat endometriosis and fibrotic uterine diseases" in the European Journal of Pharmaceutical Sciences, at this link.
Come and let us know your thoughts on our Facebook, Twitter, and LinkedIn pages, and don't forget to sign up for our weekly additive manufacturing newsletter to get all the latest stories delivered right to your inbox.