3D printing is elevating the standard of care for cancer patients undergoing radiotherapy at Swansea's Singleton Hospital in Wales.
Their new approach involves the creation of specialized accessories called boluses, designed to ensure precise radiotherapy doses for cancers located near the surface of the head or neck.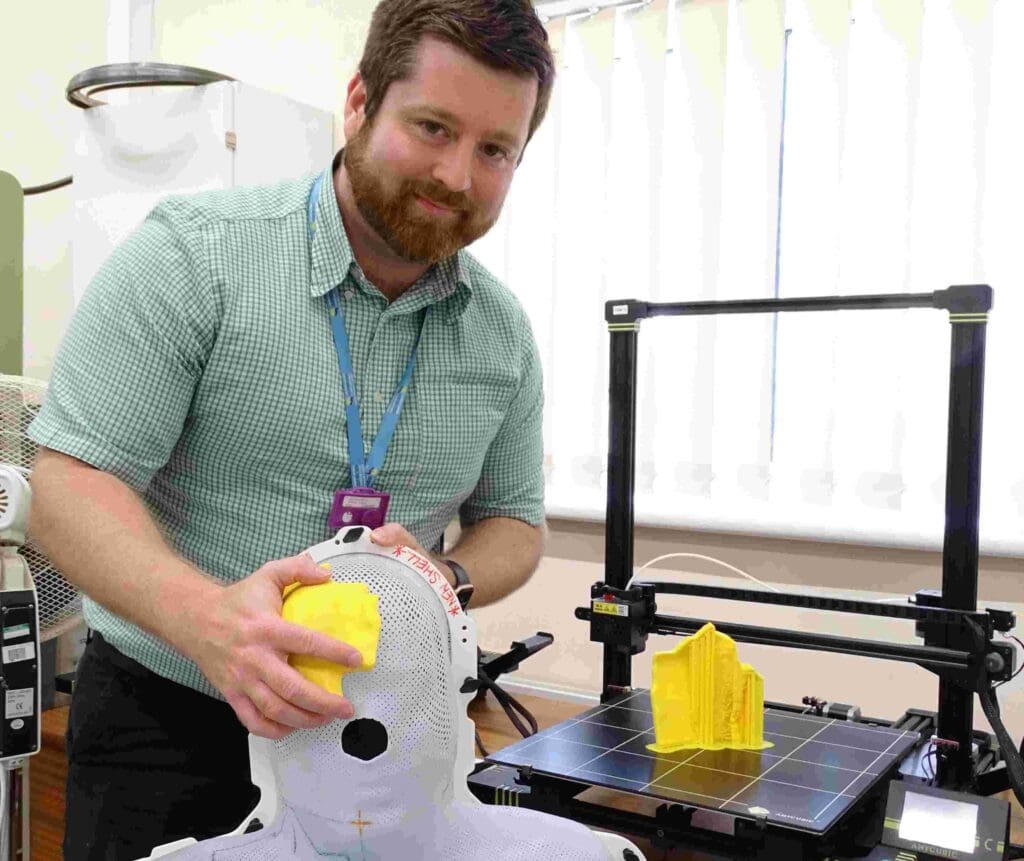 Traditionally, patients receiving head or neck radiotherapy wear a mask, commonly referred to as a shell, crafted from thermoplastic. This mask effectively immobilizes the head and neck, guaranteeing the accuracy of the treatment. However, some cases require the addition of a bolus to optimize radiation delivery. Previously, these boluses were painstakingly handcrafted from wax, a process prone to imperfections and air gaps.
The breakthrough came when Rhys Jenkins, an advanced radiotherapy physics technologist, discovered the potential of 3D printing for bolus production. These 3D-printed boluses precisely match the treatment plan, ensuring accurate placement and eliminating air gaps. This innovation not only enhances treatment accuracy but also saves valuable staff time, as boluses can now be produced swiftly with the push of a button.
The bolus, acting as tissue material, allows radiation to build up at the correct depth before reaching the patient's skin. This level of precision was challenging to achieve with manual methods, which often led to errors in shape and placement.
Thanks to the introduction of 3D printing, these issues are now history. The boluses are meticulously designed during the treatment planning stage and printed exactly as intended, seamlessly fitting onto the treatment shell.
This advancement boosts confidence in treatment delivery and significantly reduces the risk of errors.
"The 3D printing has enabled highly accurate and quality assured boluses to be produced from 3D planning scans, minimising uncertainty and bringing the dose to exactly where we need it," said Russell Banner, a consultant clinical oncologist at Singleton.
"The printer even prints overnight while we are sleeping to ensure there are no delays in the treatment pathway."
Patients benefit from quicker and more comfortable application, as the 3D-printed bolus doesn't require molding to the treatment shell. The move to 3D-printed boluses has been celebrated as a positive step for both patients and staff, streamlining the treatment process and improving the overall patient experience.
The result is highly accurate and quality-assured boluses that minimize uncertainties and ensure precise radiation doses exactly where they are needed most. This new advancement demonstrates how additive manufacturing can positively impact cancer treatment, offering hope and confidence to patients and healthcare professionals alike.
Source: wales247.co.uk
Come and let us know your thoughts on our Facebook, Twitter, and LinkedIn pages, and don't forget to sign up for our weekly additive manufacturing newsletter to get all the latest stories delivered right to your inbox.