In a study published in ACS Applied Materials & Interfaces, researchers have unveiled a revolutionary wound-healing ink that accelerates the body's natural healing process. By introducing immune-system vesicles into cuts, this innovative ink can promote rapid and effective wound repair. Using a 3D printing pen, the ink can be precisely applied to wounds of any shape, offering a simple and efficient solution.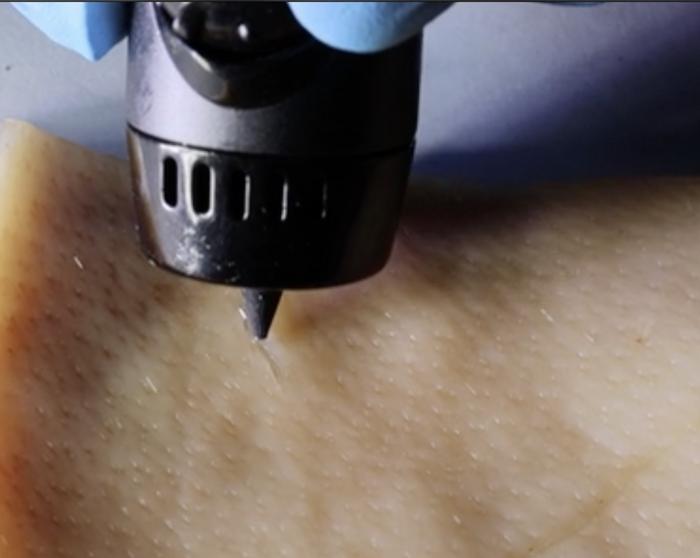 When the skin is injured, the body initiates its innate healing mechanisms, but severe wounds often require external aids such as bandages or stitches. However, the newly developed wound-healing ink takes a proactive approach by leveraging the regenerative properties of immune-system vesicles. These vesicles, secreted from white blood cells, play a crucial role in reducing inflammation and promoting the formation of new blood vessels during the healing process.
To create the ink, scientists Dan Li, Xianguang Ding, and Lianhui Wang developed a portable bioactive ink for tissue healing, aptly named PAINT (portable bioactive ink for tissue healing). By combining immune-system vesicles from macrophages with sodium alginate, they created a hydrogel-based ink. When applied using a 3D-printing pen, the ink solidifies within three minutes, creating a gel-like scaffold at the wound site.
Healing with PAINT
In experiments conducted on mice, the researchers demonstrated the remarkable efficacy of PAINT. Within just 12 days, wounds treated with PAINT nearly fully healed, surpassing the progress of untreated wounds. Collagen fiber formation, a critical aspect of the healing process, was notably accelerated in the treated mice.
The potential applications of this breakthrough are vast. The ease of application and versatility of PAINT make it suitable for a wide range of wound types, eliminating the need for complex procedures. This innovation has the potential to revolutionize wound care and enable faster, more effective healing.
The development of PAINT was made possible through funding from various organizations, including the Leading-Edge Technology Programme of Jiangsu Natural Science Foundation and the Postgraduate Research & Practice Innovation Program of Jiangsu Province.
You can read the full paper, titled "Paintable Bioactive Extracellular Vesicle Ink for Wound Healing" over at this link.
Come and let us know your thoughts on our Facebook, Twitter, and LinkedIn pages, and don't forget to sign up for our weekly additive manufacturing newsletter to get all the latest stories delivered right to your inbox.