American stock car team Stewart-Haas Racing has announced a multi-year partnership with 3D Systems, with the goal of utilizing additive manufacturing for the team's competitive advantage on the track.
The team, named after founders Tony Stewart (NASCAR Cup Series champion) and Gene Haas (of CNC fame), will use 3D Systems' machines and materials for the rapid design, testing, and production of critical components to increase speed, improve performance.
Read on to learn more about the technical partnership.
Extending the Partnership
Stewart-Haas Racing is no stranger to advanced manufacturing technology, obviously, as they have Gene Haas running the show. He knows a thing or two about digital manufacturing, so it's no surprise that they have been making use of modern subtractive and manufacturing technologies for a while now.
3D Systems first announced that Stewart-Haas Racing had become a customer a couple of years back, and clearly things have worked out, as they have just formalized that relationship as a 3-year technical partnership.
In addition to providing technical support for the racing team, 3D Systems branding will appear on the racing teams livery during races, as their sponsor.
Stewart-Haas Racing and 3D Systems will first appear together in the season-opening NASCAR Xfinity Series race on February 18th 2023, at Daytona (Florida) International Speedway. The 3D Systems logo will appear on the No. 00 Ford Mustang driven by Cole Custer.
Competitive Edge
The racing team has made use of a variety of additive manufacturing systems over the last few years. They have made extensive use of 3D Systems resin systems for the fabrication of aerodynamic surfaces for testing in wind tunnels. Nascar is all about power and top speed, so reducing drag on the vehicle is key to maintaining a competitive edge. And resin-based printing is ideal for aerodynamic testing due to its high dimensional accuracy, and smooth surface finish.
"The Pro X 800 and the Figure 4 printers enable us to print very large and very small, accurate, smooth-surface finish parts as quickly as possible," said Reneau Van Landingham, production manager at Stewart-Haas Racing.
"The speed in which we can design the component, print it, and test it in the wind tunnel is our most valuable resource to making our cars faster at the racetrack."
For their large aerodynamic test components, Stewart-Haas Racing uses the ProX 800 printer from 3D Systems.
And it's not just test components the company is making- several components end up on the car and trackside during races also, as they use 3D Systems' Figure 4 Standalone for the direct production of TV camera, pit gun, and pit cart components along with other prototype parts.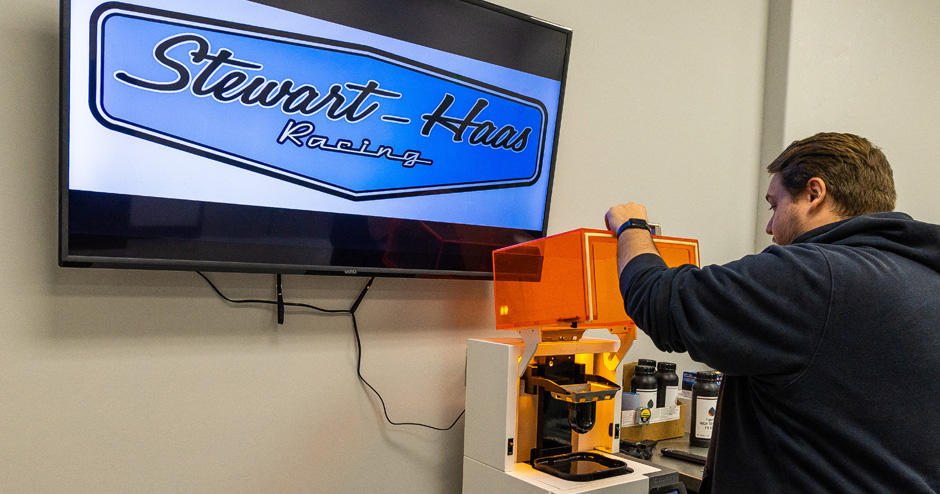 "As part of our work within motorsports, 3D Systems understands how critical speed is — not just on the track, but in technical development to improve car performance," said Reji Puthenveetil, executive vice president, industrial solutions, 3D Systems.
"By partnering with Stewart-Haas Racing, we are able to combine their capabilities with the benefit of 3D Systems' advanced materials and printing technology to develop competitive advantages for them — on and off the track."
You can see some footage of how Stewart-Haas Racing has been using 3D Systems additive manufacturing solutions in the video below.
Stewart-Haas Racing has won two NASCAR Cup Series titles, one NASCAR Xfinity Series championship and more than 90 NASCAR races, including the Daytona 500, Brickyard 400 and Southern 500.