Pennsylvania-based company Kennametal Inc. has clinched the prestigious 2023 R&D 100 Award for its funky looking additively manufactured toolholder designed specifically for machining large engine and transmission housings. The toolholder, crafted utilizing Kennametal's KENionicTM technology, is 50% lighter than traditional tooling, consequently slashing machining time by approximately 50%.
You can see the sinewy toolholder in all its topologically optimized glory in the image below.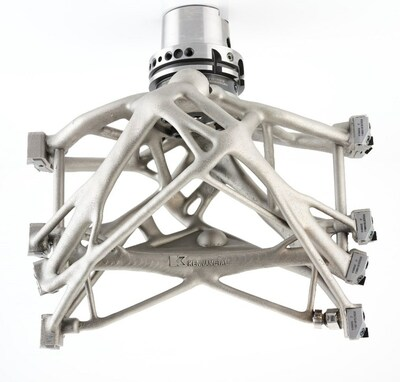 The toolholder demonstrates Kennametal's prowess in materials science, precision machining, bionics-inspired design, and additive manufacturing.
"This is an outstanding example of our industry-leading expertise in materials science, precision machining, bionics-inspired design and additive manufacturing that fuels Kennametal's innovation," said Dr. Carlonda Reilly, Vice President and Chief Technology Officer.
"We welcome opportunities to leverage our core capabilities to continuously innovate for our customers and are thrilled our KENionic™ technology has been recognized with this award."
Engineered to craft precision components for transportation applications, KENionic technology represents a new echelon of additively manufactured tools, characterized by designs emulating the supreme efficiency of organic adaptations found in nature. The tool's LPBF steel cutter body, distinguished by its lightweight nature, not only simplifies tooling changes but also augments operational agility with rapid acceleration and deceleration. The tool's additive manufacturing configuration facilitates the incorporation of multiple channels for pinpoint coolant delivery, enhancing its efficiency.
Come and let us know your thoughts on our Facebook, Twitter, and LinkedIn pages, and don't forget to sign up for our weekly additive manufacturing newsletter to get all the latest stories delivered right to your inbox.