Plansee High Performance Materials, a subsidiary of the Plansee Group, has unveiled its latest generation of hot zones for industrial furnaces, which allow a high degree of customization thanks to additive manufacturing. These new models are designed to significantly reduce energy consumption while maintaining high performance, offering cost savings and a reduced carbon footprint for customers.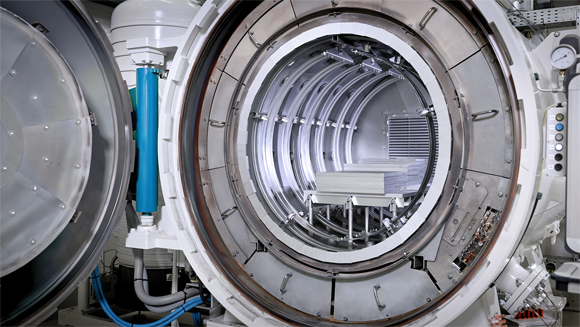 The challenge in the industry lies in finding energy-saving solutions without compromising quality. Particularly in sectors like aviation and medical technology, where high-temperature vacuum furnaces are used for heat treatment, large amounts of energy are required. Plansee addresses this challenge by supplying manufacturers with metallic hot zones made from molybdenum, molybdenum alloys, and tungsten, which optimize temperature distribution in the furnace.
Compared to previous iterations, Plansee's new hot zone models reportedly save up to 27% of energy and are up to 15% lighter due to a lightweight support frame. The design and materials used in the heating system ensure optimal heating of the batch, minimizing issues like short circuits or sagging of the heating element. Gas cooling is efficiently implemented through strategically placed nozzles determined by simulations, preventing unintended cold spots in the furnace.
The introduction of the 'FlowBox' enables smooth gas outflow at the rear of the hot zone, allowing precise cooling without creating additional cooled areas. Additionally, the front door is intelligently mounted to adapt to temperature changes, minimizing heat loss.
Plansee offers an online tool for configuring hot zones according to individual requirements. For unique needs, they can independently produce special parts using additive manufacturing, leveraging materials like molybdenum and tungsten.
Come and let us know your thoughts on our Facebook, Twitter, and LinkedIn pages, and don't forget to sign up for our weekly additive manufacturing newsletter to get all the latest stories delivered right to your inbox.