Last Thursday on May 30, San Diego-based Longer Technology Inc launched a Kickstarter campaign for their high-resolution SLA (Stereolithography) 3D printer, the Orange 30. By launching this new SLA model, the company has positioned itself as a strong competitor amongst the other affordable SLA 3D printer manufacturers.
The Kickstarter campaign (visit it here) reached its crowdfunding goal on the first day! If you hurry up, you can still make an early bird pledge of $229USD and save almost 50% on the retail price that it will be sold for after the campaign. Their super early bird pledge of $199USD is already fully backed.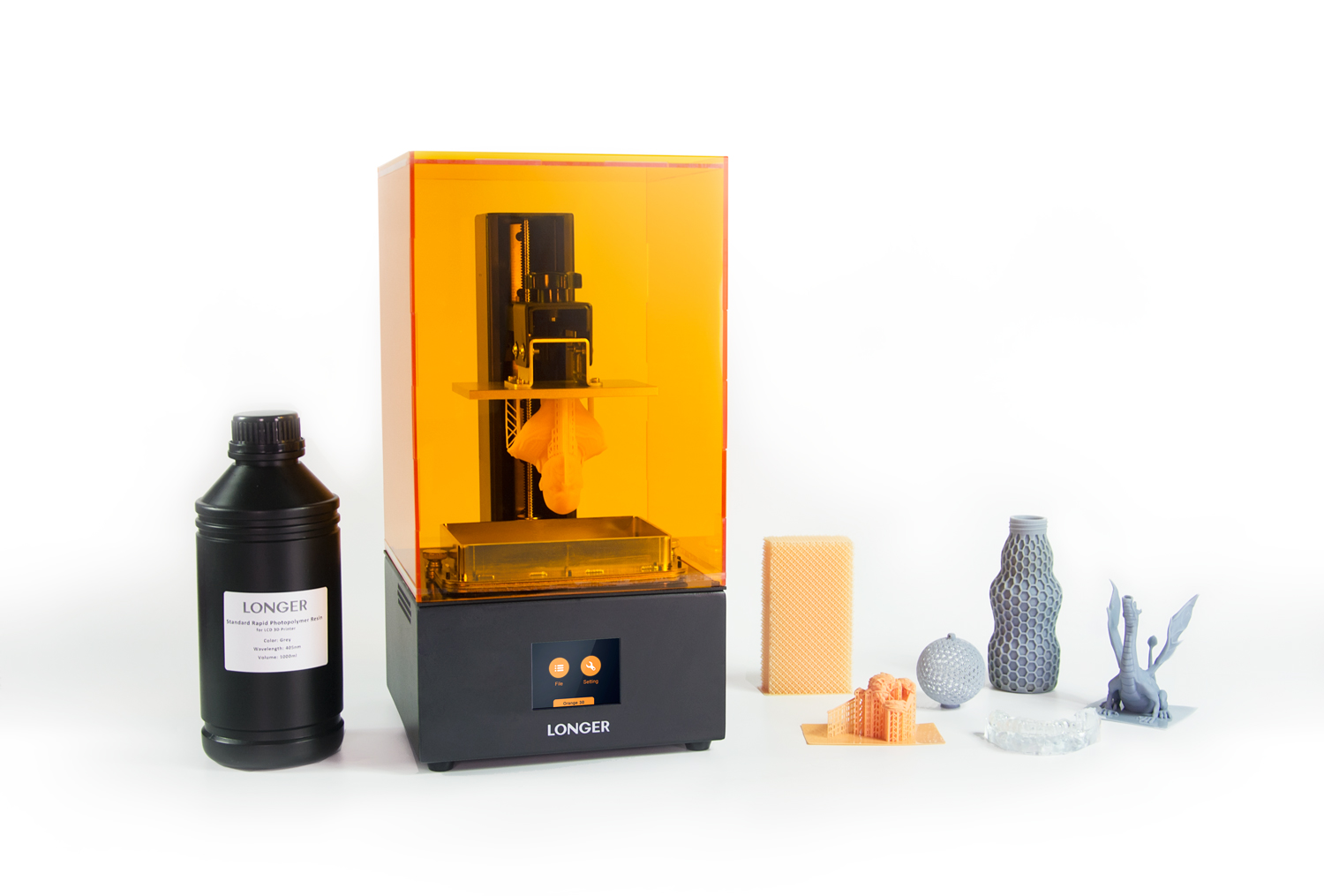 The Longer 3D Orange 30
The Orange 30 has an all-metal body and a respectable build volume of 170mm x 120mm x 68mm, which is larger than most of its more expensive competitors. It's also equipped with a touch screen, meaning it doesn't need to be connected to a computer to operate; prepared files can be loaded onto a USB drive for printing.
One of the most impressive features of the Orange 30 is its high temperature warning system. When the material reaches a certain (too high) temperature, the 3D printer will automatically stop printing. The printer will resume its process when the temperature drops down to the right temperature again. This will protect the entire system and it will extend the printer's life. The integrated fast cooling system ensures this process to be quick.
Matrix UV Back-Lighting LED and an LCD resolution of 2560 x 1440 allow for precision of 47 microns, enabling a level of quality generally found in machines that cost over $1,000. Longer 3D is also offering various colors of normal resin and a tough resin intended for engineering applications. It is likely that third-party resins are also compatible with the Orange 30 so users will be able to work with dental, jewelry, and casting resins as well.
The wake of the Fourth Industrial Revolution can be felt as high-quality 3D printing solutions become accessible to more and more people. Only a few years ago, SLA 3D printers were accessible only to businesses because they cost over $15,000. Now, people spend more money on their phones than what it would cost to buy an SLA 3D printer like the Orange 30. Go to their Kickstarter campaign to reserve yours.
About Longer 3D
The San Diego based Longer Technology Inc. is a subsidiary of Longer 3D, a 3D printer manufacturer from Shenzhen, China. Longer 3D was founded in June 2014 by innovative experts from the Chinese "The Thousand Talents Plan" together with a scientist team from MIT. The company offers desktop 3D printers, industrial solutions and has 20+ patent approvals for 3D printing applications. They provide full 3D printers solutions for their customers, from FDM, LCD-SLA, DLP, Ceramic, to Metal printing solutions.