Anycubic has announced the release of the Kobra 2, a new FDM 3D printer with 220*220*250mm build volume, designed to deliver rapid printing and a user-friendly experience all at a pocket-friendly price. How rapid? 5x the speed, that's how rapid!
Read on to learn more about how Anycubic plans to impress both hobbyists and professionals with the latest addition to the company's FDM printer range.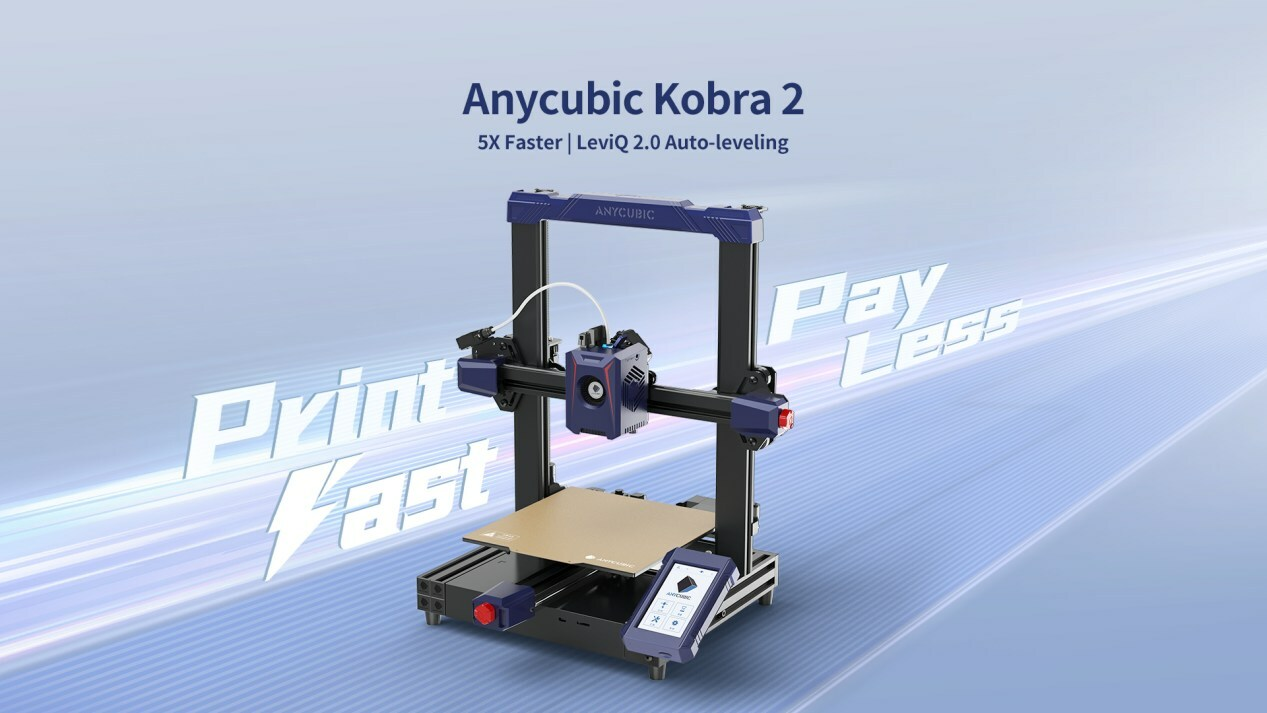 5x the Speed
The new Kobra 2 has a default print speed of 150mm/s and a maximum print speed of 250mm/s, allowing it to complete a Benchy model with 0.28mm layer height in just 30 minutes.
This impressive speed is due to the following features on the printer:
New Dynamic Structure
The rigid structure of the Kobra 2 features double metal spindles and SG15 bearings on the X and Y axes. This ingenious configuration not only ensures sleek and swift movements but also exhibits exceptional durability against wear and tear, surpassing the limitations of the traditional D shape wheel structure.
Kobra 2 takes its performance to new heights with a double screw motion mechanism on the Z-axis. This enables accelerated Z-axis movements by effortlessly reducing lifting resistance during the printing process and maintaining the X-axis level, reducing layer lines, and delivering flawless results that will leave you in awe, even at breakneck speeds.
New Dual-Gear Direct Drive Extrusion System
The direct drive extrusion system on the Kobra 2 printer utilizes a 4:1 gear ratio to securely grip the filament and avoid slippage. This design ensures precise extrusion and control of the filament's flow, even when the printer is in rapid motion. Additionally, when printing at higher speeds, it becomes necessary to increase the rate at which the filament is extruded in order to compensate for slower extrusions during speed variations. The Kobra 2's hot end, with its 60W high-power capability, enables faster melting of the filament, resulting in enhanced flow and the ability to achieve higher print speeds.
Upgraded Cooling Fan
The new fan design takes cooling to a whole new level, going beyond the call of duty to ensure optimal printing performance.
Imagine a cooling fan with an optimized dissipation design, meticulously crafted to whisk away excess heat from the freshly extruded filament. This fan is no ordinary fan—it spins at an astonishing speed of 700 revolutions per minute. Picture the mesmerizing blur as it whirs into action, swiftly and efficiently cooling down your prints, leaving them crisp and ready for the next layer.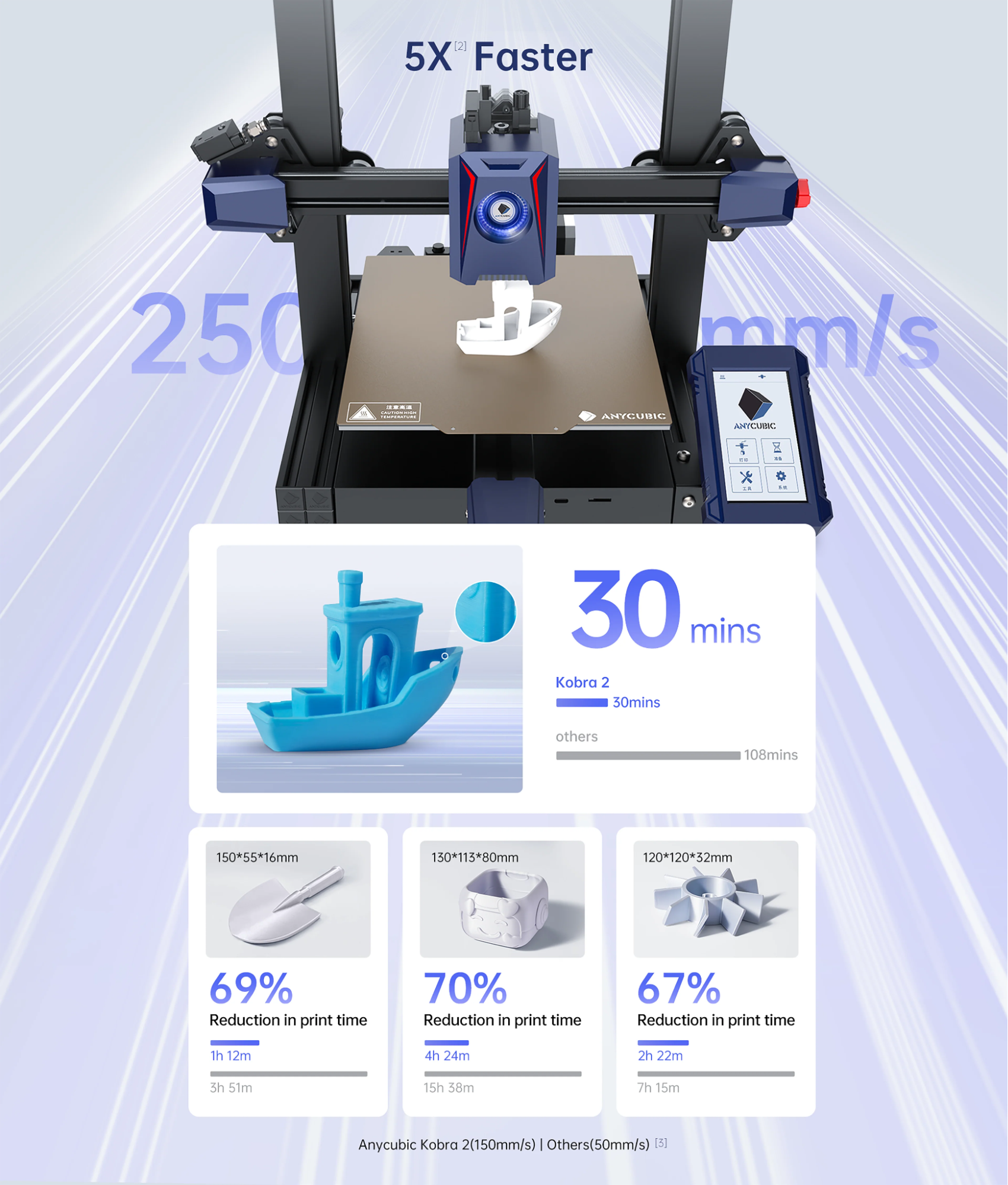 More User-friendly
In addition to the higher speeds allowed by the Kobra 2, the printer has a number of features to make your printing experience free of headaches and drama.
Anycubic LeviQ 2.0 auto bed leveling with Smart Z Offset
Picture a world where tedious adjustments and trial-and-error become a thing of the past. The Anycubic LeviQ 2.0 boasts a remarkable smart Z-axis offset module that ensures your Z offset is flawlessly calibrated with a mere touch of a button. Say farewell to the frustrating task of manual adjustments, as the Kobra 2 effortlessly takes care of the nitty-gritty details for you.
Semi-assembled design:
The Kobra 2 comes in a semi-assembled state and requires no soldering or complex mechanical assembly, ensuring a user-friendly assembly experience that can be set up in 10 minutes even for 3D printing novices.
4.3-inch colored LCD touchscreen:
The 4.3-inch color touchscreen LCD provides a seamless interaction experience, and has been thoughtfully positioned on the right side of the machine for effortless accessibility, even while printing.
The user-friendly design ensures that every interaction is a breeze, allowing you to effortlessly navigate through the intuitive interface.
Magnetic Spring Steel Build Plate:
The textured surface locks parts down during printing when hot, and after cooling they just slide right off with no tools required. So no more stabbing yourself with a metal scraper! With just a small tap, the parts fall right off, even with the larger or more sticky PETG prints.
Power Loss Recovery and Filament sensor
Say goodbye to the woes of unexpected power outages, thanks to the ingenious power-loss recovery feature of the Kobra 2. No matter what mischief the electricity plays, the Kobra 2 is ready to bounce back and resume printing right from where it left off, ensuring your masterpiece remains unscathed.
The Kobra 2 also comes equipped with a filament run-out sensor, your trusty sidekick in preventing those pesky printing errors. This clever sensor detects when the printer runs out of filament and promptly puts a pause to the process, sparing you from any mishaps. It's like having a vigilant guardian watching over your prints, ensuring they come out flawlessly every single time.
Pricing and Availability
What else can we say about the Kobra 2? Let's see what Anycubic has to say before revealing how you can get your hands on one.
"Turning your ideas into reality with 3D printers quickly can be a challenging process, especially with regular speed printers. However, Kobra 2 has revolutionized the process by making it more accessible and efficient." said James Ouyang, Vice President of Anycubic.
"The 3D printer can deliver fast prints while maintaining high-quality results, enabling creators to have more time to focus on their ideas rather than the production process."
The Kobra 2 3D printer will go on sale at 9:00 am EDT May 20th, 2023, in the US (from $269), and will be available in Europe at 9:00 am CEST June 1st, 2023 (from €299).
Users can get their Kobra 2 from the official Anycubic store, Amazon, eBay, Walmart, and AliExpress from May 20th.
For more information about the Kobra 2, head on over to the Anycubic product landing page, at this link.
Come and let us know your thoughts on our Facebook, Twitter, and LinkedIn pages, and don't forget to sign up for our weekly additive manufacturing newsletter to get all the latest stories delivered right to your inbox.