AOSEED has launched its latest product, the X-MAKER 3D printer focused on inspiring creativity and problem-solving in children. The printer aims to lower the barriers of 3D printing and design, allowing beginners and children to unleash their creativity in an easy and affordable way.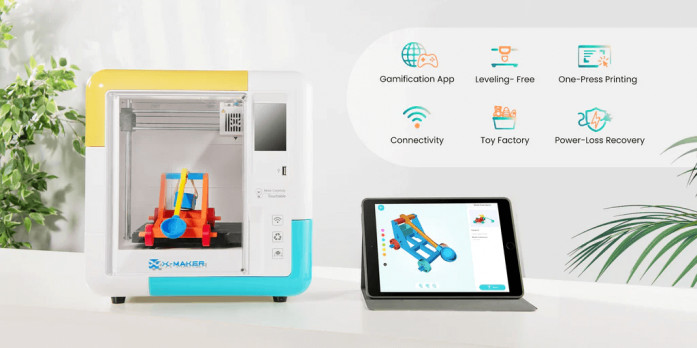 The X-MAKER comes with a gamification 3D design app with 15 mini-programs designed to turn the design process into fun games. The X-MAKER also has an easy-to-use one-press printing feature and a user-friendly interface that enables unlimited creativity without a steep learning curve.
The app (available for iPhone, Android and Windows) also features a well-designed model database, and LEGO-style design apps that make model design more accessible.
In terms of printer information, it has a build volume of 150*150*150mm, requires no leveling, has a nozzle temperature of ≤260℃ and a bed temperature of ≤110℃. So despite being a printer aimed at kids, you could print a fair variety of materials with this little machine. In addition to the app, the printer also comes with the company's own slicer software named X-PRINT, which runs both g-code and "x-code".
Overall, AOSEED's X-MAKER 3D printer is safe, eco-friendly, and customer-focused, offering excellent support and resources for different skill levels.
So, whether you are a kid, a family, a beginner, or a professional, you can get your hands on X-MAKER 3D printer over at this link.
Come and let us know your thoughts on our Facebook, Twitter, and LinkedIn pages, and don't forget to sign up for our weekly additive manufacturing newsletter to get all the latest stories delivered right to your inbox.