Sandals, slippers, thongs, flip-flops…call them what you will. They are extremely utilitarian in their design, and generally speaking they are pretty easy to manufacture also.
So given their simplicity of design and manufacture, why on earth would anyone want to 3D print them? Sure, it might be a fun experiment to try on your 3D printer at home, but is the world in need of 3D printed sandals?
Sportswear manufacturer ASICS thinks so, and they have teamed up with manufacturing company LuxCreo to manufacture generatively designed sandals to prove it! You can see what the sandals look like in the image below.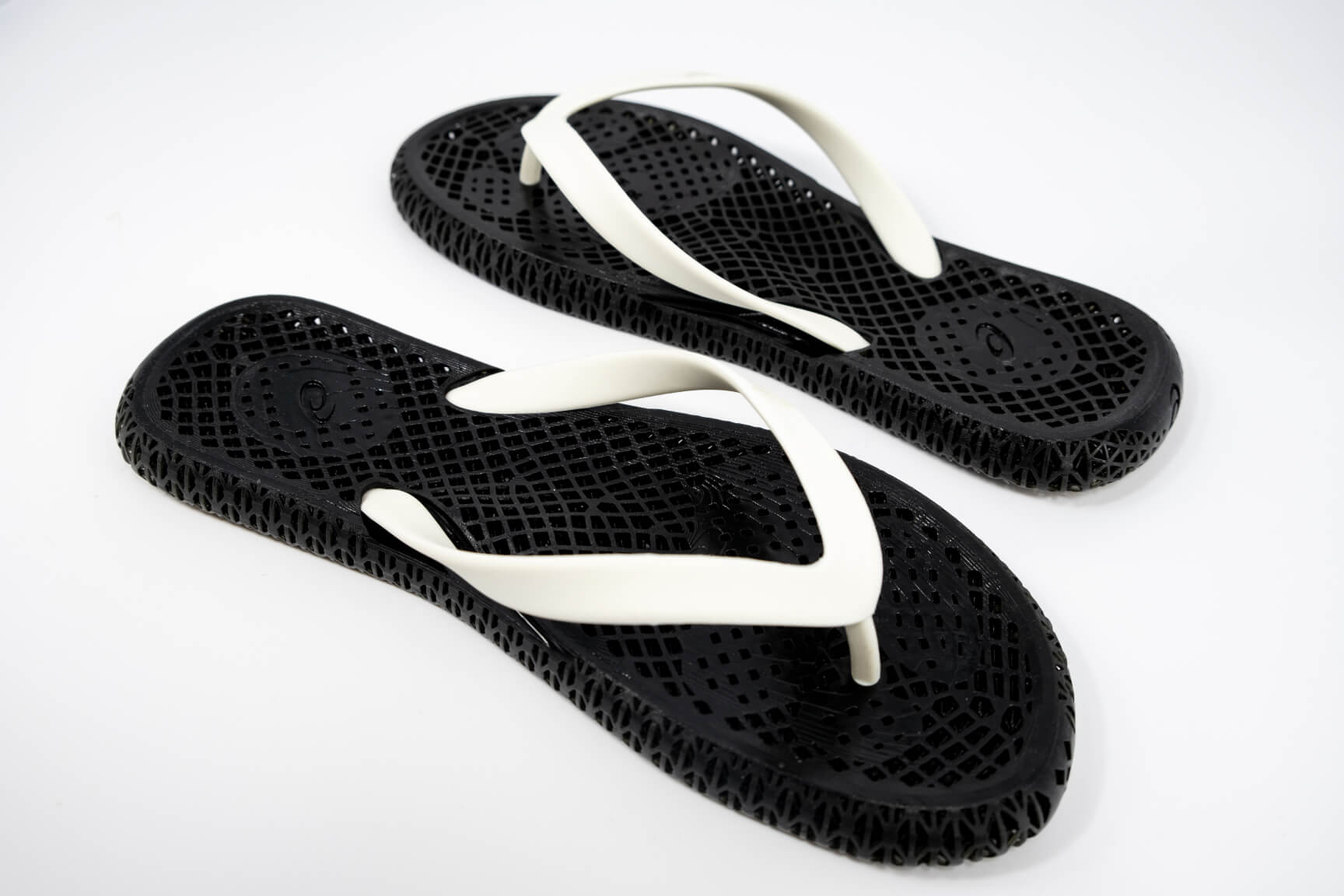 The Thong Remains the Same
Yes, sandals have remained largely unchanged since their inception way back in antiquity, which means we can legitimately say that the thong has remained the same for a very long time. Why mess with perfection, right?
ASICS disagrees and they want to give the open-shoe the Industry 4.0 makeover that it richly deserves. And they have done so with the assistance of LuxCreo and their generative design software LuxGen.
"There is strong demand for custom footwear that is better performing and sustainable," said Norihiko Taniguchi, General Manager of Future creation department, ASICS Corporation.
"With LuxCreo's 3D printing and Smart Factory solutions, mass customization of high-performance footwear will come true in the near future."
The customization begins at the ASICS Future Experience Lab where would-be customers have their feet scanned. The scan is then matched to the arch height and shoe size of the wearer, and then run through the generative design software, which generates the lattice structure you can see in the sole.
Like a Sandal in the Wind…
The files are then sent to the LuxCreo Smart Factory, where they can be produced in any quantity from small personal orders to large runs.
The Smart Factory is equipped with a variety of printers from resin printers to thermoplastic printers, and can produce sandals to any production scale or level of customization.
"Over the last year, many companies are experiencing significant disruptions in their manufacturing supply chains," said Michael Strohecker, chief revenue officer at LuxCreo.
"With LuxCreo Smart Factories and cloud-connected 3D printers, our customers around the world have greater flexibility in product designs, where they manufacture, and can more easily and rapidly move from prototyping and small batch production to high volume manufacturing."
Sustainability
Sustainability is a key word here, as ASICS says that organisations will be able to cut down on costs by ordering only the volumes of products that are needed, rather than paying for a minimum production run on a large generic order.
One third of the global population can afford only sandals, and the average life expectancy of a pair of sandals is just two years. After the old sandals have been worn out, they typically end up in landfill. Many are discarded into the ocean, and up to 90 tons of flip-flops per year end up washed up on the coasts of East Africa. Extending the life of your average sandal would certainly cut down on the waste in that regard.