The Royal Australian Navy has recently tested a new firefighting training system that combines virtual and augmented reality with 3D printed components.
The system involves a headset that transforms the surroundings into a simulated firefighting exercise. Trainees wear an oxygen mask and heat vest and hold a 3D printed fire hose nozzle that measures water usage. The nozzle is connected to a reactive hose reel that simulates real hose forces, challenging the trainee's techniques. The system also measures breathing rate, body temperature, and heart rate to monitor performance.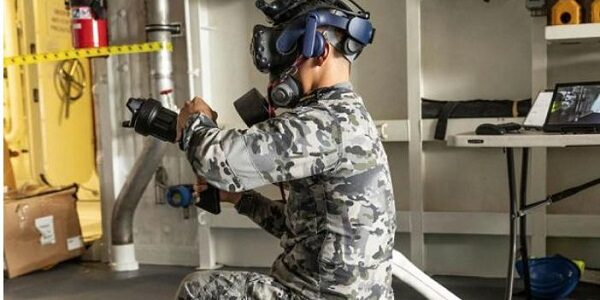 The technology was developed in collaboration with the Navy, Defence Innovation Hub, and Deakin University, and aims to create a hot fire trainer that Navy personnel can take onboard ships.
"The technology we are using combines virtual reality, augmented reality and haptics," said Professor Saeid Nahavandi of Deakin University.
"The idea was to create a hot fire trainer that Navy personnel can take on board to create a virtual fire in a real environment. The way we have designed and built the system in terms of its processing capability is actually ready for the next two to three years.We are trying to help the Navy get future ready."
The system was trialled on board HMA Ships Brisbane, Gascoyne, Warramunga, and Arunta, as well as at Navy's fleet innovation section at Garden Island. Trials are expected to finish in late 2023.
Come and let us know your thoughts on our Facebook, Twitter, and LinkedIn pages, and don't forget to sign up for our weekly additive manufacturing newsletter to get all the latest stories delivered right to your inbox.