Automaker Bentley Motors Ltd. has revealed that they will be using additive manufacturing for the trim of their limited edition luxury Mulliner Batur. And being the luxury marque that Bentley is, they are printing the trim parts in solid 18 carat gold!
Most Powerful
The twin-turbo 6.0-liter W12 powered Bentley Mulliner Batur is going to be, according to the company, the fastest and most powerful car that they have produced in their 108 year history.
Bently has handled the engineering side, and the styling, bodywork and interior has been designed by coachbuilders Mulliner (hence the name).
The car features up to 210 grams of printed gold, which has been crafted by renowned goldsmiths Cooksongold, who are based in the Birmingham Jewellery Quarter. The gold parts will also be branded with the Jubilee hallmark, celebrating the recently deceased Queen Elizabeth II's Platinum Jubilee year.
Let's feast our eyes on one of the chunks of gold. The image below shows the "optional" Charisma Dial, which encircles the engine start/stop button. There are other gold touch points located around the interior, although Bentley has not released any pictures of those as of yet.
All the sustainably sourced gold is 100 percent recycled from old jewelry, ground into a fine powder which is then printed in a LPBF process, before being hand-finished by artisan jewelers.
Recycling apparently ensures there is no environmental impact from mining for new precious metals. It also reflects Bentley's commitment to a more sustainable future.
"Bentley's approach to additive manufacturing is industry leading, evident through our pioneering use of a luxury metal in the design and development process of the Batur. One of the key benefits is that it is efficiency led, cutting down on the cost and complexity of a myriad of jobs but maintaining the value of a rare resource." said Dr. Matthias Rabe, Member of the Board for Research and Development at Bentley Motors.
"As Bentley embraces an exciting future, we see huge potential in advanced, innovative technologies," he continued.
"Processes such as 3D printed gold will be a springboard that allows our customers an even greater ability to personalize, further enhancing the individualisation programme offered on every car."
AM Facility
The company recently invested £3 million to double their AM capacity at the Crewe factory, to facilitate production of more low volume components. This will involve more printed gold parts for future models.
You can see their AM facility in the image below.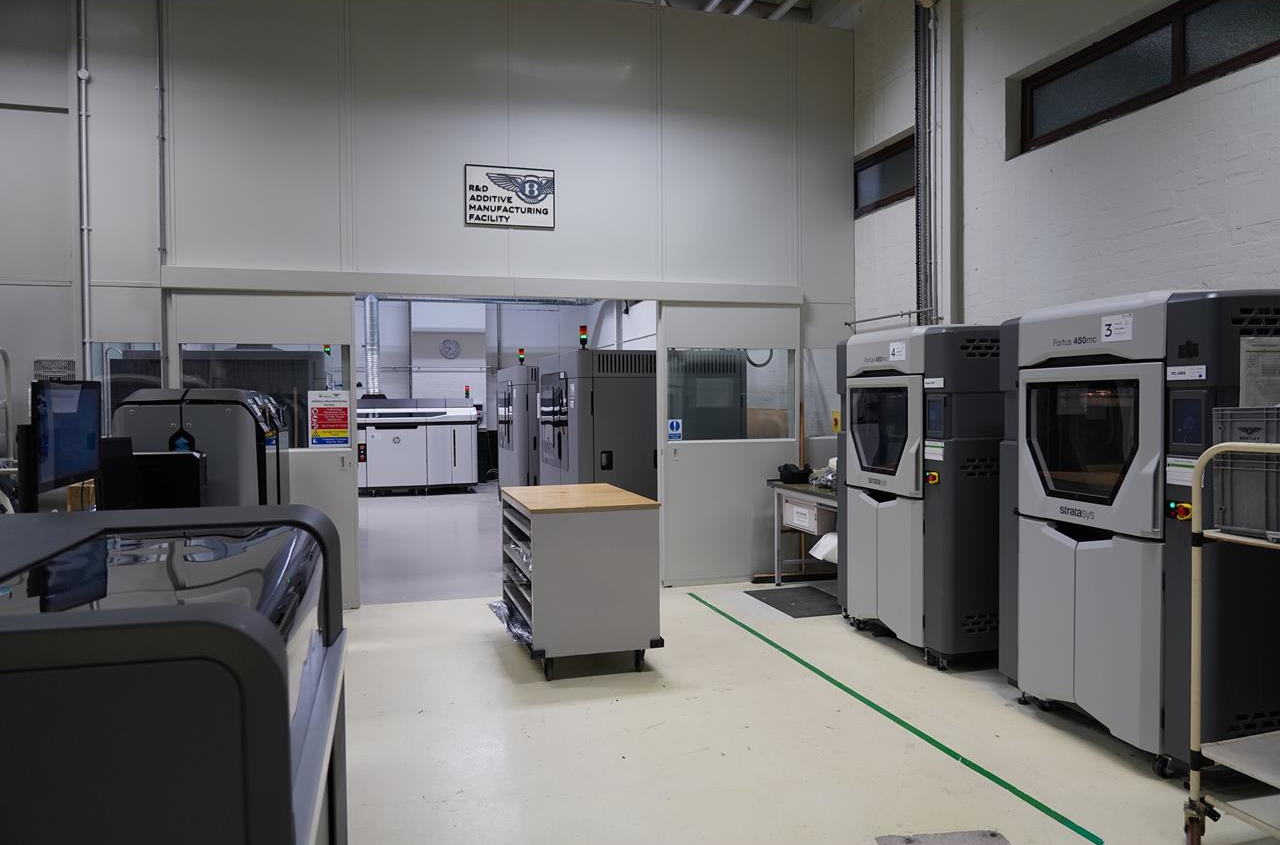 The exhaust system also has a touch of AM magic, coming equipped with 3D-printed titanium finishers.
The company has not released performance specifications as yet, but if their previous top speed is any indication, the Batur will reach speeds of over 209 MPH.
They have indicated the price however. If you want a slice of this luxury, it will cost you £1.65m each (excluding taxes and options). That's just shy of 2 million USD.
Better start saving.