Last week was Paris Fashion Week, and that can only mean one thing – weird 3D printed footwear!
And this year's event was delivering on that, thanks to a collaboration between BOTTER, and Reebok, who have 3D printed footwear featuring something that resembles a wraparound heatsink.
Feast your eyes on the creation below.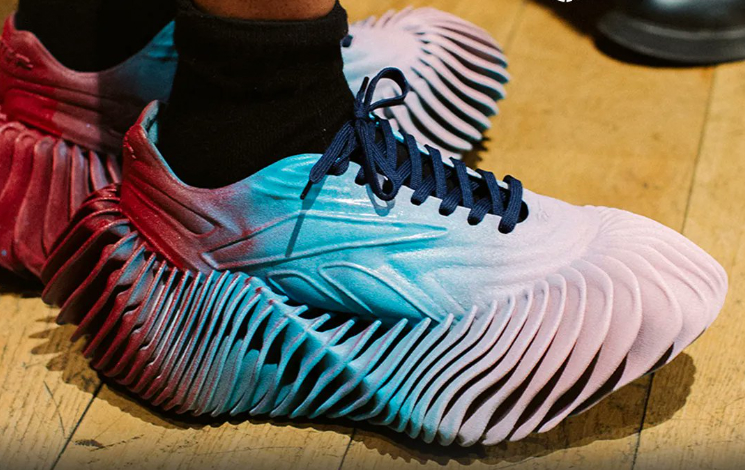 The sneakers have been designated as the Venus Comb Murex Shell, named after the Murex Comb shells used by the Goddess Venus for brushing her hair. The Venus Comb Murex (scientific name Murex pecten) is a predatory sea mollusc found in Indo-Pacific waters.
BOTTER Overview
BOTTER was established in the Netherlands by Curacao-born designer Rushemy Botter, and Netherlands-born cofounder Lisi Herrebrugh (who has family in the Dominican Republic).
Botter is an alumni of The Royal Academy of Fine Arts Antwerp, and Herrebrug graduated from the Amsterdam Fashion Institute. Their designs first appeared at Paris Fashion week in 2019.
The company's designs are inspired by the duo's connection to the Caribbean, and to the ocean. The ocean-theme does not merely inspire the aesthetics however, as the company has a mission to create awareness around environmental problems, particularly those related to the health of the ocean.
Ocean Health Awareness
In 2020, the brand launched a Coral Reef Farm on Curaçao in collaboration with a local dive company to fight against the global bleaching problem of coral reefs through fashion.
BOTTER's approach to fashion is to invest in the future by creating meaningful garments and accessories that are durable and made from sustainable materials. The brand aimed to design 80% of its collections with sustainable ocean waste plastic materials by 2022, which according to the company's sustainability manifesto, would be collected during beach cleanups worldwide.
A percentage of the profits will be donated back to the Coral Nursery to continue its upkeep.
The other 20% of the collection will be made from biodegradable materials such as wool and cotton. BOTTER mainly produces its garments in Italy, Portugal, and Spain to lower its carbon footprint and comply with European laws on recycling and use of renewable energy.
The printed shoes have apparently been printed with some type of MJF process, although we can't be certain how much of the sneaker has been printed, and how much has been fabricated with other means. Maybe BOTTER can drop us an email and spill the beans.
We would love to hear more about the process.
Either way, no matter how baffling their designs are to unfashionable engineers-cum-writers, their commitment to drawing attention to the ocean's problems and use of sustainable materials (especially plastics) is to be lauded. Because if there is one thing we like around here, it is sustainable plastics.
You can read more about BOTTER and their vision of sustainability and commitment to ocean health awareness over at their website, right here.