Luxury watch aficionados have reason to rejoice as Panerai, the distinguished Swiss watchmaker, partners with Brabus, the renowned German high-performance automotive aftermarket tuning company, to unveil their latest masterpiece: the Submersible S Brabus eTitanio PAM01403. This luxurious timepiece redefines luxury by incorporating metal 3D printing, marking a pivotal moment in the evolution of high-end brands embracing cutting-edge production techniques.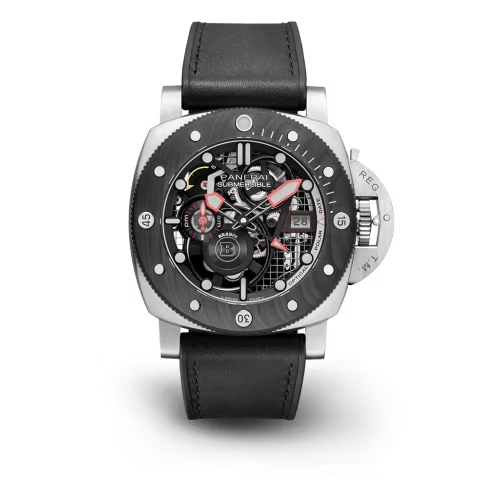 At the heart of this collaboration lies a 47 mm watch case, an engineering marvel created using Laser Powder Bed Fusion (LPBF) technology. Crafted from eTitanio, a 100% recycled titanium powder sourced from pre-consumer titanium alloy scrap, the PBF-LB process ensures exceptional durability while significantly reducing weight. The result is a case weighing a mere 23.6 g, a remarkable 30% lighter than traditional titanium cases.
Panerai's CEO, Jean-Marc Pontroué, emphasized the depth of this partnership, highlighting the fusion of skill sets and shared goals. This synergy extends beyond mere aesthetics to encompass innovation in products, sales strategies, and key markets. The collaborative efforts promise to yield disruptive concepts that add remarkable value to the discerning clientele through exceptional service, retail experiences, and impeccable calibers.
The Submersible S Brabus eTitanio PAM01403 draws inspiration from Brabus' Marine line of dayboats (they do boats as well as cars), embodying a shared ethos of functionality and style in marine environments. This elegant convergence of design philosophies has resulted in a timepiece that seamlessly marries form and function.
To honor Brabus' founding year in 1977, Panerai is crafting a limited run of only 177 pieces of this exquisite watch, which means it is likely to become a collector's item in the world of luxury timepieces.
Come and let us know your thoughts on our Facebook, Twitter, and LinkedIn pages, and don't forget to sign up for our weekly additive manufacturing newsletter to get all the latest stories delivered right to your inbox.