An award-winning research project has just revealed the possibility of 3D printing human waste for use during space flight. The research team outlined a means of turning fecal matter into bio-plastic, allowing for astronauts to have a handy and replenish-able source of materials for tools, repair or radiation shielding on-board their ship. The team went head to head with other competitors at the International Genetically Engineered Machine (iGEM) Foundation's Giant Jamboree.
The team undertook the project with the advice of Canadian astronaut and ISS commander Chris Hadfield. When they began, the team took a trip to Calgary's wastewater treatment plant. With a basic idea, they developed a means for recycling waste. Eventually, they arrived at a version where they would use genetically engineered E. Coli to process the waste.
The method is a landmark achievement for space travel, as it allows the formation of a crucial material from a recyclable form of waste. It can grow the materials on board and prevent storage problems while also making disposal more efficient. The process can be of aid outside of aerospace as well, considering how ubiquitous waste disposal issues are one Earth.
From Fecal Matter to 3D Printable Bio-Plastics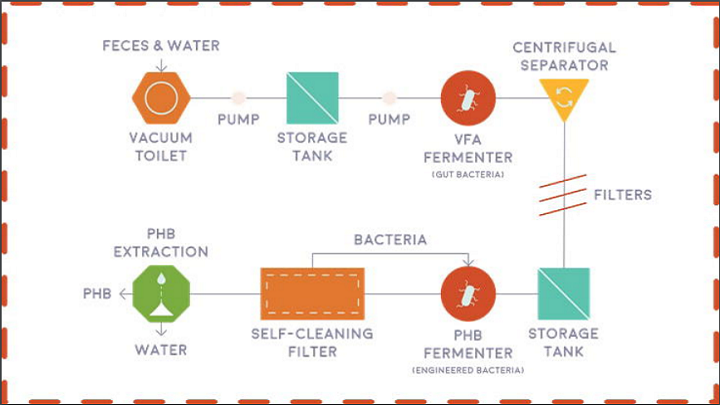 Since the team were reluctant to test the process on actual feces, the initial tests used a NASA-approved simulation mixture. The synthetic mixture comprised cellulose, miso paste, peanut oil, and yeast, which were all proven to be processable. Alina Kunitskaya, a 4th year student and co-author, stated: "We actually tried to pursue the route of using the real thing, but no one wanted to have it inside the lab."
It takes quite a few days to convert the matter into polyhydroxybutyrate plastic. The waste remains untouched for a few days so its volatile fatty acid levels can rise. The VFAs eventually need to be separated via application of centrifugal force. Finally, the remaining substance is ready for exposure to the E. Coli. After this period the by-product plastic is ready for Selective Laser Sintering.
The full research paper is available here.