Seoul-based 3D printer company Carima has been advancing printer technology in South Korea since the year 2000, and in that time they have amassed 23 granted patents and 63 pending patent applications.
They are the oldest 3D printer manufacturer in the country and have received numerous accolades including the prestigious Prime Minister's Award.
The company will be appearing at this year's Formnext 2022 event, and will be exhibiting several of their innovations for all to see in Hall 11.1 E21.
Their C-CAT (Carima Continuous Additive Technology) printers will be on show, which includes the DM400 and IMD models.
In addition, visitors can take a look at the company's CL300Pro post-cure system, several of their resins (including non-toxic resins), and multiple examples of prints manufactured with their systems.
For more information, read on!
C-CAT
Carima will be demonstrating their upgraded resin-based C-CAT (Carima Continuous Additive Technology) process, which is the world's fastest continuous AM technology.
C-CAT is capable of 3D printing at 1cm per minute, making it 20x faster than conventional resin 3D printers on the same build area. That's a whopping 60cm per hour!
As an additional innovation, Carima's R&D team has worked to minimize release forces required to separate prints after they have finished. The lowered release energy required for removing printed parts means that there is a significantly reduced risk of damaging the part during release.
C-CAT has been developed as an open material system, meaning that competitor's resins are printable on the C-CAT systems.
The company has demonstrated printing with many different resins on C-CAT systems, and have produced parts for a wide variety of industries. Examples include, clear aligners for dentistry, shoes/midsoles in footwear, and medical items such as arm casts.
You can see an example of the arm cast being printed in the video below, and the company will be giving a live demo of cast printing at Formnext.
Let's now take a look at the printers using C-CAT that will be on display at Formnext 2022.
DM400
First up is the DM400, which is the world's largest top-down DLP printer.
The DM400 is an industrial machine that has been designed for mass producing resin parts.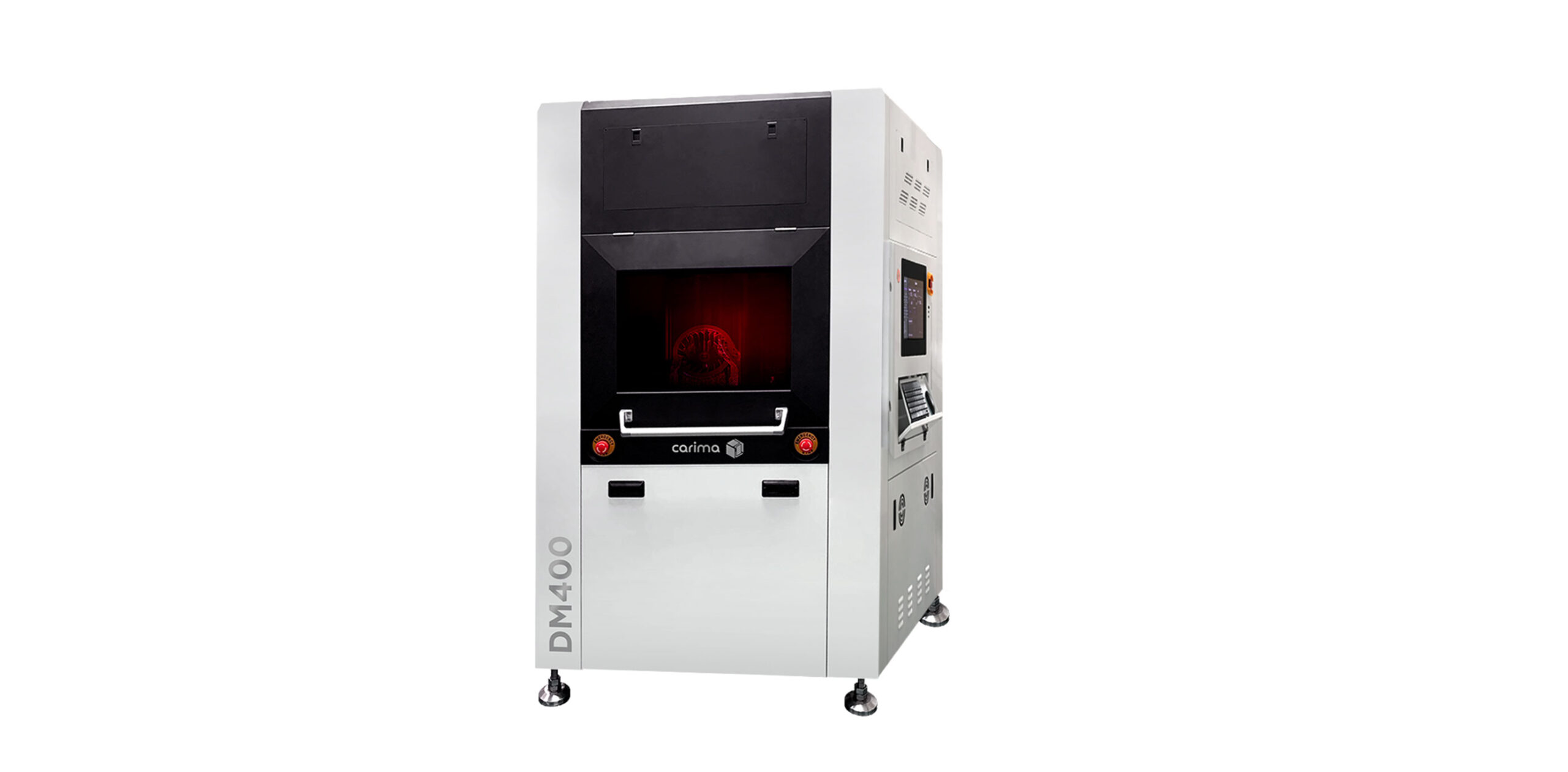 With a build area of 400 x 330 x 500mm, large print runs of smaller parts are possible, as are larger, heavier parts.
When comparing the DM400 to similar-sized SLA printers on dental projects, Carima found the DM400 to be 5x faster than industrial SLA 3D printers with the same build area.
In addition to normal resins, functional resins such as high viscosity rubbers (10,000 cPs) can be printed with the DM400, no problem at all.
IMD
Next up is the IMD, which is a versatile desktop DLP 3D printer powered by Carima's C-CAT technology.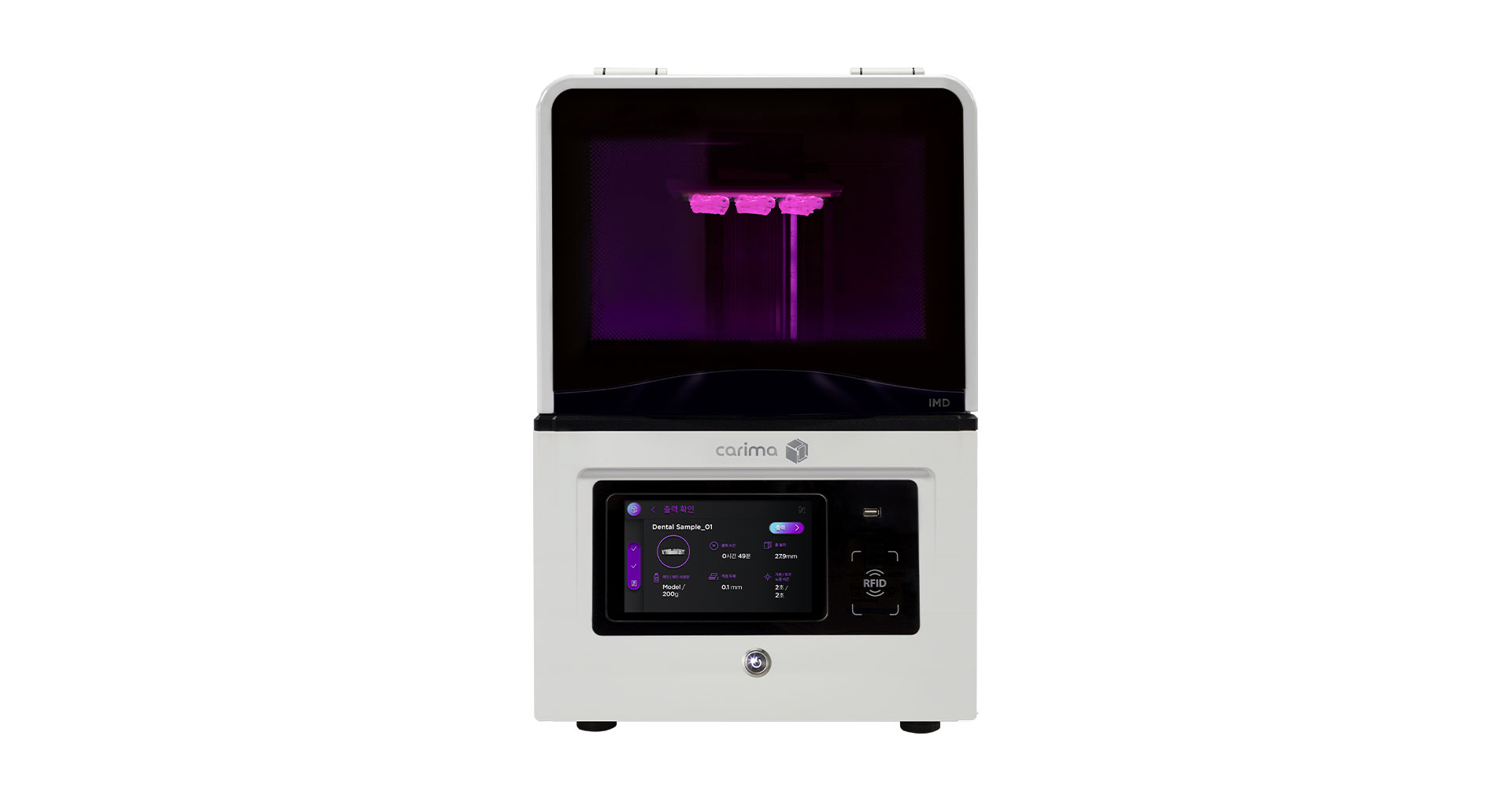 The Carima IMD is specially designed for dental and medical applications and has been extremely popular with the dental market in Germany, Japan and the U.S.
The IMD is an extremely fast 3D printer with a 124 x 70 x 140 mm build plate.
The IMD doesn't compromise on repeatability or precision, thanks to its FHD screen resolution and 99% light uniformity.
CL300Pro
To ensure the highest quality and complete curing, Carima has their own post-curing unit, the CL300Pro. With its powerful 300 Watts UV LEDS and curing area of 150 x 110mm, models can be completely post-cured in approximately 3 minutes. And that's not just a surface cure, but internally as well.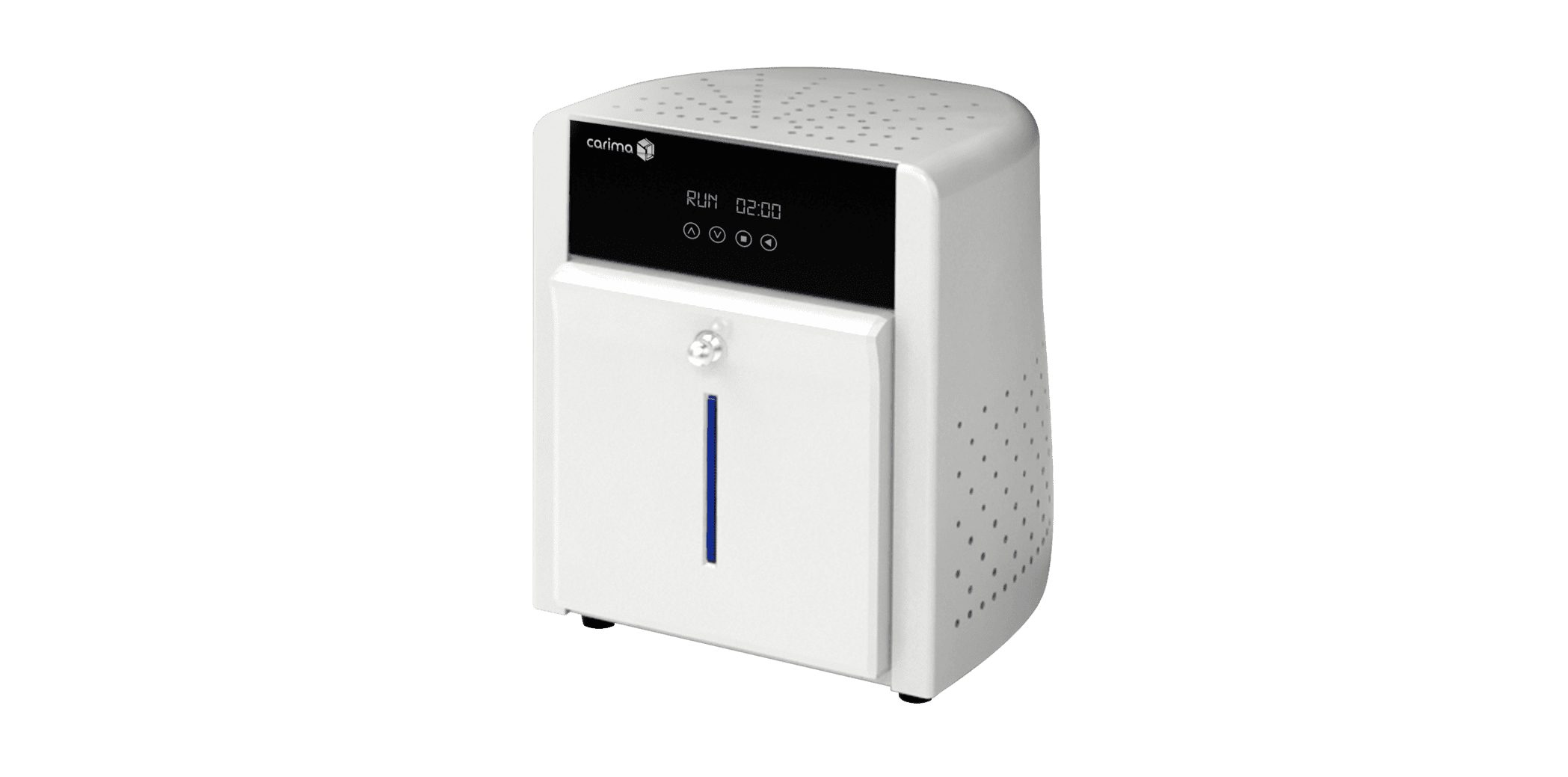 Wide Selection of Resins
To complement their printers, Carima also has their own line of over 25 resins which includes their non-toxic CMYK color resins, and tough resins. The CMYK resins come in 5 colors allowing for graduating color printing and is non-toxic, making it suitable for printing children's toys.

Examples of items made with their resins will be on show at Formnext where Carima will be located at Hall 11.1 E21.
For more information about Carima and their line of printers, head on over to the company website.