Soft robotics and 4D printing are taking off thanks to various 3D printing technologies. Now, Carnegie Melon University is leveraging their 3D printing capabilities in building paper robots with printable inks. The robots are delicate constructs that fold and unfold in reaction to electric currents.
The project is the brainchild of a number of researchers at the Morphing Matter Lab at Carnegie Melon. The process is actually one of a printed paper actuator that they printed using an FDM 3D printer. The real trick behind getting the electronic capabilities is the use of polylactide, a sort of thermoplastic that exhibits shape-memory behaviour.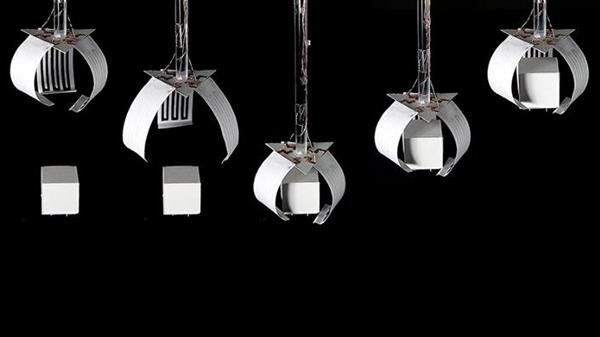 "We are reinventing this really old material," said Professor Lining Yao. As assistant professor in the Human-Computer Interaction Institute (HCII) and director of the Morphing Matter Lab, she developed the method along with her team. "Actuation truly turns paper into another medium, one that has both artistic and practical uses."
What's fascinating about this robot is the fact that it requires no motor. Guanyun Wang, a CMU Manufacturing Futures Initiative fellow, believes that this presents many opportunities for, not just robotics, but even "interactive art, entertainment and home appliances."
Functional Paper Robotics With Actuators
The researchers started by printing a 0.5mm layer of conductive ink on to plain paper as the actuator. Next, they oven-heated the whole print at 160° F. Consequently, the paper comes out in the precise folded form that the researchers intended and then needs to cool. This shape becomes the standard form that the paper will always reduce itself to sans stimuli.
The researchers then attached electrical leads to the actuator and the operators used the current to heat it. This causes the thermoplastic to expand and thus flex the paper into a straightened state. It operates like any electronic device, regressing to its ordinary state once the electric flow is cut off.
Although impressive, the team isn't quite done yet. Prof. Yao and her team are currently looking to speed up the actuation with the use of papers that have better heat conductivity and by developing printable filaments that are customised for the actuators themselves. Theoretically, the paper robots don't have to just stay in the realm of paper, either. These same principles could easily apply to thermoplastics in the future.
The researchers are optimising the method further, improving the printing speed and the width of the thermoplastic line. These will help achieve different folding or bending effects for future iterations. They also came up with methods for printing touch sensors, finger sliding sensors and bending angle detectors that can control the paper actuators. The future of the research might be far more advanced considering these additional technologies.
Featured image courtesy of Carnegie Melon University. The full study is also available here.