Researchers in Brazil and the UK have successfully recycled the plastic in used coffee pods into filaments for 3D printers. The filament was then used to fabricate electrochemical cells which were used as sensors for detecting the proportion of caffeine in black tea and arabica coffee.
Non-conducting parts of the sensors were made with non-conducting polylactic acid (PLA) harvested from the coffee pods, and the conductive elements in the electrochemical sensors were printed with conductive filaments that had been prepared by adding carbon black to the same recycled PLA stock. Carbon black is a form of carbon that results from incomplete combustion of hydrocarbons.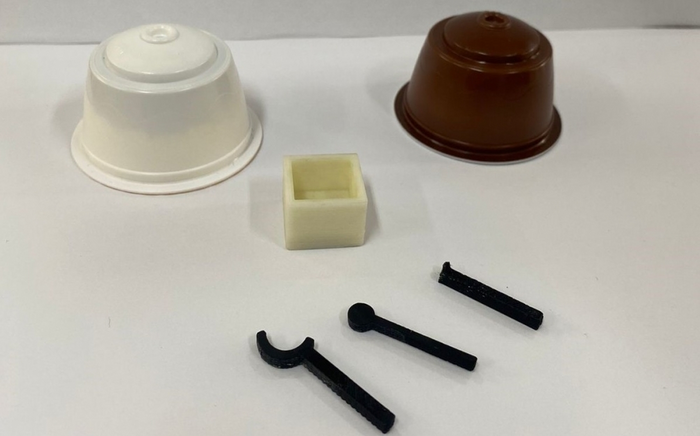 The production of the filament is simple; the non-conductive material is obtained by washing and drying PLA pods, followed by hot extrusion. To obtain the conductive material, the carbon black is added before heating and extrusion.
The extruded material is then cooled and spooled to produce the filament. The process is a good example of the circular economy, in which the waste produced by an economic activity is converted into resources for another. The polymer base obtained from used coffee pods can generate devices with a great deal of added value.
The study was led by Brazilian researchers at the Federal University of São Carlos and the State University of Campinas, and British researchers at Manchester Metropolitan University. A research paper on the project has been published in the ACS Sustainable Chemistry & Engineering journal, and can be accessed at this link.
Come and let us know your thoughts on our Facebook, Twitter, and LinkedIn pages, and don't forget to sign up for our weekly additive manufacturing newsletter to get all the latest stories delivered right to your inbox.