Back in April, Creality unveiled the latest additions to their lineup of consumer-grade printers, the AI-assisted K1 and K1 Max.
The K1 Max has finally been made available for purchase, and the company has reduced the price for those wishing to get in on some smart-printing action.

The K1 Max was priced at $999 when it was first unveiled back in April, but to thank users for their patience and anticipation of the product, Creality has decided to lower the price to $899, making it more affordable for aspiring creators.
Let's take a look at what the smart K1 Max has to offer.
Maxed Out
First up, as you can probably guess from the name of the machine, the K1 Max is bigger than the standard K1, boasting a larger build volume of 300x300x300 mm, compared to the 220x220x250 mm offered by regular K1.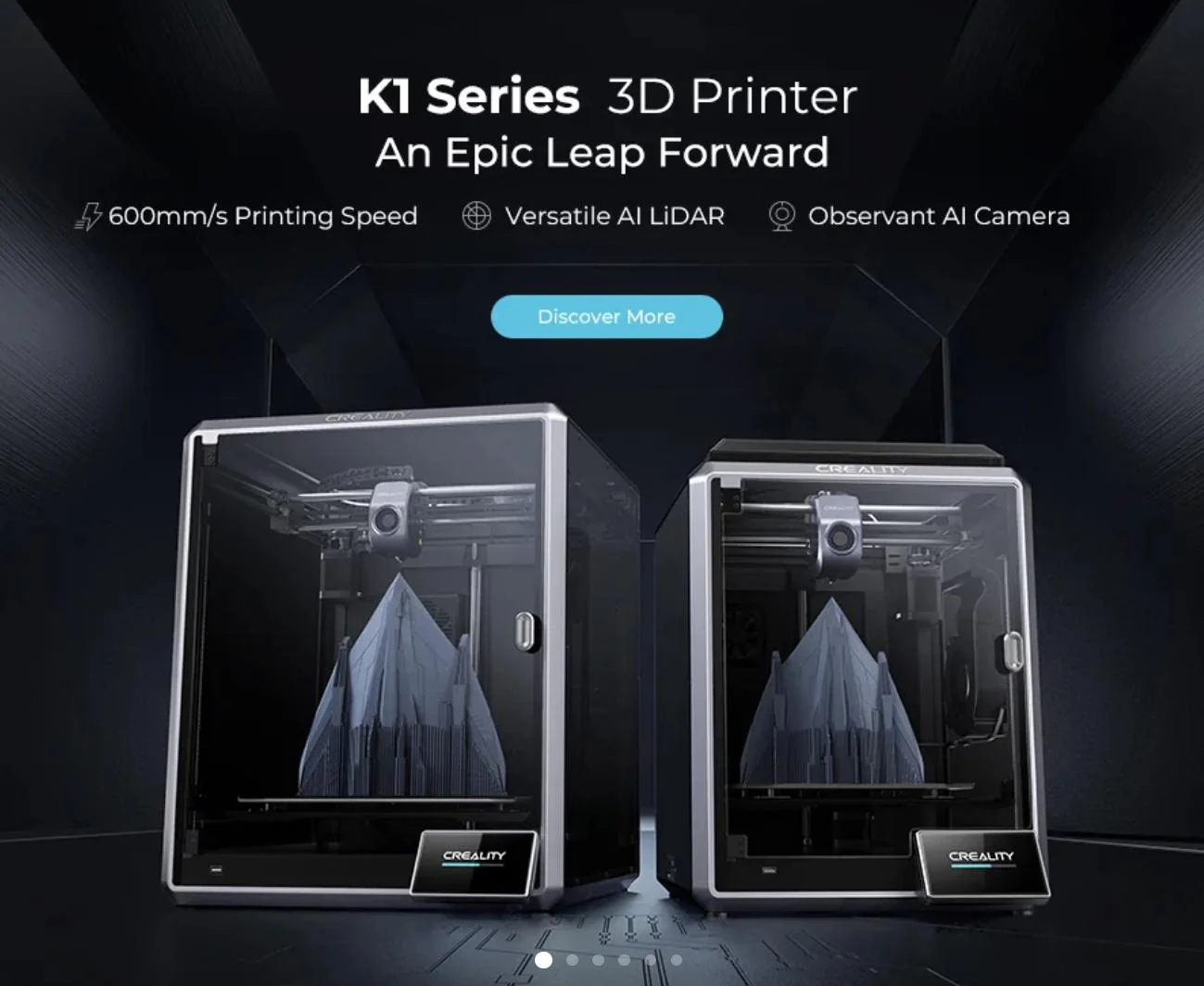 The K1 Max also offers impressive features such as a printing speed of 600mm/s in just 0.03s, thanks to its high acceleration of 20,000 mm/s². With a lightweight printhead writhing just 190g, and its nimble CoreXY design, it can outperform many 3D printers, reducing the wait for builds to complete and increasing efficiency overall.
You can see the blistering speed of the K1 Max in the video below.
The printer is also equipped with an AI camera that monitors for errors, anomalies, and provides real-time monitoring and time-lapse creation for sharing. Additionally, the K1 Max incorporates AI LiDAR technology for improved performance and accuracy.
The K1 Max will be available for purchase across all channels starting from July 14th. Customers can visit the Creality online store, Amazon, or authorized dealers to get their hands on the K1 Max.
K1 Series Offers
To celebrate the launch of the K1 Max, Creality is organizing exciting activities on its official online store. Customers who purchase the K1 Max – as well as K1 – from the Creality store will receive a complimentary one-year membership to the Creality Cloud, valued at $79.99. This membership includes access to over 250 premium models, built-in model slicing capabilities, and cloud printing and monitoring features.
For more information about the promotions, please visit the following links:
– US-based customers can click on this link.
– European customers can go here.
– Customers in Germany can visit here:
– UK customers can click here.
– Those in Australia, can visit this site.
– And those in Canada can visit this site.
Amazon Prime Day Discounts
Creality is thrilled to participate in Amazon Prime Day, an eagerly awaited annual event known for its unbeatable prices. As a seller, Creality takes pride in offering customers incredible deals on this occasion. From July 11th to July 12th, Amazon Prime members can enjoy exclusive discounts on selected Creality products.
The K1 and HALOT-MAGE PRO will be priced at just $629, reduced from their original $799. Additionally, other Creality products will be offered at discounts ranging from 15% to 30%.
Customers in US, UK, Germany, France, Italy, Spain, just click the links there to be taken to your local Amazon store.
Additionally, to coincide with Amazon Prime Day, discounts of up to 50% will also be offered during July 10-16 on the Creality store. For more details about the promotions, please visit the Creality Store at this link.
Come and let us know your thoughts on our Facebook, Twitter, and LinkedIn pages, and don't forget to sign up for our weekly additive manufacturing newsletter to get all the latest stories delivered right to your inbox.