It's that time of year again, where frenzied shoppers will be exchanging their dignity for bargains as they step over each other to get their hands on things that they don't want or even need!
But thanks to the wonders of the internet, the Creality Black Friday Mega Sale will not be your typical consumer free-for-all…nope! By visiting the Creality website between the 19th – 30th November, you can get up to 85% off select Creality products, safe from the comfort of your own home!
And let's be honest…Creality's new printers are probably high on your list of wants and needs anyway, so now is a good time to take advantage of the bargains!
So without further ado, let's check out what Creality has to offer during this year's Black Friday period!
Ender-5 S1
What would a mega sale be without the appearance of Creality's new flagship Ender product, the Ender-5 S1? It would be nothing, that's what!
Featuring up to 250mm/s printing speed and 300°C high temperature (for a wider range of filaments), the Ender-5 S1 is a versatile and durable FDM printer suitable for all users ranging from printing enthusiasts to small/medium-sized businesses.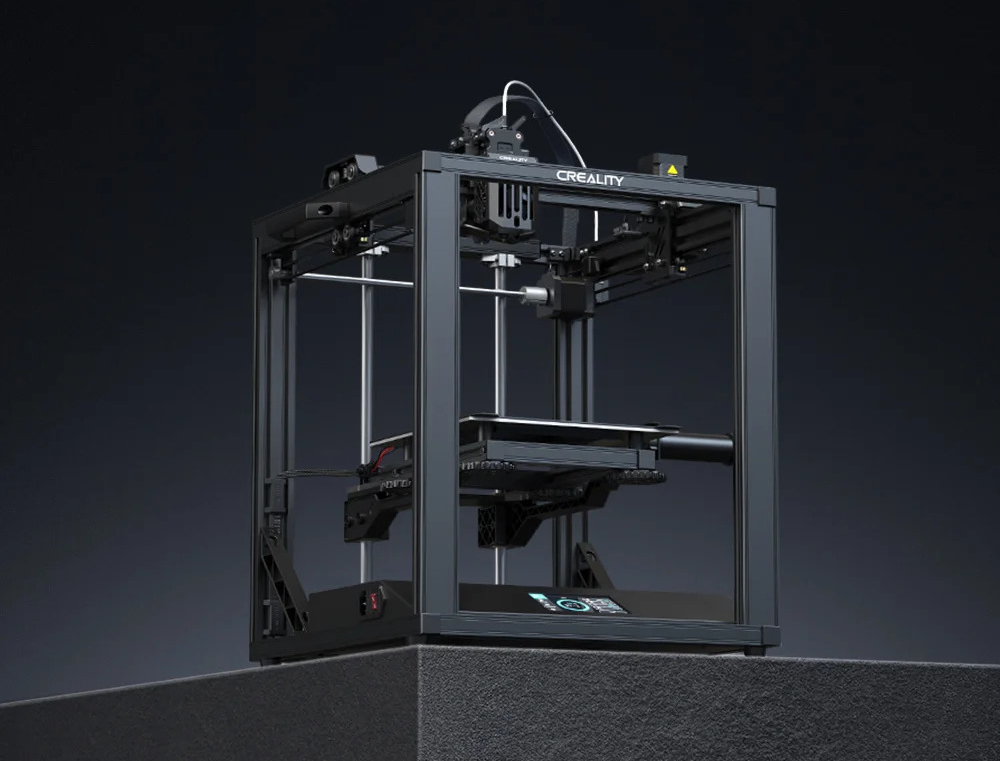 The Ender-5 S1 keeps the familiar form factor and functionality of the previous Ender-5, but comes with a whole bunch of upgrades including CR Touch auto-leveling, filament runout sensor, secure aviation connector, and more!
How much more? Read our previous article to find out!
If you order an Ender-5 S1 now, you will enjoy a 10% discount. What's more, buying a Creality product and posting it on their Facebook group will avail you a further 2% cashback!
The group has over 120,000 3D printing fans as members, and is a great way of reaching out to the community at large.
You can get the Ender-5 S1 for the price of $503.10 at the Creality Official Store during the sale period, and make a saving of precisely $55.90.
Ender-2 Pro
Do you want a brand new Creality printer for 99 bucks? Yes??
Well here is some good news, because the Ender-2 Pro will be retailing for exactly that price during the sale period. But you had better wake up early(ish) because this price will be available only to the first 100 buyers for every day of the sale.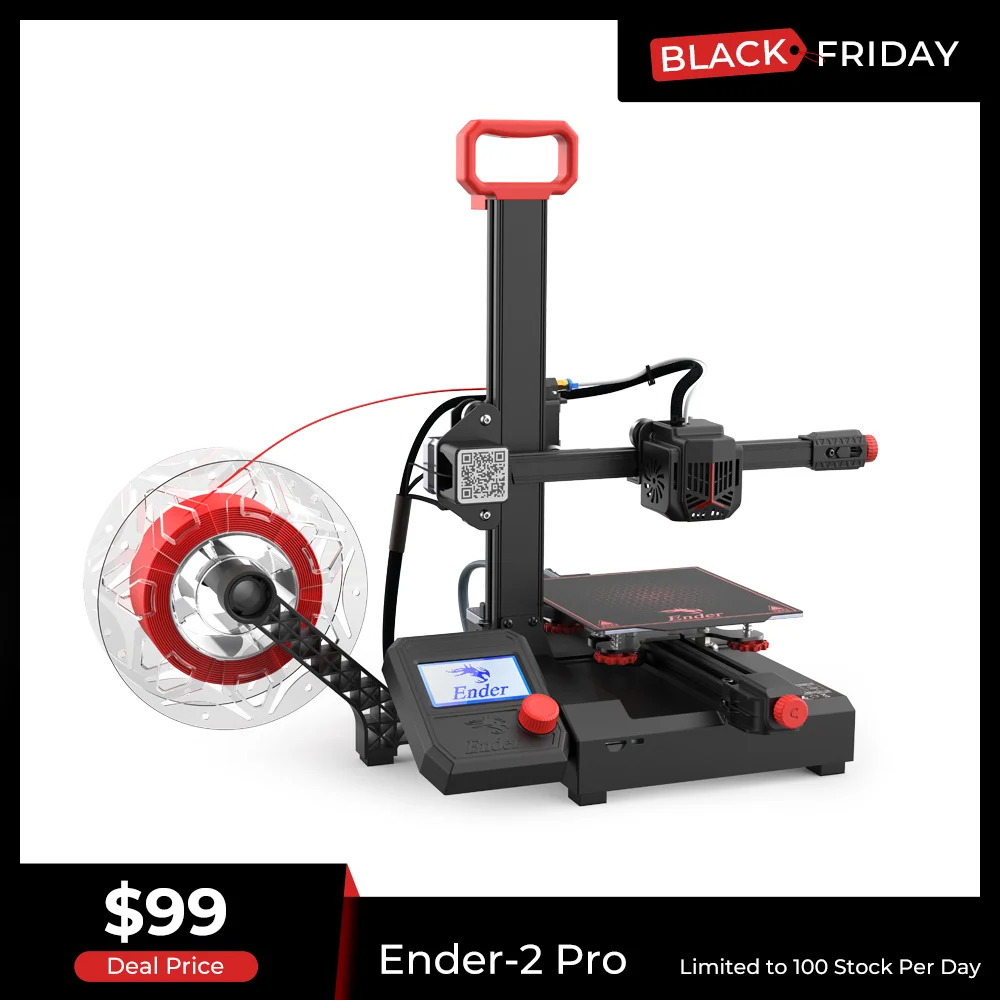 The Ender-2 Pro is perfect for beginners and those who want to get started right away, because it comes 90% pre-assembled, requiring very little work to get started out of the box.
With its cute little form factor, well designed carrying handle, and weighing in at only 4.65kg, the Ender-2 Pro is a 3D printer you can take literally everywhere.
Remember the $99 is limited to the first 100 customers daily, meaning you will save $70 if you get up on time! You can get this offer over at the Creality Official Store.
Ender-3 Series
The original Ender-3 is the printer that brought the Creality brand name to the minds of the masses.
The series has now been extended into a fleet of new models to fulfill the needs of not only makers, but those looking for more advanced capabilities.
The latest release, the Ender-3 S1 Pro, features Creality's self-developed "Sprite" direct extruder, 300°C high-temp printing, CR Touch automatic leveling, and a user-friendly color touch screen.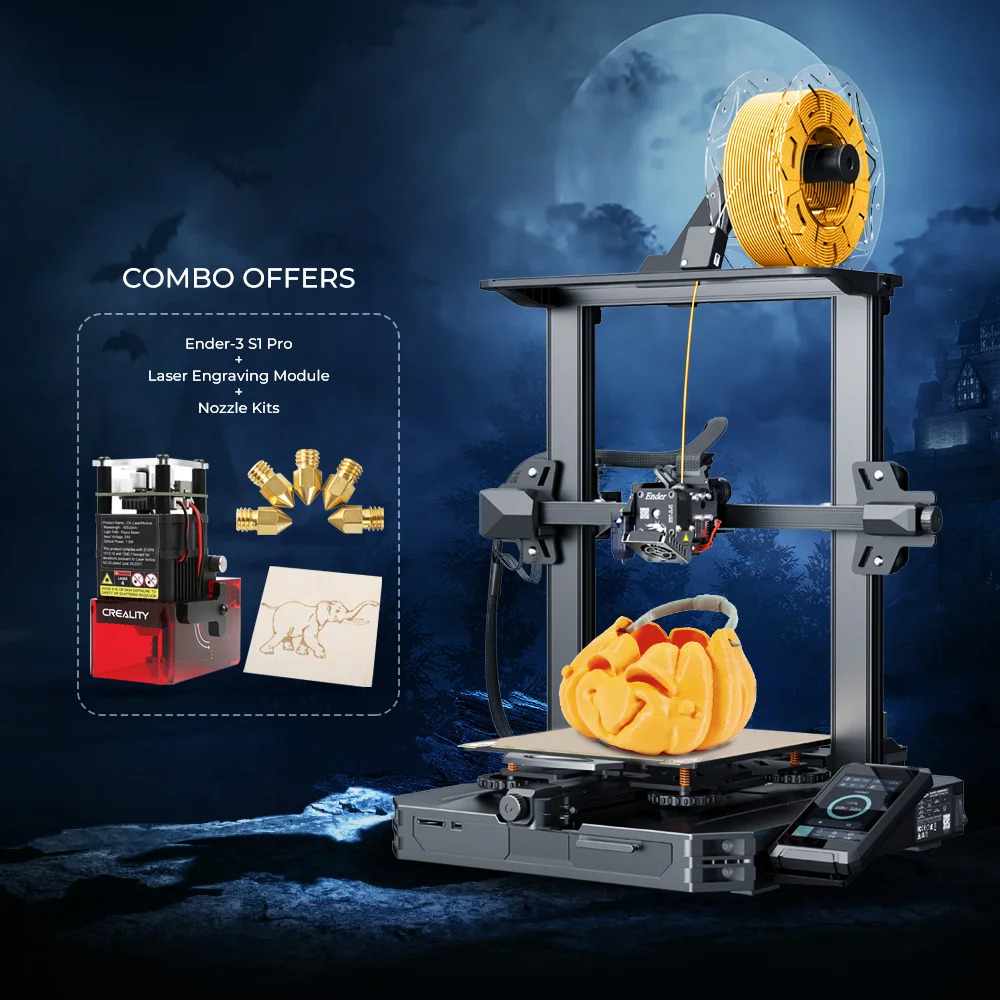 And if extruding plastic wasn't enough, by adding the Creality CV-LaserModule to your Ender-3 S1 Pro, you can turn it into a laser engraver and cutter, fulfilling all your budget-friendly laser engraving needs!
And of course, if you prefer a Bowden extruder to the Sprite, then the Ender-3 Neo series printers are also on offer, with discounts of up to 20%.
Just to remind you, you can get up for 20% off the Ender-3 S1 Pro 3D Printer Upgrade Combo, and up to 20% off the Ender-3 Neo Series also.
CR-10 Smart Series
The CR-10 has always been a favorite for those wishing to print BIG.
But now the new CR-10 Smart series allows bigger and smarter printing in a premium package!
As the name suggests, the CR-10 Smart series is intelligent and powerful. What's more, the 300×300×400 mm build volume is large enough for you to embark on more exciting projects, either by printing larger parts or by printing lots of smaller ones.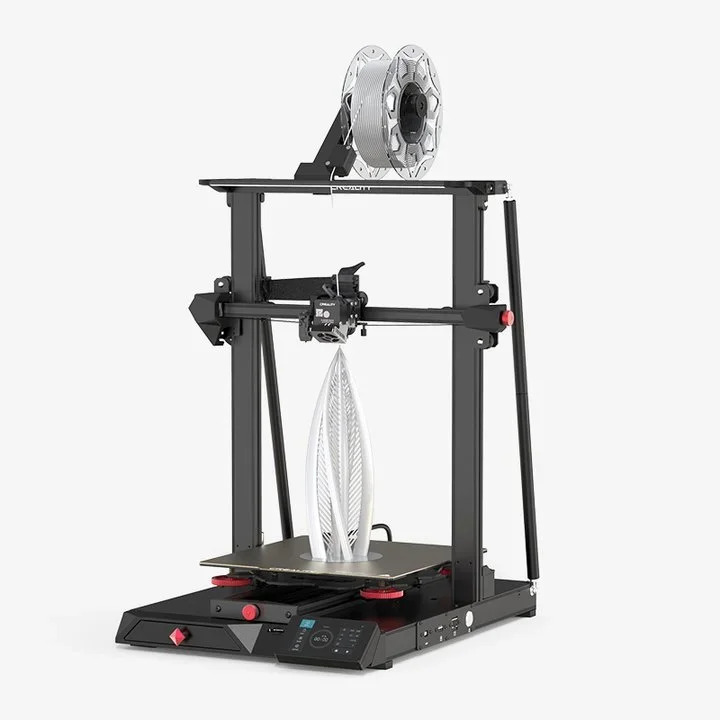 With carefully considered part stacking and support material strategies, you can print literally hundreds of components in one session!
By visiting the Creality Official Store, you can get up to 30% discount for these two workhorses.
HALOT Series & LD-006 Resin 3D Printers
Yes yes, it's not only the Creality filament extruder systems that are having their prices slashed for the Black Friday Mega Sale, but those looking for a sweet bargain on resin printers will be pleased to find a bargain or two also.
Do you want to own your favorite figurines with every detail shown on it? Well, with the Creality resin printer range, you can do exactly that!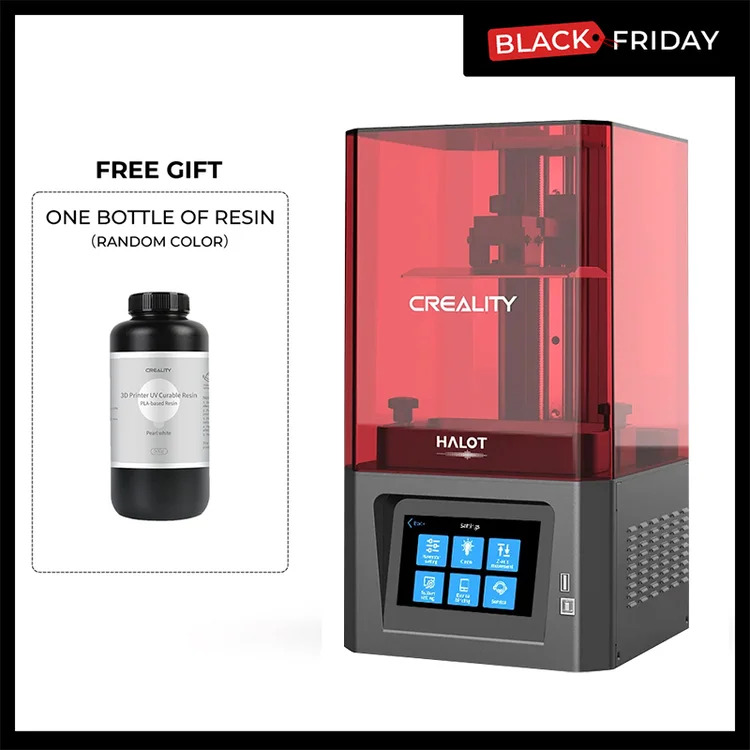 Creality resin printers such as the LD-006 and HALOT series are having their prices massively reduced during the sale period. How massive exactly?
Well, LD-006 will be available for a mere 99 bucks (for the first 100 daily customers), while the HALOT series will be available for a whopping 50% price reduction.
The HALOT series includes the HALOT ONE, HALOT-ONE PRO, HALOT-ONE PLUS, and HALOT-LITE.
All the HALOTs are available for HALF PRICE, for every single customer. No need to wake up early to take advantage of this offer!
Sermoon V1 Series & CR-5 Pro Series – Fully Enclosed Printers
For those looking for an out-of-the-box 3D printing experience, Creality's fully enclosed Sermoon V1 series and CR-5 Pro series are offering up to 40% off, making them perfect gifts for your young ones or for those who want a draft-free printing experience.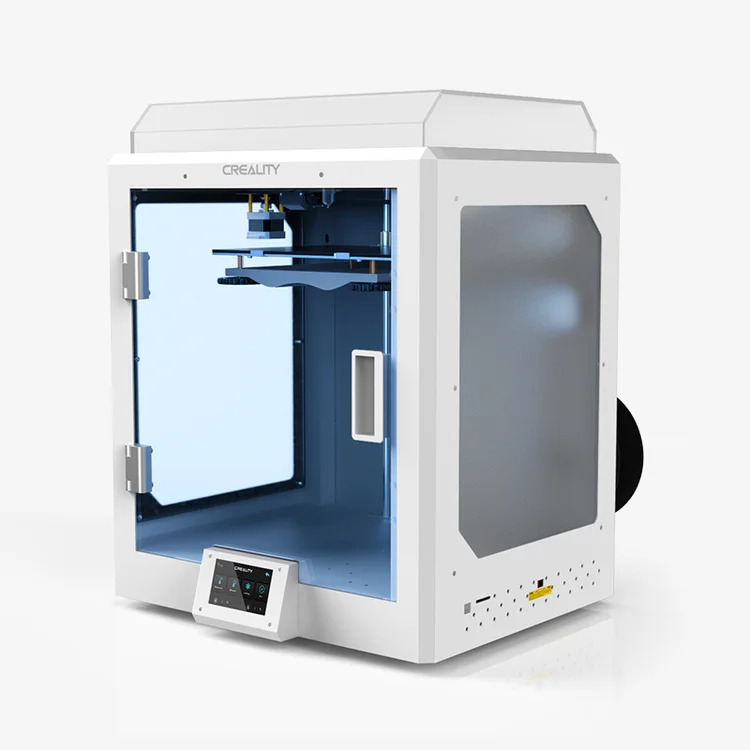 For 3D printing professionals, the CR-5 Pro series is great at printing with ABS without worrying about draft-induced warpage.
At the Creality Europe Store, users who buy the Sermoon V1 or Sermoon V1 Pro will enjoy a 40% discount and will receive a complimentary 3D printing pen.
So that's up to 40% off the Sermoon V1 Series, and up to 20% off the CR-5 Pro.
Other Goodies
The Creality Black Friday Mega Sale also covers a wide range of accessories and materials including the Sonic Pad, CR-Laser Falcon Engraver, and CR-Scan Lizard 3D Scanner.
In addition to the various discounts, there is up to 5% cashback available during the sales period.
For more information about products at discounts, please visit the Creality Official Store at one of the regional store links below.
To learn more about their range of products, customers in the United States can visit the official Creality Official US Store here.
For European customers, the Creality Official European Store can be found at this link and those in the UK can head on over to the Creality Official UK Store right here.
As you can see, there are a bunch of great deals this year, before Black Friday even officially begins. So head on over to the official website links and get yourself some bargains!