Creality unveiled their new HALOT-MAGE series 8k resin 3D printers at their "Reflect and
Renew" event on April 9th this year, and we are happy to announce that the printers have dropped and are available for purchase right now.
Read on to learn more about the features in the all new HALOT-MAGE range.
Next-gen Resin Printing
The HALOT-MAGE series, including the HALOT-MAGE and HALOT-MAGE PRO, is Creality's next-gen solution for resin printing. HALOT-MAGE is the basic version boasting a 10.3in masking LCD, 8K high resolution, and an air purifier, while the HALOT-MAGE PRO is the fully loaded addition in the series, with a blistering 170mm/h print speed, an innovative resin pump, and the Integral Light Source 3.0.

This release of these 8k printers pair marks a sea change for Creality since it released their first resin 3D printer back in 2015. Having listened to customers' wishes, the company has released the MAGE Series as an answer to users' concerns.
Such previous customer gripes included:
Slow Speed: Users have to wait overnight with the risk of print failure.
Tricky Resin Recovery: The leftover resin on older machines required messy recovery by hand, with a funnel and filter paper. Resin stains are a nightmare, and chemical irritation is not fun either (speaking from experience).
Irritant Resin Odor: The stench of resin was annoying.
Cumbersome Lid: The lid needed to be removed and then put back every time resin was added or a print was retrieved. It's a waste of time, and occupies extra space.
Limited Size & Precision: Every now and then, the build volume was found to be
too small to make a large model, or the final result was aesthetically unappealing.
So, what has Creality done to address these concerns? Take a look!
170mm/h Hyper Speed
To address the issue of slow prints, the HALOT-MAGE PRO offers a staggering 170mm/h speed without sacrificing quality. It is 3 to 5x faster than the competition.
The motion system lifts and lowers the build plate steadily in only 1.2 seconds. Now, users can produce quality prints in just 1 hour. Magic, indeed!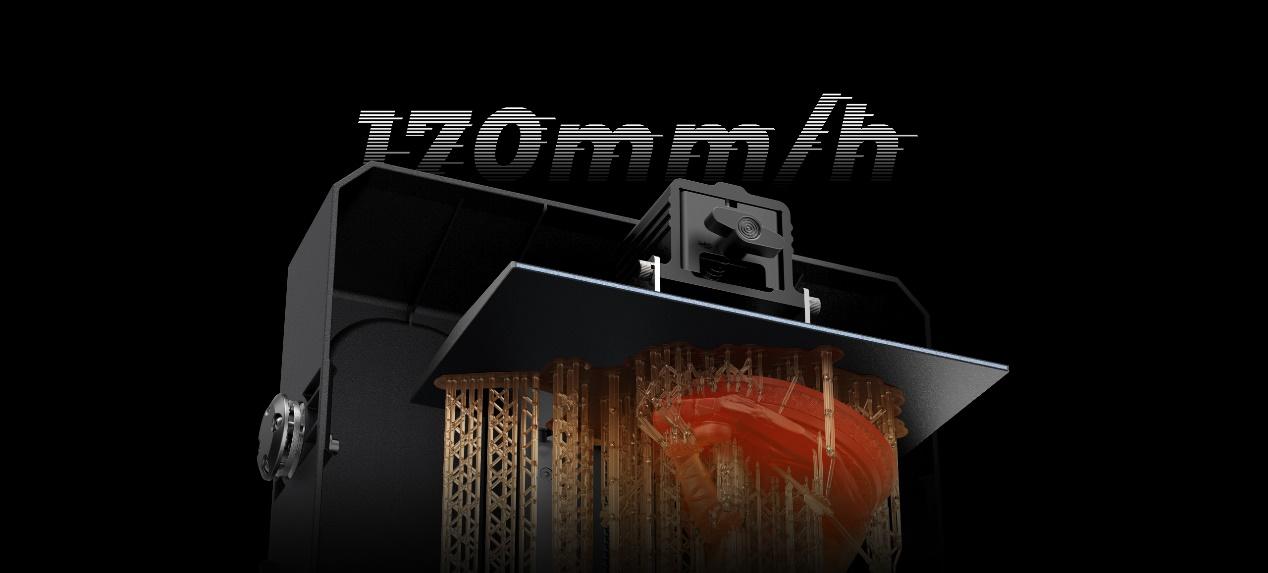 8K Flawless Large Prints
The 10.3in 8K(7680×4320) mono LCD boasts 29.7μm XY resolution, and more refined anti-aliasing than the 50μm of a regular 4K printer. The large LCD brings a generous 228x128x230mm build volume, giving you more space to create miniatures, prototypes, props, and whatever your resin-loving heart desires.
Integral Light Source 3.0
The HALOT-MAGE PRO adopts the 3.0 edition of Integral Light. The light uniformity is above 90%, promising consistent quality across the whole print and enabling 0.1mm hand-removable micro supports. The light intensity is as high as 8000μw/cm², and is able to cure a layer in 1 second with standard 405nm resin. With the new Integral Light, users can print models with smooth surfaces and crisp contours, no problem at all.
Professional "MageArch" Flip Lid
Fed up of standing on tippy-toes to hoist the lid of your printer? The new flip lid is easy to open and close with one hand and does away with the need to plonk it aside.
Overall, the printer is only 1/4 taller when the lid is opened, saving more room, heightwise. The orange tint of the lid can block 99.89% of ambient UV light for minimal interference with your resin in the tank.
Smart Air Purifier
Powered by the printer directly, the air purifier includes a replaceable activated carbon filter that is 5.8 times larger than others. It will remove the stench of resin effectively, so you can print at night without needing to leave the windows open.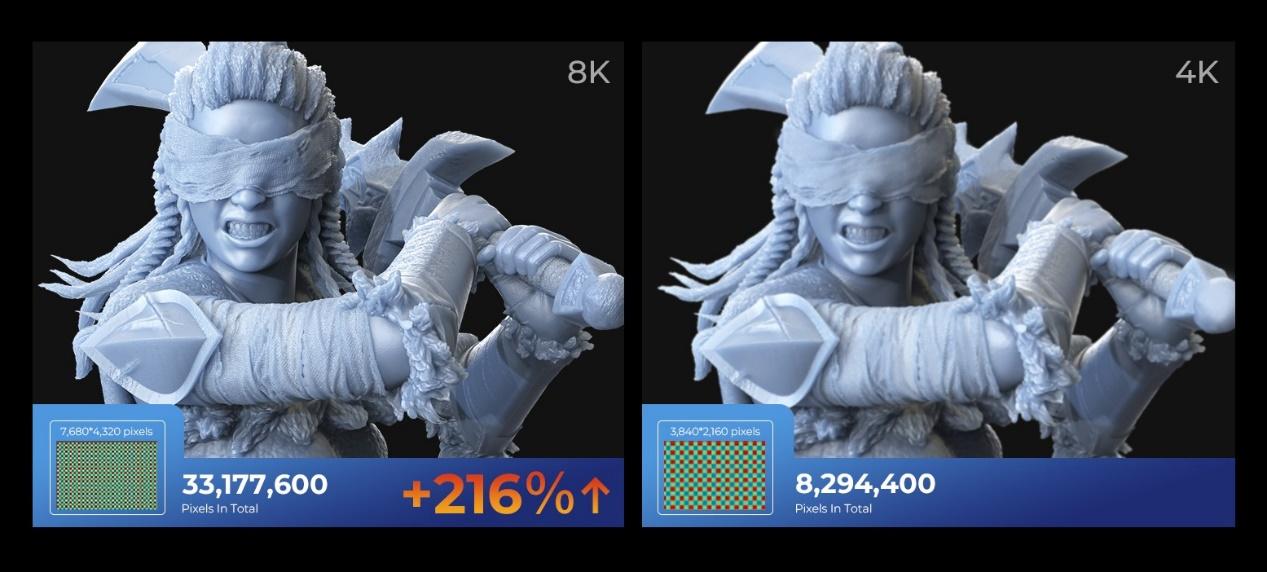 Smart Resin Pump
The HALOT-MAGE PRO features a smart resin pump for auto resin fill and removal. It can refill or recover 1 liter of resin within half an hour. This means less messing around by hand, and greatly reduced splashes and stains. The feeding tube is free to drain into any container of your choosing.
New Goodies
Asides from the printers, the ecosystem is also an integral part of an excellent user experience, and Creality has gone the extra distance on this front.
In terms of slicer software, Creality offers the self-developed HALOT BOX that has a simpler workflow and includes many presets. The MAGE Series is also compatible with other slicer software, and, with HALOT-MAGE PRO, you will get a one-year VIP subscription of CHITUBOX Pro, for free.
In terms of printer control, users can easily manage dozens of HALOT MAGE PRO by the multi-printers control function of HALOT BOX or Creality Cloud.
To complement these new goodies, why not match your MAGE Series with Creality Wash&Cure station, high-speed release film, Crealtiy fast resin, Creality 8K high precision resin, in order to
get optimal performance? Why not indeed!
For your information, here is a quick comparison between HALOT-MAGE PRO and HALOT-MAGE to help you decide which printer you would like.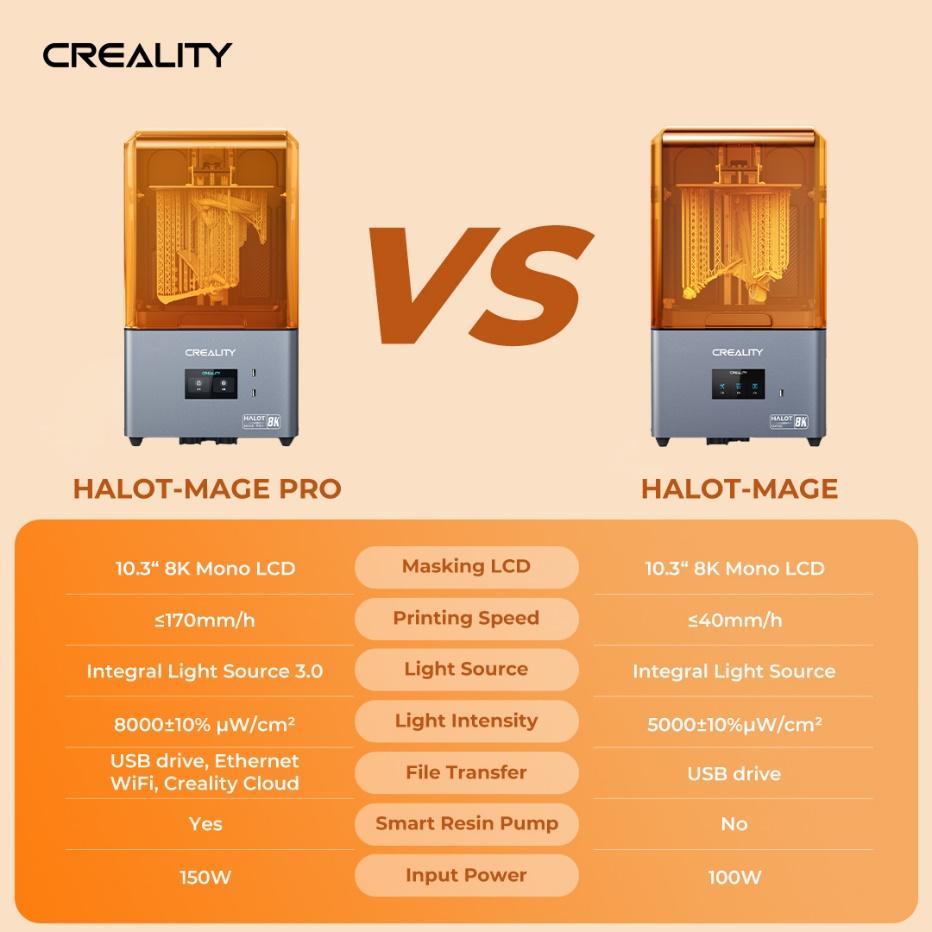 Availability
The MAGE series is now available in the Creality official stores online.
You can find your local country-specific Creality sites in the conveniently-arranged list of links below.
HALOT-MAGE
HALOT-MAGE PRO
Or if you'd like to peruse their other offerings, you can visit the official global Creality store website, right here.
Come and let us know your thoughts on our Facebook, Twitter, and LinkedIn pages, and don't forget to sign up for our weekly additive manufacturing newsletter to get all the latest stories delivered right to your inbox.