Creality is celebrating their 9th anniversary, and to coincide with the occasion the company is launching a whole bunch of new offerings. The offerings include new filament and resin 3D printer lines, a metal sintering service (!!!), a new powerful laser engraver, and more.
"3D printing has long been favored by those with an engineering background who love coding, modeling, and tinkering. But for others who also want to turn their creativities into realities, operating a 3D printer still requires a steep learning curve – and this is what we aim to solve," said Ao Danjun, CEO of Creality.
"Leave the complexity to ourselves, and give the simplicity to users is our understanding of being user-centric. Our development of high-speed intelligent 3D printer will by no mean stop here, and we have already planned for a future where every home can enjoy the convenience of 3D printing technology."
Read on to learn more about the new products and services from the 3D printing giant that is Creality Inc.
K1 Series – The New Flagship
Creality's FDM flagship K1 series is a professional-grade CoreXY 3D printer lineup that boasts a printing speed up to 600mm/s and a build volume of up to 300*300*300 mm. It features an innovative motion system, which uses a lightweight printhead weighing just 190g to ensure swift movement. The series includes both the K1 and K1 Max,
Data from the Creality Lab shows that K1 series ramps up to the top speed 600mm/s in only 0.03 seconds at an acceleration of 20000 mm/s 2 , and printing a Benchy takes just 13 minutes, which is 12 times faster than the average.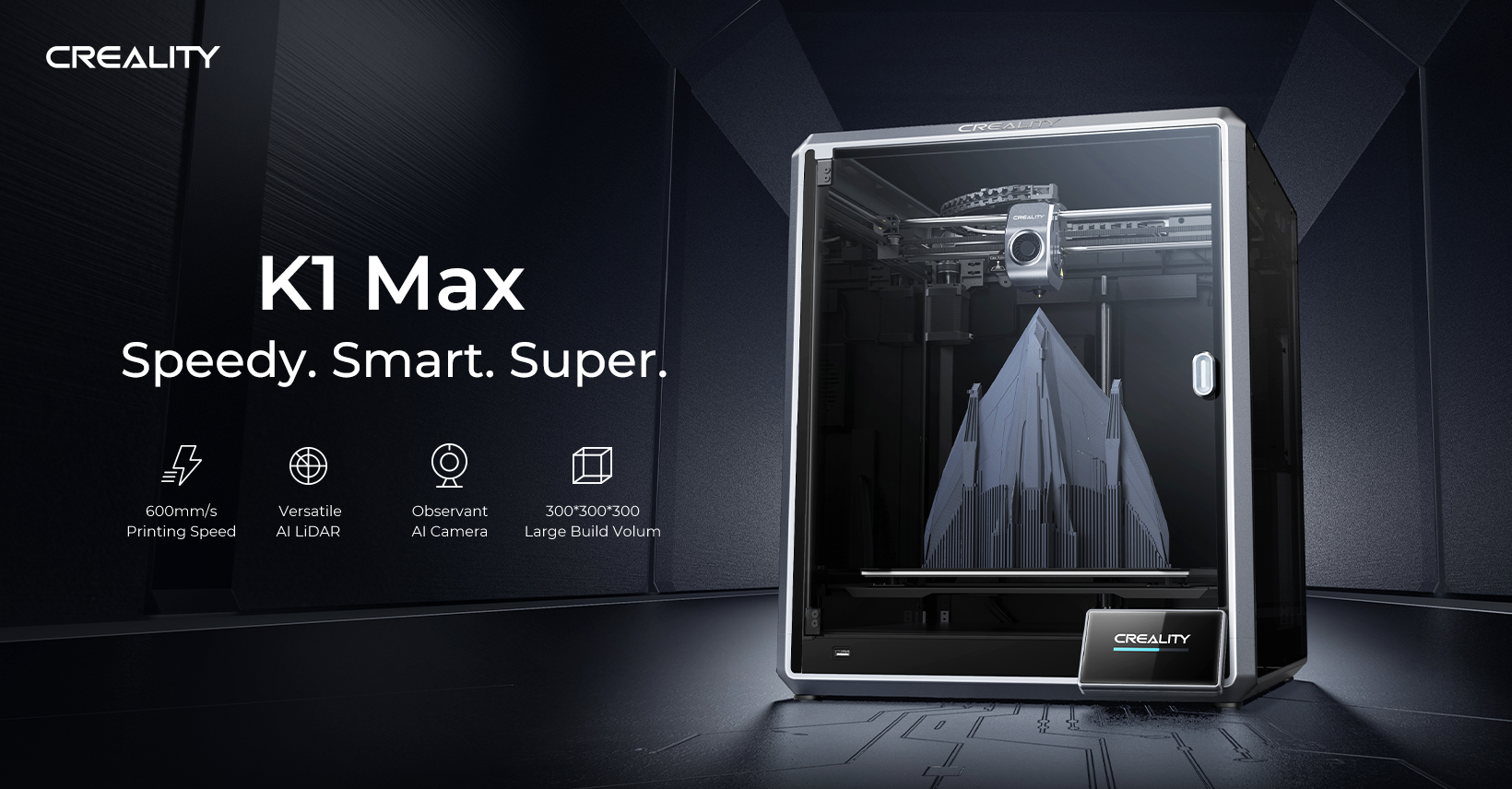 The K1 comes equipped with a new generation of Creality OS that runs on a 2-core 1.2GHz CPU, providing strong computing power for high-speed printing. With a network connection, the K1 series can be controlled or monitored remotely from Creality Print or Creality Cloud.
Cluster control is also allowed when multiple K1 series printers are online. Once the printing is finished or a printing issue is detected, a notification will be sent to the user's phone or PC.
The K1 series utilizes Creality Print 4.3, a new generation of self-developed slicing software optimizing nozzle movement and adding more algorithms to raise efficiency.
For print bed leveling, the K1 Max in particular, utilizes dual hands-free auto leveling. One is to level with an array of strain sensors. Another way is to level with 1μm AI LiDAR, a new type of non-contact measurement method that rapidly scans the build surface with a laser beam to form a virtual surface of a million points. Each of the two leveling methods ensures good leveling, and when combined, it has never been easier to achieve perfect leveling and print a perfect first layer.
The K1 Max also features an AI camera in the print chamber, allowing print monitoring in real-time with 1080p resolution. For K1 users, the AI camera and AI LiDAR can be purchased separately. Both the K1 and K1 Max employ G-sensors to solve the resonance issue and eliminate ringing or ghosting patterns on the surface of models caused by high-speed printing.
The K1 and K1 Max are available for pre-sale on the Creality Official Stores, and local stores in the US and EU from April 9.
HALOT-MAGE series – A New era for smart resin printing
The HALOT-MAGE series is Creality's next-gen solution for smart resin printing. The HALOT-MAGE PRO is one of the fastest resin 3D printers on the market, custom-made for miniatures, jewelry, dentistry, crafts and more. With a printing speed up to 170mm/s, it is three to five times faster than other printers while maintaining excellent print quality.
The HALOT-MAGE series includes the HALOT-MAGE and HALOT-MAGE PRO
The HALOT-MAGE PRO features an agile motion system, through which the build plate can be steadily lifted and lowered in just 1.2 seconds, before printing the next layer.
From a software perspective, the in-house developed motor algorithm allows the motor speed to reach speeds of 100mm/s. The latest iteration of the HALOT BOX slicing software also adds solid supports to the models.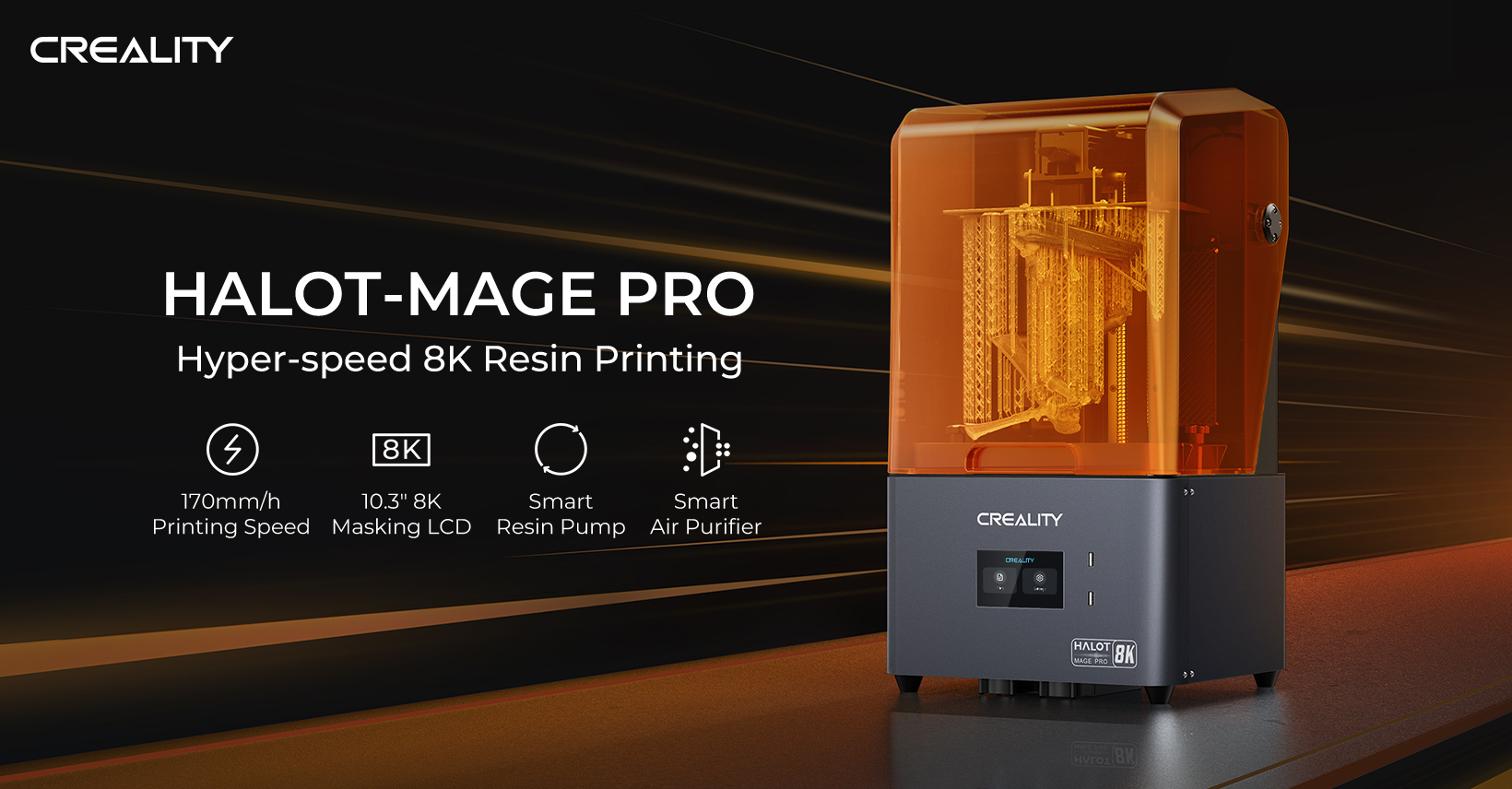 This printer also includes a large 10.3-inch 8K LCD screen for more refined print quality. Creality's latest resin technology – Integral Light Source 3.0 promises consistent quality regardless of where the print is placed on the build plate. Users can operate this printer remotely via WiFi or RJ45 cable and take advantage of smart features such as auto resin fill, smart air purifier, and a replaceable activated carbon filter for a more efficient printing experience.
The "MageArch" flip lid of the HALOT-MAGE PRO is easy to open and close with one hand enabling a hassle-free experience, and the orange tint can block 99.89% of ambient UV light for minimal interference with the resin within.
Overall, the 8K HALOT-MAGE is an affordable smart resin printer series for miniature makers (and others) to unleash their creativity.
Sermoon D3 Pro – Printing Metal with BASF
The new Sermoon D3 Pro is the latest evolution of the industrial-grade Sermoon D3 FDM printer, released last year. It features a printing speed up to 300mm/s, LAN printing, and compatibility with various materials, making it suitable for industrial production, prototyping, and education.
The Sermoon D3 Pro uses a dual extrusion system that adds support printing capability while ensuring stable support structures. It has undergone rigorous validation and supports over 20 types of materials, such as water-soluble filaments and now metal filaments, and over 30 material combinations.
The Sermoon D3 Pro's active heating function improves print quality, while the constant temperature chamber design effectively eliminates internal model warping. It also uses an intelligent automatic leveling system that only requires one button press to complete, saving time and effort.
As we just mentioned, the Sermoon D3 Pro can print with metal filaments. But how is this possible, we hear you ask? We will tell you.
Creality has partnered with BASF Forward AM to release a metal and support printing solution based on FDM technology for the Sermoon D3 Pro. Using BASF's metal and support filaments and global sintering service this solution can save users half of the sample printing time and improve production efficiency by over 80%.
Creality Ecosystem Offerings
Asides from the new printers on offer, Creality has several new hardware items that you should know about. These include:
Creality Falcon2 40W
The Creality Falcon2 40W is so far the most powerful laser engraver in the company's lineup. Equipped with groundbreaking features such as Dynamic Spot Size Adjustment, which adjusts the spot size automatically according to engraving and cutting requirements, it can cut through 20mm wood board and 0.15mm stainless steel in one pass at speed up to 25000 mm/min. It also supports color engraving and air assist with a smart monitoring system and upgraded safeguards.
CR-Scan Ferret
The CR-Scan Ferret is a 3D scanner designed to make modeling easy and accessible to everyone. With its efficient ASIC chip, full-color camera, and structured light, the Ferret produces high-quality scans even in bright sunlight. The Ferret's handhold stand allows for both handheld and turntable modes, making it ideal for scanning small and large objects.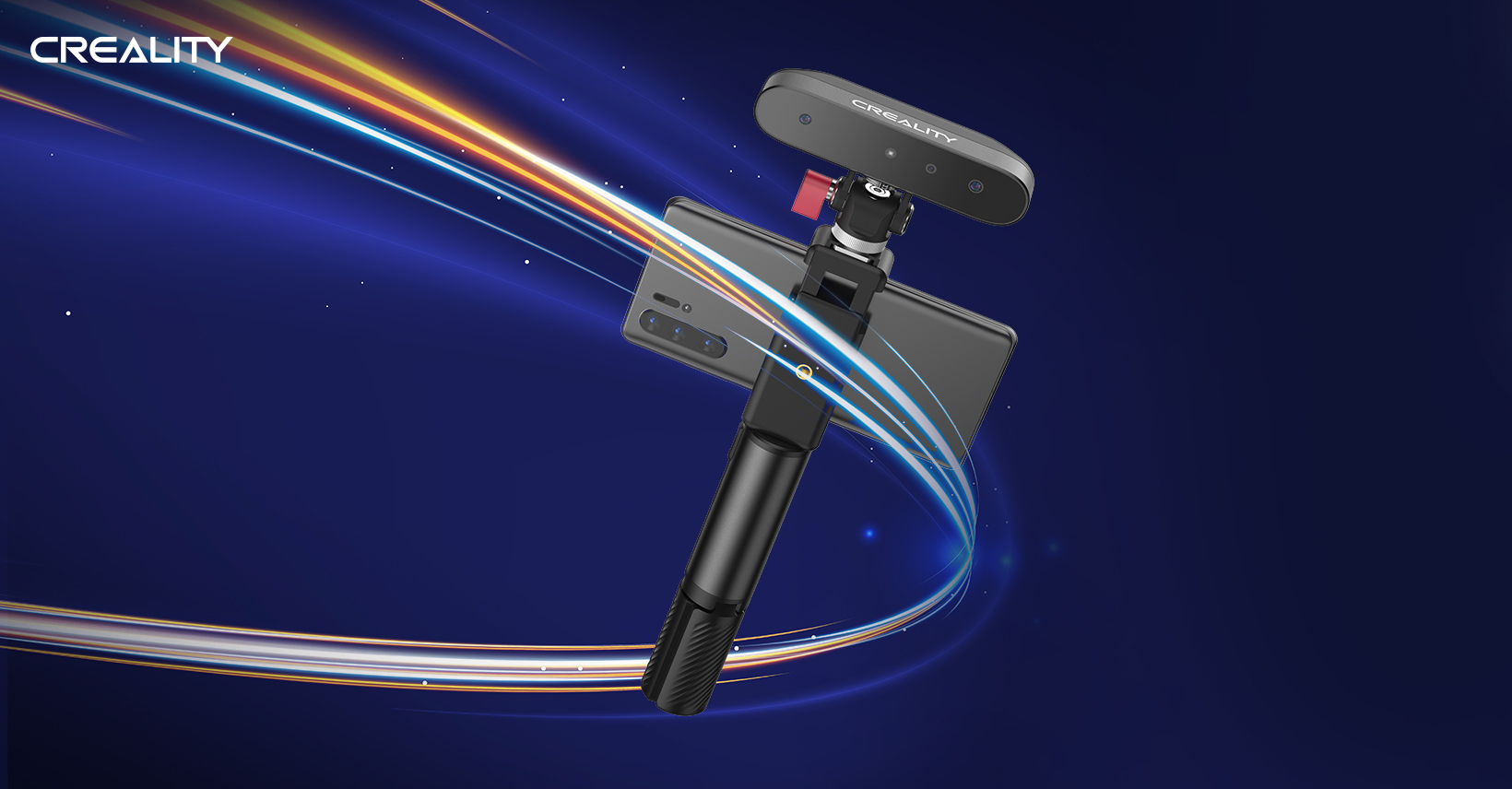 Weighing only 105g, the Ferret is compact, easy to carry, and a perfect tool for creating stunning 3D models with ease.
Creality Nebula Pad+AI LiDAR
The Nebula Pad is an all-in-one smart interactive terminal allowing faster, higher-quality printing anytime, anywhere. Paired with the AI LiDAR, it can achieve auto-leveling, first-layer detection and filament flow monitoring, significantly improving the print quality and print success rate.
Additionally, when paired with a 1080P USB camera with night vision (purchased seperately), the Nebula Pad can provide 24-hour monitoring and time-lapse photography to capture the entire printing process and detect spaghetti issues.
3D Printed Footwear Solution
For the first time, Creality has unveiled a series of one-stop FDM 3D printed footwear solutions for users who embrace changes and futuristic fashions. Creality developed a professional-grade "Sprite" extruder for soft materials with a series of 3D footwear models.
This package caters to those seeking personalized footwear design, such as street fashion enthusiasts, and also suits medical institutions that want to print custom diabetic-friendly shoes and orthotic insoles.
200 pairs of 3D printed shoes have been demonstrated on stage at the anniversary event, and a footwear model design contest is being held to encourage users to submit their works via Creality Cloud and liberate their imaginations.
Creality Anniversary Sale
From April 10 to April 15, the Creality Official US, EU, UK, and DE Stores are offering up to 60% off on best-selling products like the Ender-5 S1 and Ender-3 S1 Pro.
A Lucky Draw event will offer 50 free 3D printers, and 1000 limited free nozzle kit and $20 coupon will be offered exclusively for new members.
Creality's newly opened Canadian and Australian stores are also launching anniversary sales during April 9-April 16.
Creality's Official Amazon Store will also launch an anniversary sale during the period. For
more details, head on over to this link.