Additive manufacturing offers a number of benefits to those wishing to develop antennas in various non-traditional geometries, and a team of researchers in the US have recently test-flown a drone with a printed antenna to demonstrate those benefits.
Ohio-based drone company Event38 have been working with local partners (Ohio Federal Research Network (OFRN), Kent State University, Youngstown State University, and Youngstown Business Incubator (YBI)) to upgrade their E400 mapping drone with a new hybrid antenna/nose cone. The part was printed with a combination of metal and polymer printing, and was presumably assembled afterwards into a single unit.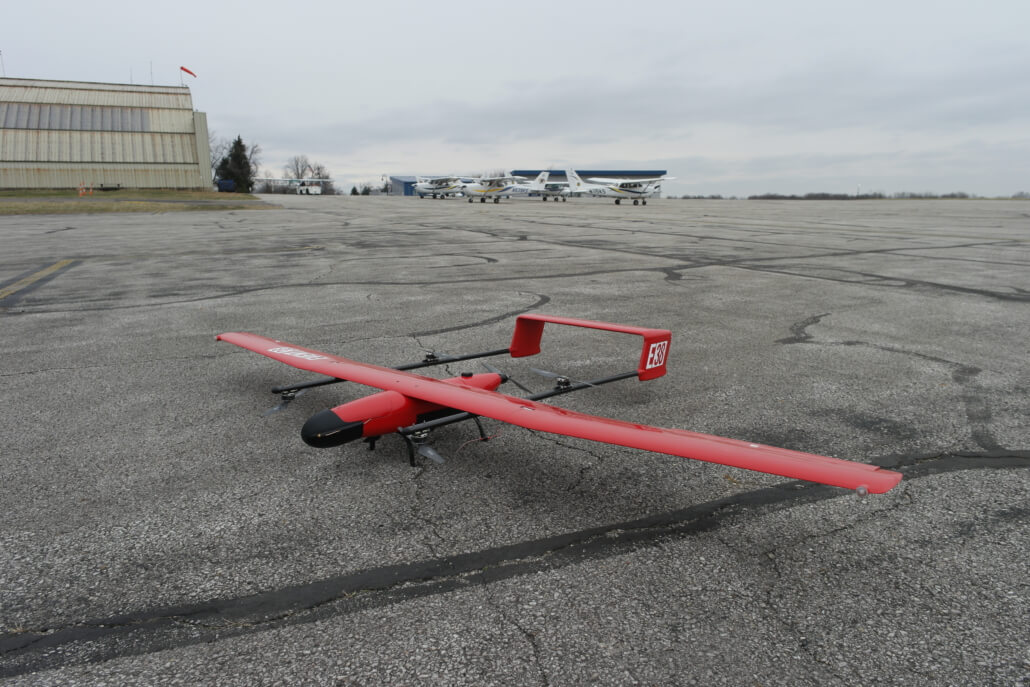 Typically antennas need to be conductive, but as we have seen in previous articles, it is perfectly possible to print complex geometries in plastics and apply conductive materials to them after printing. This is a lot more cost effective than simply printing directly with metal, but obviously how much cheaper is dependent on your post-processing equipment costs and production run size.
Clearly Event38 were not looking for the cheapest option.
Another feature of antennas is that they generally tend to protrude out from whatever they are attached to. In the case of drones and other aircraft, the antenna often resides outside of the airframe for a variety of reasons. Antennas need to be a certain length in many cases, and they also need to be free from shielding so they can receive their radio waves properly. This is why antennas are near or on the exterior, rather than buried deep within the structure of the aircraft.
There are a few downsides to this approach as well, including environmental factors (such as weather or corrosion) acting on the external antenna.
An obvious solution would be to somehow embed the antenna in the aircraft skin, which would enable the antenna to function unimpeded by structure, while keeping the antenna safe from the elements. And this is exactly what Event38 has done.
3D printing is an exciting option for creating geometrically complex components, such as antennas. Jeff Taylor, CEO of Event 38
"Traditional manufacturing methods, such as machining, aren't optimal for unusual shapes, which can require a lot of tooling and produce significant waste material. 3D printing is much more efficient for certain geometries."

"Geometrically complex 3D-printed antennas are very promising technology. In partnership with YBI, we proved the feasibility of a dual-purpose nose cone that served as both antenna and aerodynamic structure. But there's potential to create structural parts, too. We could print a loadbearing piece that also serves as an antenna and thus replace a structural element, which reduces the overall weight of the aircraft."
Multiple antennas were printed to check that they confirmed with the dimensional requirements of the drone and that the antenna was emitting the correct radiation patterns.
The test flight was performed successfully at Kent State University and the team are optimistic about the future applications of the antenna.
Future applications could involve making antenna nose cones for hypersonic vehicles, which typically require extra heat shielding for external antennae.
If you want to know more about the drone and its capabilities, head over to the Event38 site and take a look.