Footwear brand Ecco is about to power up its midsole production with additive manufacturing. While the footwear giant has expressed interest in 3D printing before, now we know what type of printing they've set their sights on. The company is looking to produce custom silicone midsoles with the help of ViscoTec. The project will also be an extension of ECCO's QUANT-U program for customized footwear.
The Innovation Lab on ECCO's website for QUANT-U states, "A midsole is the functional heart of the shoe. It plays a key role in the performance and comfort of your footwear. Two years of research has proven that replacing the standard PU midsoles with 3D printed silicone can tune its inherent properties; viscoelasticity, durability and temperature stability."
While ECCO are not the first brand to think about 3D printed shoe midsoles, they are doing it quite uniquely. Firstly, their use of ViscoTec's technology gives them a few advantages. It deposits and cures the silicone very precisely. Secondly, their data-driven approach is probably the most thorough. Additionally, they posit that the heat-cured silicone and the algorithmic precision will provide maximum comfort for their customers.
ViscoTec's Role in QUANT-U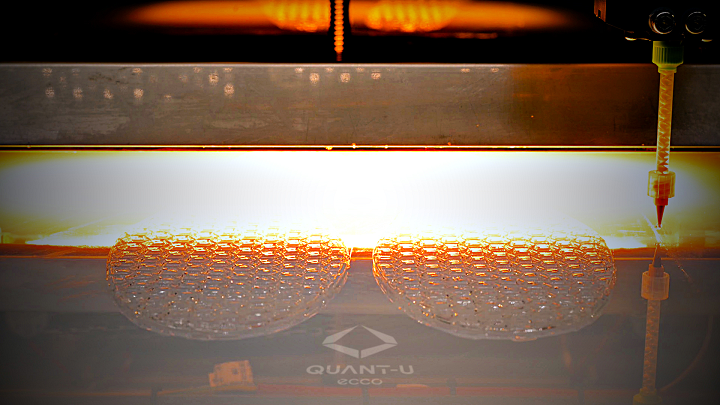 QUANT-U relies on real-time analysis, data-driven design and in-store 3D printing. This allows ECCO to create a shoe that fits the needs of the customer to an exact degree. So, it's easy to see why they need ViscoTec's technology, requiring precision and unique materials.
ViscoTec will be providing the company with their print head and a component silicone material. This will serve as the basis for the custom midsoles that the company produces by using individual scans of the customer's feet. The custom silicone midsoles take shape after the silicone heat-curing, a process that takes about 2 hours.
QUANT-U is quite complicated in that it generates a midsole pattern out of a whole bunch of different stats. It even takes into account densities, patterns, structures and also a person's orthopaedic parameters. Despite all this complexity, the system can have your shoe ready in-store within a few hours. QUANT-U is really looking to be a revolutionary, science-fiction level idea. Both companies might be producing a budding collaboration to alter the face of footwear forever.
Featured image courtest of ViscoTec.