Engineers from institutes in Singapore and Japan have developed a new means of 3D fabricating hybrid metal-plastic systems in complex shapes, using multi-material digital light processing 3D printing (MM-DLP3DP).
The researchers, from Nanyang Technological University (Singapore) and Waseda University (Japan) used the process to manufacture parts with complex structures and multi-material layers, including microporous and miniscue hollow structures measuring just 40µm in size.
MM-DLP3DP
The MM-DLP3DP process is a multi-step process that begins with the preparation of the active precursors. These chemicals are later converted into the required chemical after 3D printing, as they cannot be directly 3D printed in their unmodified state.
The custom printer can print resin parts and precursor parts, and it can clean the part with alcohol according to the different material distribution of each layer.
Next, the MM-DL3DP apparatus is used to fabricate microstructures containing nested regions of the resin or the active precursor.
Finally, these materials are directly plated in an electroless plating bath, and 3D metal patterns are added to them in copper and nickel using electroless plating. Electroless plating achieves the same results as electroplating, but rather than using electricity it uses electrochemical reactions occurring in an aqueous solution. Copper and nickel are the most common metals deposited with electroless plating techniques.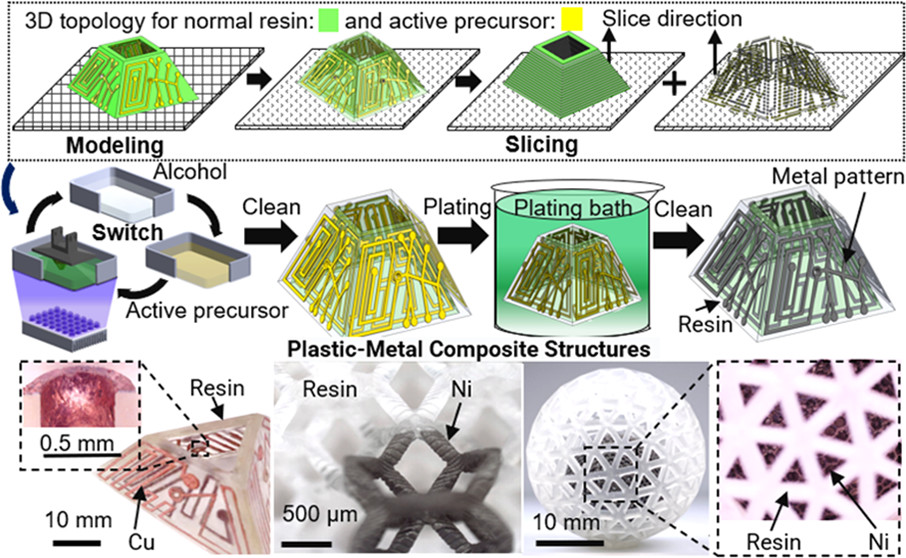 The process allowed precise control of the metal patterns on the parts, and allowed for the fabrication of tiny features including micropores and hollow structures, measuring just 40μm in size.
Functional components were printed as a demonstration, which included a LED stereo circuit with nickel plating, and a double-sided 3D circuit with copper plating.
"Using the MM-DLP3DP process, arbitrarily complex metal-plastic 3D parts having specific metal patterns can be fabricated," said the researchers in a statement.
"Furthermore, selectively inducing metal deposition using active precursors can provide higher quality metal coatings. Together, these factors can contribute to the development of highly integrated and customisable 3D microelectronics."
Applications
The technology has the potential for applications in robotics, IoT devices, micro-sensors, and even quantum computing.
Last week we took a look at a method for printing metal and plastic 3D structured circuits using dual robotic arms.
This research has similar goals, in the sense that it is focused on creating high density 3D circuits by stacking flat circuits to create functional devices. Traditional PCBs are somewhat limited due to their flat nature.
By manufacturing 3D circuits, there is potential for fabricating highly functional devices while maximizing usable volume. This is particularly useful in applications where there is a volume budget, such as the aforementioned applications, as well as spaceflight.
You can find the research paper titled "New Metal–Plastic Hybrid Additive Manufacturing for Precise Fabrication of Arbitrary Metal Patterns on External and Even Internal Surfaces of 3D Plastic Structures" in the ACS Applied Materials & Interfaces journal, over at this link.