ETH Zurich researchers have unveiled a new advancement in robotics with their Biomimetic Tendon-Driven Faive Hand, a 3D printable design boasting impressive degrees of freedom (DoF) and intricate in-hand rotation capabilities. Departing from conventional model-based control methods, the team has leveraged reinforcement learning (RL) policies to navigate the complexities of modern robotic structures, particularly suited for skillful tasks involving anthropomorphic hands.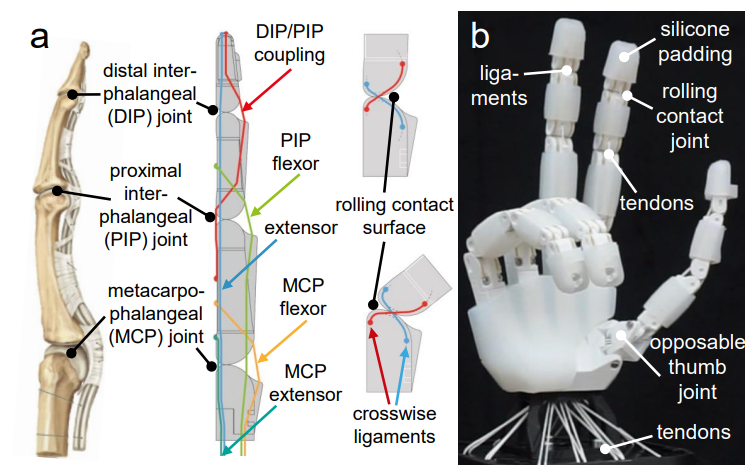 In collaboration with the Max Planck ETH Center for Learning Systems, the Faive Hand sets the stage for human-like manipulation in various sectors, from warehouse logistics to home assistance. The researchers have emphasized that a human-centered design provides a more intuitive interaction with tools and environments, bridging the gap between humans and machines.
The hand, designed in the Soft Robotics Lab, merges biomimetic principles and tendon-driven mechanics, granting finesse in manipulation. Its 3D printed composition, propelled by servo motors, offers scalability for mass production. You can see it in action in the clip below.
Distinctive to this innovation are rolling contact joints, enabling rotation without a fixed axis—a design feature challenging to control in high-DoF robotic hands. Although traditional rotational encoders prove difficult to integrate, joint angle encoders are under development to enhance control accuracy. Despite this limitation, the hand's simulation framework and low-level controller facilitate policy execution through RL training, a feat showcased through skill transfer demonstrations in the IsaacGym simulator.
Looking ahead, the researchers have ambitious plans to enhance the Faive Hand's capabilities. Real-world tasks and behavior cloning are on the horizon, along with the incorporation of actuation and sensor functionalities. With its potential for advanced dexterity, the Biomimetic Tendon-Driven Faive Hand could indeed change the landscape of robotic manipulation, unlocking new realms of possibility in human-machine interaction.
And it looks pretty cool too!
You can read the research paper, titled "Getting the Ball Rolling: Learning a Dexterous Policy for a Biomimetic Tendon-Driven Hand with Rolling Contact Joints" over at this link.
Come and let us know your thoughts on our Facebook, Twitter, and LinkedIn pages, and don't forget to sign up for our weekly additive manufacturing newsletter to get all the latest stories delivered right to your inbox.