The European Space Agency (ESA) is to receive a first of its kind prototype microgravity 3D printer for additive manufacturing in space. The machine in question, the Additive Layer Manufacturing Breadboard machine, is specifically for printing on-board the international space station and other outer space locations.
We've previously covered all the rigors of 3D printing just about anything in space. Little is known about the printer itself, however a lot of details are easy to discern. It has a print volume of 140 x 100 x 100 mm (L x W x H) and works on an open materials platform. The design is compact and lightweight, considering it has to travel on a spacecraft. The picture below shows what appears to be a high-performace polymer like PEKK or PEEK.
Of course, as is often the case, machines that are useful in space also provide applications in other areas. Any printer that can print in space could provide insight into how to implement printing in other situations. It may well be possible that a similar design could help in low-pressure situations or underwater. It will also aid in the development of printers that minimize flammability (by necessity).
Project MELT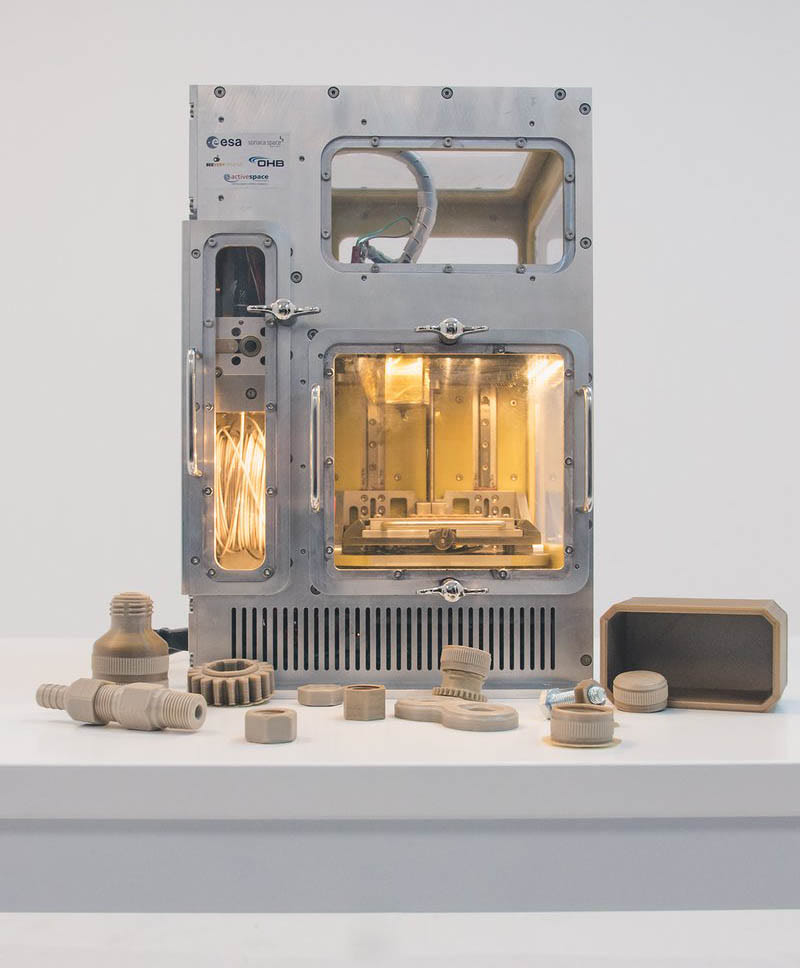 Project MELT is a collaborative effort between 5 Europeans companies employing their various expertise. Portugese non-profit organization Instituto Pedro Nunes is working on potential commercial applications and linking that to the sci-tech side. SonacaSpace contributed its expertise in structural and mechanical engineering. Similarly,  OHB System AG added its own expertise as a developer of low-orbiting and geostationary satellites.
Active Space then provided their help with bespoke electrical goods for harsh environments. Finally, Portuguese 3D printing technology startup BEEVERYCREATIVE provided the overall design for the 3D printer. They also created of the operating system and software for the microgravity printer prototype.
Photos courtesy of BEEVERYCREATIVE.