Fort Bragg, one of the largest military installations in the United States, recently held its inaugural Additive Manufacturing (AM) course. The course, conducted in partnership with Fayetteville Technical Community College (FTCC), aims to teach soldiers the art of 3D printing to enable rapid prototyping, enhance logistics, and improve readiness in the field.
Crash Course in AM
In the training program, 12 soldiers from various units participated in an intensive 80-hour course, designed to provide both theoretical and practical knowledge. Participants learned about the intricacies of additive manufacturing technologies, such as stereolithography (SLA), fused deposition modeling (FDM), and selective laser sintering (SLS). The course also covered topics like materials selection, design for AM, and post-processing techniques.
The AM course aligns with the Army's modernization strategy and the Army Futures Command's vision to integrate innovative technologies into military operations. Additive manufacturing has immense potential to revolutionize the military landscape, including on-demand production of parts, reduced lead times, and decreased reliance on traditional supply chains.
Enhancing Skills
This initiative empowers soldiers to become proficient in AM techniques, which can be critical during missions where access to traditional manufacturing and supply chains is limited. In addition to enhancing operational efficiency, the training also provides soldiers with valuable skills that can be utilized in their civilian careers after leaving the service.
The course ended with a capstone project, with one soldier building a handcuff skeleton key that could be concealed within a bootlace.
"Some reports show that during World War II there were as many as 130,000 POWs," said Maj. Wiggins, 18th Field Artillery Brigade's innovation officer.
"I was thinking of our future Soldiers who could find themselves in an environment like that and wanted to provide them an option for escape so that they can keep fighting, get back home and be with their families again."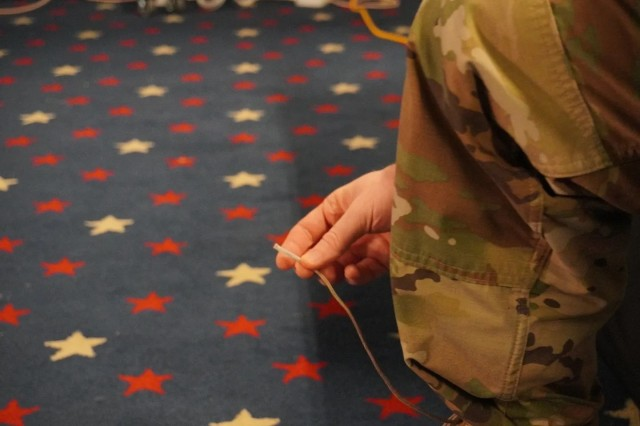 The success of the inaugural course has prompted plans for expansion, with additional courses and an increased number of participants in the future. The Army continues to invest in cutting-edge technology and training programs, ensuring that soldiers are well-equipped to face the challenges of modern warfare.
Come and let us know your thoughts on our Facebook, Twitter, and LinkedIn pages, and don't forget to sign up for our weekly additive manufacturing newsletter to get all the latest stories delivered right to your inbox.