GE Additive recently shipped its first Concept Laser M Line Factory system from Germany, the happy recipient being GE Aviation's Additive Technology Center (ATC) in Cincinnati, Ohio. GE Additive acquired Concept Laser in 2016 and has since then increased the build volume and redesigned the software of the metal printing system.
ATC 3D printing facility Cincinnati
ATC is one of the largest and modern 3D printing facilities in the world, with over 90 3D printers and 300 designers, engineers, and operators so the M Line will fit right in. The facility is used to research, develop, and certify 3D printing processes and materials for the production of aviation components. 3D printing plane parts such brackets, housing, and nozzles can save a lot of money in the aviation industry where every ounce of weight increases fuel costs over the life of a plane. To further drive home that point, GE Additive had the printing system shipped on a Boeing 747-8 Freighter with GEnx-2B engines, the same engines that will soon be sporting 3D printed power door opening system (PDOS) brackets from GE Additive's Auburn, Alabama facility.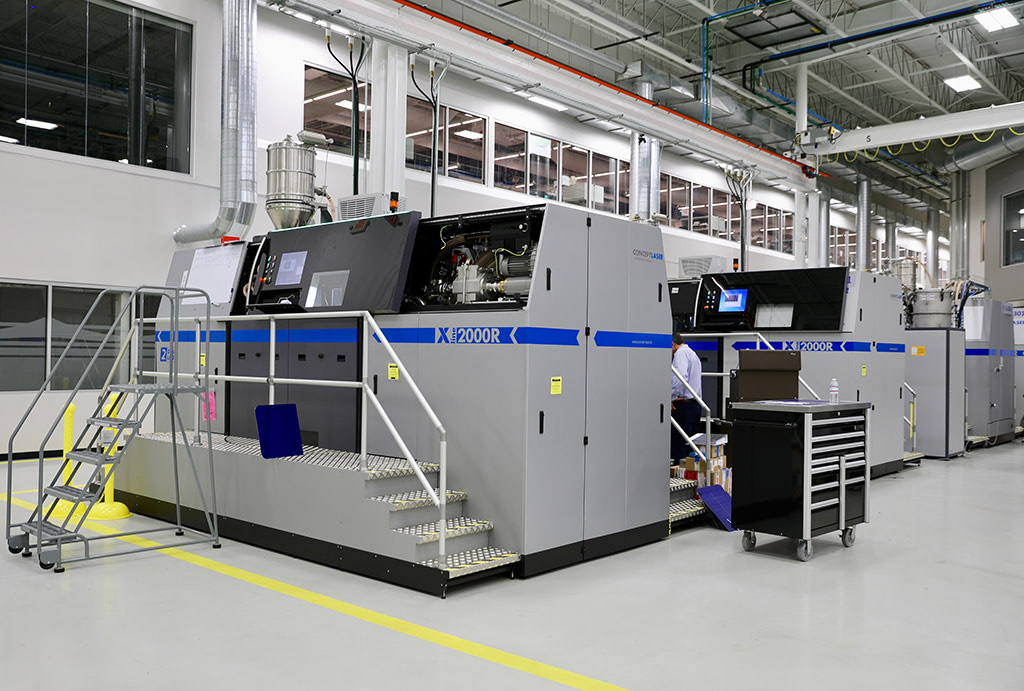 "Engineered with an innovative modular machine architecture that offers unprecedented automation, the M LINE FACTORY enables economical series production on an industrial scale."
The M Line Factory is a Direct Metal Laser Melting (DMLM) machine and it employs a modular architecture that enables increased levels of automation and serial production. By decoupling the printing and processing components, the tasks can be completed simultaneously. It's powered by four 400W (or 1,000W) fiber lasers and has a build volume of 500mm x 500mm x 400mm, making it capable of rapidly fabricating large, complex parts in a range of industrial metals. You'll find more details here.