Hepburn and Sons LLC, a small business providing consulting and engineering services to the U.S. defense sector, has officially joined forces with MELD Manufacturing Corporation, developer of the patented, solid-state metal additive manufacturing process.
Founded in 2018, MELD Manufacturing Corporation has developed a no-melt additive manufacturing process for metal, offering stronger, better parts. The no-melting process also offers the potential to work with un-weldable materials.
The two companies have been working together since 2021 to introduce MELD, also known as additive friction stir deposition, to the Navy and other military services and DoD agencies. Hepburn and Sons scouts for innovative small businesses that have technology that can be utilized to support the U.S. defense sector, and MELD is one of those unique and innovative companies that has developed and introduced such a disruptive technology.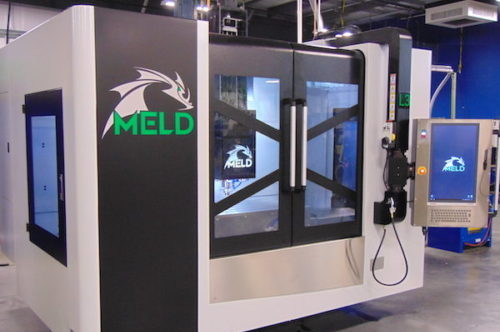 "Together, Hepburn and MELD will quickly transition advanced, large-scale metal additive manufacturing capability to our nation's defense manufacturing and repair organizations to rapidly improve our war fighting capabilities at a reduced cost and schedule," said Scott Hepburn, CEO of Hepburn and Sons LLC.
The Hepburn and MELD team recently won two research projects supporting both the U.S. Air Force and the U.S. Navy. For the Air Force, the team was selected for phase two of a small business innovative research program (SBIR) project, and for the Navy, the team was selected for a National Shipbuilding Research Program (NSRP) research and development project.
The team believes they can maintain the geometry and function of the standard item while using MELD to rapidly print critical components, significantly reducing cost and schedule by implementing a print-on-demand approach to manufacture low-cost, high-volume parts.
Through their new relationship, the Hepburn MELD team believes they can utilize MELD technology to help resolve challenges in the Navy and in the U.S. defense sector generally including supply chain disruptions caused by scarcity of metal spare parts along with long lead times on parts that result in excessive backlog.
With MELD, parts can be printed in hours or days as opposed to months or even years. The uniquely open-air process can not only be used to print critical metal components, but MELD can be used to repair damaged parts in the workshop or in the field, even with non-fusion weldable alloys.
Come and let us know your thoughts on our Facebook, Twitter, and LinkedIn pages, and don't forget to sign up for our weekly additive manufacturing newsletter to get all the latest stories delivered right to your inbox.