A consortium from Hamburg University of Technology (TUHH), TU Dresden (TUD) and Autodesk have collaborated with GE AAT Munich to produce one of the largest single metal parts for use in aerospace.
The Advanced Additive Integrated Turbine Centre Frame (TCF) casing was revealed after a 6 year development process that included materials testing and characterization, and ultimately the build and test of the component itself.
The 1 meter diameter part was printed in nickel alloy 718 on a GE Additive Direct Metal Laser Melting (DMLM) system.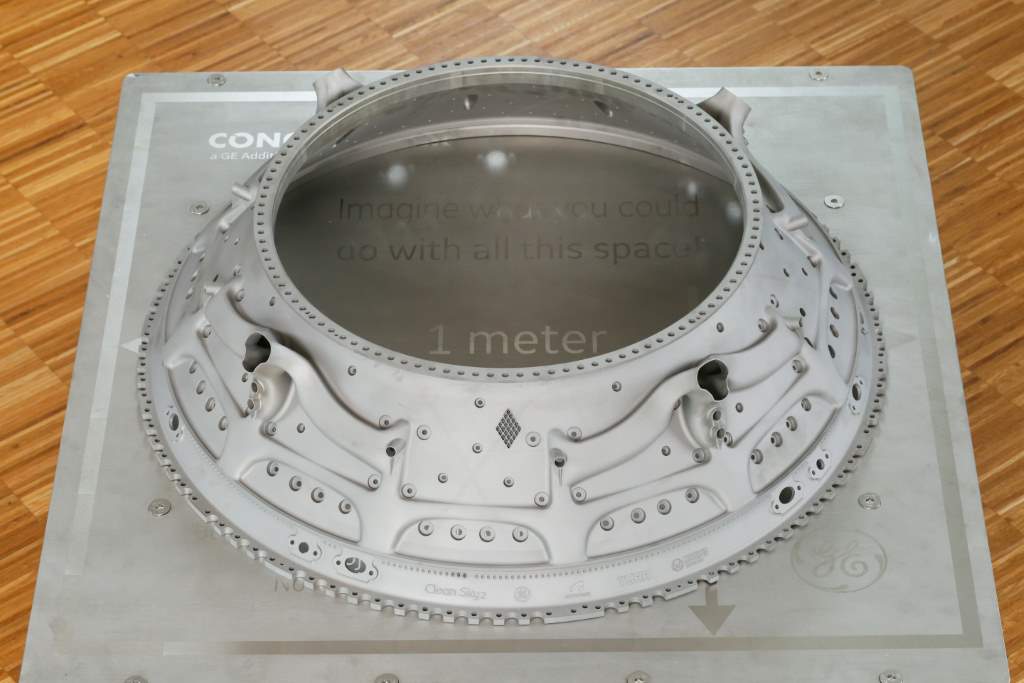 It is designed to be used on narrow-body engines, and using printing as opposed to casting has reduced the part count from 150 individual components down to just 1.
In addition to the benefits of reduced part count (smaller inventory, less paperwork, less storage space), the part was shown to have a mass and cost reduction of 30%.
The lead time for the part (not including development time, naturally) was reduced from more than nine months to just two and a half months.
Clean Sky 2
The part has been developed in response to a Clean Sky 2 call for proposal. The Clean Sky 2 project is a public-private partnership between the European Commission and the European aeronautics industry that coordinates and funds research activities to deliver significantly quieter and more environmentally friendly aircraft. Mass reduction is a large part of achieving these goals, and AM is a promising technology that has permeated many projects under the Clean Sky 2 banner.
"Additive manufacturing offers enormous potential to lower weight, improve component functionalities, and substantially reduce part count in complex assemblies, directly increasing aircraft energy efficiency, and reducing assembly costs and time," said Christina-Maria Margariti, project officer for hydrogen-powered aircraft for Clean Aviation.
"The Clean Aviation program, in line with the EU Green Deal objective of carbon neutrality by 2050, supports the launch of disruptive new products by 2035, with the aim to replace 75% of the operating fleet by 2050. Faster time to market and increased production rates will therefore be crucial to reaching these ambitious environmental targets."
The manufacturing development was performed in steps, on smaller sections and at smaller scales, gradually increasing the MRL (Manufacturing Readiness Level) until the process was mature enough to attempt the full-size version.
Additional requirements for the design included a performance increase of 0.2% in specific fuel consumption, which was indeed obtained.
The design features multiple solutions to reduce pressure, thermal gradients and stress in the component. The actual CAD, CFD and mechanical simulation work was performed with the help of Autodesk and their various software packages.
The good news is that the new process and workflow is not only valid for brand new engine designs, but can be leveraged to existing and legacy engine center frames as well.